Thai Chili Beer Chicken in Spicy Peanut Satay Sauce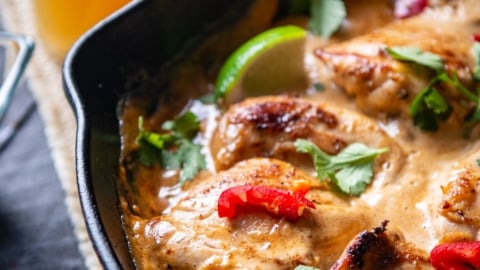 Thai Chili Beer Chicken in Spicy Peanut Satay Sauce
This is 100% because I'm clumsy. You'd think that an actual grown-up human person would be able to eat chicken off stabby things, I mean SKEWERS, without actually stabbing themselves. But you would be wrong. I have several stabby thing related injuries and I'm trying not to add to this list while in the midst of a global pandemic.
Normal people would just avoid eating things off tiny swords, but I have instead modified dishes that involve swords like utensils to remove them from the equation. Because I need to not joust with my face right now.
If you don't have the issues with inept fine motor skills that I do, I hope you still like this dish. It's all the good stuff about chicken satay without the risk of injury, however low that might be in your house. it's low-risk chicken and I really just need that right now.
Thai Chili Beer Chicken in Spicy Peanut Satay Sauce
Ingredients
For The Chicken Marinade:
1

cup

beer

pale ale, IPA, pilsner

1

tablespoon

chili powder

2

tablespoons

soy sauce

1

teaspoon

red curry paste

2

lbs

chicken thighs

boneless, skinless

1

teaspoons

salt

1

tablespoon

sesame oil

or olive oil
For the Peanut Sauce:
1

(13.5oz) can coconut milk

¼

cup

(64g) creamy peanut butter

1

tablespoon

(14g) fish sauce

1

tablespoon

(14g) soy sauce

2

tablespoon

(25g) brown sugar

2

tablespoon

(32g) Thai red curry paste

1

tablespoon

(14g) rice vinegar

1

tablespoon

(14g) sriracha (plus additional to taste)

2

large cloves garlic

grated with a Microplane

2

tablespoons

beer

pale ale, IPA, pilsner

3

tablespoon

lime juice

1

red chili

thinly sliced

¼

cup

cilantro

chopped

Rice for serving
Instructions
Add beer, chili powder, soy sauce, and curry paste to a large Ziploc bag or a resealable container.

Sprinkle the chicken on all sides with salt, add them to the marinade. Seal and refrigerate for one hour and up to 12.

Remove from the marinade, pat dry.

Heat the oil in a large cast-iron skillet until thin and shimmery, add the chicken, searing on both sides until cooked through.

While the chicken cooks, make the sauce.

Add the coconut milk, peanut butter, fish sauce, soy sauce, brown sugar, curry paste, vinegar, sriracha, garlic, and beer to a pot over medium-high heat. Cook until slightly thickened, about 8 minutes. Remove from heat, stir in the lime juice.

Pour the sauce over the chicken, allow to simmer for about a minute, then remove from heat.

Sprinkle with chilies and cilantro.

Serve with rice.