Tater Turns One!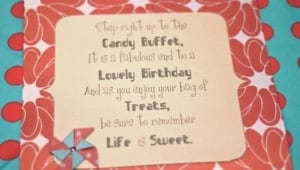 Our little lady, with a nickname of Tater Tot, is an entire year old! We had a bash at our place to celebrate her, as well as to commemorate our first year as parents. I obsessed over the every detail, my poor husband had to put up with a house covered in red and aqua crafting supplies for months! I was happy with how things turned out and  although there is a list of things I wanted to do but didn't have enough time for, it was a great day. Of all the party offerings, my two favorite were the Tater tot/French Fry Bar and the Candy Buffet.  Both were huge hits.
Tater Tot bar!! Of course our Tater needed Tater Tots at her birthday party, it was an obvious paring. I made a cone holder for those deep fried nuggets of goodness
I bought 30 treat cones  at Shop Sweet Lulu (http://shopsweetlulu.bigcartel.com/product/12-polka-dot-party-cones)
and they went much quicker than I had expected (we needed double that amount) and ended up using plastic cups as portable potato vessels. I made 3 sauces, Chipotle Ketchup, Blue Cheese Sour Cream and Garlic Aioli. Although the Blue Cheese Sour Cream was my fave, the Chipotle Ketchup was the runaway hit.
I also had a selection of mini sandwiches, Pulled Pork Sliders on mini Hawaiian Buns, Caprese BLT Sandwiches & Pork Free Caprese Sandwiches (both on sour dough), and a childhood favorite of most Americans: Mini PBJ on white bread (crust-less, of course). I Also made fruit skewers and served them stuck into a half of a watermelon, in a way the reminded me of a 1950′s Luau.
The Candy Buffet turned out exactly how I wanted (rare, isn't it!). I spent weeks searching for red or aqua candy, used clear glass pedestal bowls that I already had, and bought a yard of Micheal Miller fabric to match the scheme.
I also borrowed the wording for the sign from a wedding blog and changed it a bit to fit a birthday party. I can't remember the exact blog to offer credit.
I baked a two tiered cake that did not go as planned (my one "mini disaster" of the day) as well as two dozen cupcakes with edible pinwheel cupcake toppers. I posted a DIY for the edible pinwheels last week. The cake looked "OK" from a distance, but was mess up close. Tater seemed to enjoy it and that's what's important.
Over the dessert tables I had a Happy Birthday banner that I made out of paper circles and chipboard letters, as well as a Month by Month banner that I made with photos that I took each month of Tater in a corresponding onesie. My sister is a party throwin' genius and made those adorable onesies, using them as decorations at my baby shower. One for each month all the way up to one year. I used the One Year picture on a separate banner over the food table with a picture of myself and one of my husband at one year of age. It was a great contrast for my guests to be able to see which features she gets from each of us.
I made 15 paper lanterns, and posted a detailed DIY a few weeks ago. They looked great hanging over the food and dessert tables
I also made a dozen tissue paper Poms, enlisting the help of my good friend Kelly, who did a lovely job. I found a great DIY on the Martha Stewart site: http://www.marthastewart.com/how-to/tissue-paper-pom-poms-how-to
I used 10 sheets of tissue each and was able to find 40 sheets for a dollar at the 99 Cent's Only store, a very affordable, although time consuming, decoration project.
I found some really great aqua and white polka dot table covers at Marshall's for only $4 each
I had two centerpieces on each table, one with a homemade pinwheel and red and aqua suckers, and one with chocolate covered strawberries and marshmallows. I found some really cute sugar ladybugs at www.orientaltrading.com that I loved and used on the strawberries.
I half way attempted a photo booth but didn't have enough time to really bring it together.
The favors that I made were one of my favorite touches! I used standard clothes pins, 1.5 inch wood circles, scrapbook paper and round magnets to make personalized favor bag holders that also doubled as a fridge magnet for the "photo of the moment" for all those parents who still love a printed photo on their fridge. In the bags, that I also found at www.shopsweetlulu.com, I put age appropriate toys.
I am hoping to post a DIY on those soon, very easy and super cute. I love a personalized touch! I did the math and I believe that each favor clip cost me about 35 cents each.
Some of Taters adorable little friends who partied with us
All in all, I had a great time and so did my little lady. She is an amazing little human and I am so lucky to be her mom, I hope that she will always know that. There are not enough parties to be able to express the celebration I feel in having her in my life.