Tailgate Fries with Sriracha Sauce plus a $500 grilling giveaway
(This post contains affiliate links)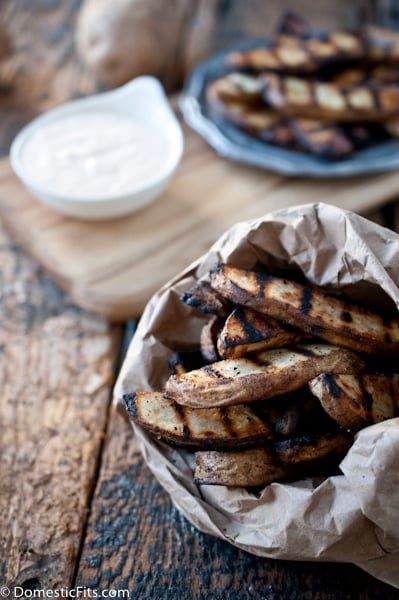 I've spent the better part of the past few months obsessing over my new grill. After going a year without one, sad faceing at the grill recipes I saw on other blogs, I finally caved and bought one. As a way to feel a little less guilty about taunting the grill-less, I've teamed up with a bunch of other fantastic bloggers to offer one lucky reader a fantastic grill package worth over $500.
Although we are on the waining end of summer grill season, we are rapidly approaching tailgating season. The Coleman NXT 200 is powerful portable grill that's perfect for fall football adventures and the gift card is a perfect way to add some accessorites to your grilling good times.
I have this Cameron Stove Top Smoker, it's perfect to use indoors as well as on the grill. A good grill brush is important for when you want to cook more delicate food, or grill a pizza.  And don't forget a grill basket for those vegetables.
In the spirit of grilling and tailgate food, I've whipped up some grilled Tailgate Fries with Sriracha Buttermilk Cream Sauce. Enjoy, and don't forget to visit the other great bloggers hosting this giveaway!
Savory Simple, BakeaholicMama, Cooking Classy, Foodie Crush, Cravings of a Lunatic, 52 Kitchen Adventures, Pineapple and Coconut, Taste Love & Nourish,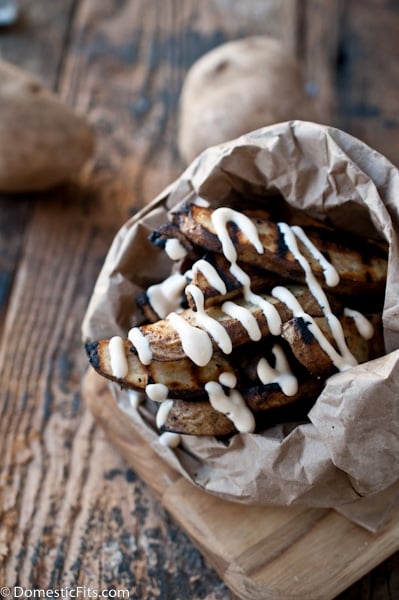 Beer Marinated Steak with Porter Gorgonzola Butter
Ingredients
For the Steak:

1 ½ cups stout or porter
2 tbs Worcestershire sauce
1 tsp onion powder
1 tsp smoked paprika
½ tsp salt
4 New York Steaks or Tri Tip Steaks (choice or prime)
Salt and Pepper
2 tbs olive oil

For The Butter:

½ cup unsalted butter, softened
½ cup porter
¼ cup crumbled Gorgonzola
Directions
In a small bowl, whisk together the beer, Worcestershire, onion powder, paprika and salt.
Place the steaks in a baking dish, cover with the marinade. Cover and refrigerate for 6 to 12 hours, turning at least once while marinating.
While the steak is marinating, make the butter. In a saucepan over medium high heat, add the ½ cup porter. Cook, stirring occasionally, until reduced to 2 tbs, 8-10 minutes.
In a food processor add the butter and reduced beer, process until well combined. Add the Gorgonzola and pulse to combine.
Add butter to a sheet of plastic wrap, roll into a log and refrigerate until solid, about 1 hour.
Fifteen minutes before cooking, remove the steaks from the marinade. Place on a stack of paper towels, top with additional paper towels, pressing down firmly. Allow to dry for about ten minutes.

Grill Method:

Preheat the grill to medium high.
Salt and pepper the steak liberally on all sides.
Brush the grill with olive oil.
Place the steaks on the hottest part of the grill until grill marks appear, flip. Once grill marks appear on the other side, flip again. Flip a total of 4 times to create a diamond grill pattern, keeping the grill closed between flipping. Test the temperature and remove when desired doneness is achieved.
Allow to rest for at least 5 minutes.
Slice the butter into 1 inch pats, add one pat to each steak.

Oven Method:

Preheat oven to 350.
Salt and pepper the steak liberally on all sides.
In a pan over medium high heat add the olive oil, heat until hot but not smoking. Add the steaks (two at a time) and cook on each side until a brown seared crust has formed, about 2 minutes per side. Avoid crowding the pan, cook in batches if necessary. Move steaks to a sheet pan or baking dish.
Cook in the oven for 5-7 minutes, or until desired level of doneness. Allow to rest for at least 5 minutes.
Slice the butter into 1 inch pats, add one pat to each steak.
Notes
Temperatures for doneness:
126°F Rare,
131°F Medium Rare,
145°F Medium,
154°F Medium Well,
https://domesticfits.com/tailgate-fries-with-sriracha-sauce-plus-a-500-grilling-giveaway/
Copyright �© TheBeeroness.com