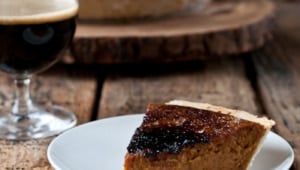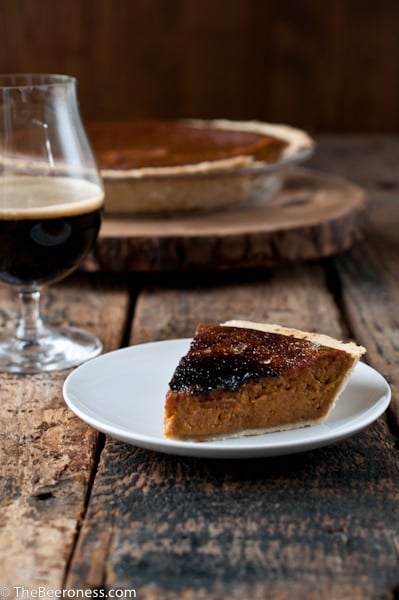 I know what you're thinking.
You think that I put a Pumpkin Ale in that pie. It's a fair assumption, and not a bad route to take when beerifying (that's a word) a pumpkin pie. Sure, you can use that. Go ahead, be my beer-cookin' guest, it's not a bad choice. But for this I wanted to play up those brown sugar flavors with a nice barrel aged brown ale. So that's exactly what I did.
Brown ales don't get enough air time. They are often forgotten in the beer-of-the-moment hype. Browns are the George Harrison's of the beer world. The Willem Dafoe's of the beer world.
But brown ales have a lot of potential, a lot of great flavors, a lot of depth. Especially when they've been aged in a bourbon barrel. Like this Palo Santo Marron from Dogfish Head which has unleashed that underrated brown ale potential in a way that will remind the Beer Snobs that it's here to play. Or make pies. Or maybe both.
I used this Kitchen torch, because it's amazing, easily one of my favorite kitchen tools. (affiliate link)
Bruleed Pumpkin Beer Pie
Ingredients
1

Pale ale pie crust

¾

cup

heavy cream

2/3

cup

packed golden brown sugar

½

cup

white sugar

5

large egg yolks

¾

cup

brown ale

preferably a barrel aged brown ale

1/2

teaspoon

salt

2

cups

of pumpkin purée

1

tbs

cornstarch

2

teaspoons

of cinnamon

¼

teaspoon

ground ginger

1/4

teaspoon

ground nutmeg

1

tsp

vanilla extract

White sugar for brulee topping

about 3 tbs
Instructions
Preheat oven to 375.

Roll the pie dough out on a lightly floured surface and line a 9-inch pie pan. Place in the fridge to chill until the filling is ready.

In a pot over medium heat, add the cream. Heat until the cream starts to bubble around the edges.

In a large bowl whisk together the white sugar, brown sugar and egg yolks. Whisking continually, slowly pour the hot cream into the eggs. Whisk until well combined.

Add the remaining ingredients (other than the brulee sugar), whisk until well combined.

Pour into the prepared pie pan.

Bake at 375 for 50-60 minutes or until the filling puffs slightly and has set around the edges (the center will still be wobbly). Chill until set, at least 4 hours.

Just prior to serving, sprinkle the remaining white sugar over the top of the pie in an even layer. Using a culinary torch brulee the sugar until melted and turned a dark amber color.
For this recipe I use The Pale Ale Pie Dough