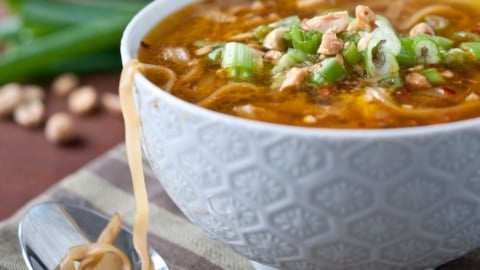 Love veggie meals? Try my Vegan Mushroom Quinoa Beer Chili! or Beer Battered Avocado Tacos! 
Living in LA during "fall" makes you feel like a bit of crazy person.
I'll pull on my tall boots and a chunky sweaters that I am rightfully entitled to wear in late October, later realizing that the weather will creep up into the 80's by mid day. And I'm the crazy lady at Starbucks ordering a pumpkin latte, wearing vintage Frye boots, jeans and a thick wool sweater while I could be wearing a jersey knit sundress like the normal, non-crazy, girl behind me in line.
And still, I persist. I even go home and make soup. Sweating the entire time I eat it. In my sweater, with the air conditioner running.
I spent three years as a vegetarian. The best thing I ever did when it comes to cooking, it opened up a world of produce to me and reminded me of all the foods I would often overlook just because they didn't contain meat. To this day there are still things I prefer in a vegetarian or vegan form.
When it comes to thai cooking, fish and oyster sauce are frequently called for. Here is an article about how to make those, DIY style in your own kitchen using non-meat products.
There is also a company that sell vegetarian fish sauce, vegetarian oyster sauce, and Golden Mountain Season Sauce is a great alternative when those are called for.
And for Gluten Free, I hear this Kikkomon GF Soy Sauce is great.
Pad Thai Soup
Ingredients
3 tbs oil
2 cloves garlic, minced
1 egg (omit for vegan)
3 oz extra firm tofu, diced (or cubed chicken)
4 cups broth (veggie or chicken)
4 oz rice noodles (also called pad thai noodles)
3 tbs soy sauce
1/4 tsp sriracha
1 tbs fish sauce (For vegan, use adaptation listed in above post)
1/4 cup roasted peanuts, crushed
1/4 cup green onions
1 tsp crushed red peppers
Instructions
In a large pot or dutch oven, heat the oil. Add the garlic and stir. Add the egg and cook until softly scrabbled. Add the tofu (or chicken), cook until lightly fried about 3 minutes.
Add the broth, then add the noodles, soy, sriracha, fish sauce, and peanuts. Cook until noodles have softened, about 5 minutes.
Serve topped with peanuts, green onions and red chili flakes.