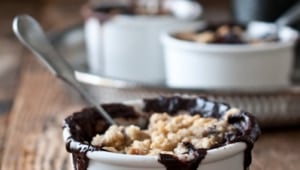 There is this way that I make food that I can only really see in retrospect as a mirror to how I'm feeling. Messy food means that I've wandered into internal chaos. It's OK, there are much less healthy ways of dealing with emotions than the culinary mood ring that my kitchen becomes.
There are some changes on my horizon, good changes, but ones that will put me on a new path. A path I'm ready for, excited for, but the thing about transition is you can only clearly see what you are giving up. What you have to gain is still a mystery, but you have a firm account of what will be lost in the shift. It takes faith in yourself, and those decision you've made, to keep your eyes firmly on the next trapeze bar after you've already let go of the one you were holding, flying through the air with nothing more than hope in what you've decided to do. Faith that the world will conspire in your favor.
I'm not going to keep you in the dark for long. I want you to join me in this transition, this journey. But today isn't for that. Today is for eating chocolate, drinking beer and enjoying the moment. More about my figurative trapeze leap later.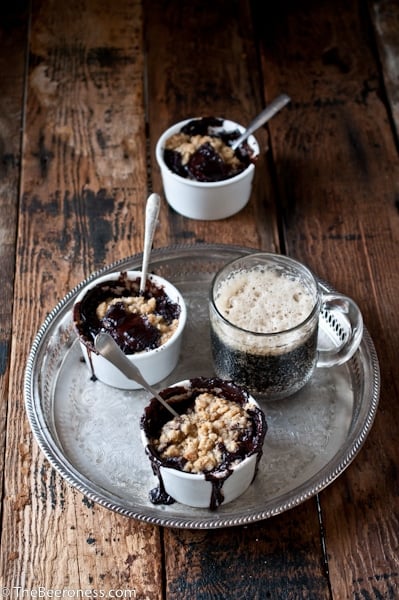 Chocolate Porter Berry Cobbler
Ingredients
Topping

¾ cup flour
¼ cup quick oats
¼ cup white sugar
¼ cup brown sugar
¼ tsp salt
½ cup chilled butter

Filling

3 cups berries* (thawed if frozen)
7 wt oz dark chocolate (about 1 ¼ cups)
¾ cup porter or stout (I used Stone Smoked Porter with Vanilla Bean)
Directions
Add the flour, oats, both sugars, and salt to a food processor, pulse to combine.
Add the butter, process until combined.
Place in the freezer until the filling is ready.
In a double boiler over medium heat, add the chocolate and the beer, stir until melted, remove from heat.
Stir in the berries.
Place 4 oven safe bowls (8 to 10 fl oz size) on a baking sheet.
Add the filling to the bowls, about 2/3 full.
Add the topping until level with the top of the bowl.
Bake at 350 until golden brown, about 45-50 minutes.
Notes
I used a combination of strawberries, raspberries and blackberries. Because overly ripe berries are so hard to ship, most pickers choose those to freeze, making frozen berries of a very high quality. Don't be afraid to use frozen berries when baking, they are often the best choice and most often frozen in season rather then grown in greenhouses out of season like some berries often are in the winter.
https://domesticfits.com/chocolate-porter-berry-cobblers/
Copyright �© TheBeeroness.com