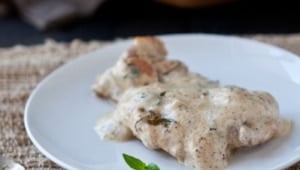 I started this blog with the idea that I'd blog my dinner, which turned into cooking for the blog which turned into freelance work and somewhere around starting an LLC and registering trademarks I realized that I rarely or never blogged my dinner.
I did an interview recently and the interviewer asked for links to my "go to week night meal," and I was more than embarrassed to say that I'd never really blogged it. This is just one version of my 15 minute chicken that seems to make it into regular rotation.
I always use boneless skinless chicken thighs, the flavor is worlds above the chicken breast and it is almost impossible to dry out. I love to cook them in a cast iron skillet because of the awesome crust it gives the chicken. The sour cream version was a big hit, so I'm sure it will make it into my busy weeknight menu again.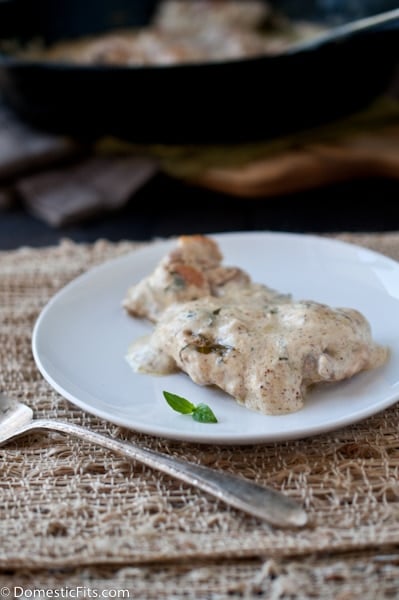 Beer Brined Scallops over Smokey Corn Puree and Stout Molasses Sauce
Ingredients
For the Scallops:

12 ounces pale ale
2 tbs salt
1 cup water
¼ cup lemon juice
12 jumbo scallops
2 tbs unsalted butter
2 tbs olive oil

For the Corn Puree

4 ears of corn
5 tbs butter
¼ tsp salt
½ tsp black pepper
1/4 tsp smoked paprika
1 cup cream (or half and half)

For the Sauce

1 cup stout
1 tbs molasses (don't use Blackstrap)
3 tbs balsamic
1 tbs soy
Directions
In a large bowl stir together the pale ale, salt, water and lemon juice.
Add the scallops, cover and refrigerate for 1 hour.
While the scallops brine, make the puree. Cut the kernels off the corn cob, set aside.
In a saucepan over medium high heat, melt the butter. Add the kernels, salt, pepper, smoked paprika and cream. Allow to simmer until corn has softened, about 8 minutes. Add to a blender or food process and process until smooth, about 5 minutes. Pass through a fine mesh strainer or chinois (this will remove any fibers and give you a really creamy puree).
Make the sauce: Add the stout, molasses, balsamic and soy to a sauce pan over high heat. Bring to a boil, reduce heat to maintain a strong simmer, cooking until reduced and slightly thickened, about 10 minutes (should easily coat a spoon). Sauce can be made three days ahead of time and stored in the fridge, but with thicken as it cools. Heat slightly to thin.
Remove the scallops from fridge and place on top of a stack of 4-5 paper towels. Add another layer of paper towels and allow to drain and dry for 15 minutes. Sprinkle with pepper on both sides.
Add the butter and olive oil to a pan over high heat. Allow the butter to melt and get very hot, nearly smoking.
Add the scallops, flat side down, and allow to cook until a dark golden brown crust forms on the bottom, about 2 minutes. Flip and cook until seared on the opposite side. Remove from pan when a slight hint of translucent pink still remains at the center, don't over cook.
https://domesticfits.com/skillet-sour-cream-chicken/
Copyright �© TheBeeroness.com