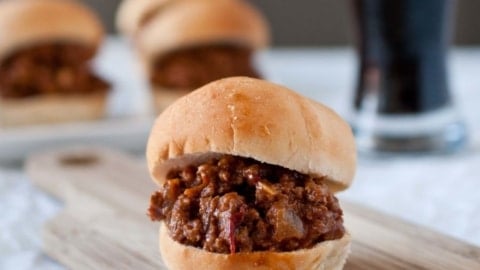 I spent a few days up in Napa last month. While I was hanging out at Bear Republic those guys were nice enough to show me around and even let me jump behind the bar. While I was behind the bar, most likely annoyingly in his way, the bar manager asked me what my favorite style of beer was. To be honest, I didn't have an answer. I wanted to try his special release stuff, those beer that never make it into bottles. And the Peter Brown Tribute that I had heard about but hadn't been able to taste yet, but I still am not sure if I could pick one all-time favorite.
It depends on what I'm eating.
I do tend to favor lower alcohol beers, because I live in LA and we like to drive here.
I like a dry hopped IPA.
Or a circusy White.
And I will always stand in line for a spicy beer.
But, if I had to choose only one style of beer to cook with, that would be easy. Stouts are by far my favorite beer to cook with. They work well with beef and fabulously with chocolate. Spicy stouts are always intriguing, and although the go-to recipes for those seems to be a meat product, I  also want to figure out a really great chili chocolate cake recipe made with a spiced stout.
Lucky for us, more and more breweries are making beer with spices so check out your local beer store and ask around. Here are some of my favorites:
Stone Smoked Porter W/ Chipotle Peppers
Bootlegger Black Phoneix Chipotle Coffee Stout
I really encourage you to find a great beer for a brewery close to home. Stop in some day and see what they suggest. Maybe there is even a brewery close to you that won at last weeks Great American Beer Festival. Take look, make  some notes on what you want to try, but don't forget to drink what you love, because you love it, regardless of how many or how few prizes it has under it's belt.
Chipotle Stout Sloppy Joe's Sliders
Ingredients
1

tbs

oil

1

lb

80%/20% premium ground beef

1/2

white onion

chopped

3

cloves

of garlic

1 1/4

cup

Chipotle Stout or Porter

1

small chipotle pepper

from can in adobo sauce

1

tsp

adobo sauce from can

4

oz

tomato paste

1

tbs

mollasas

2

tbs

Worcestershire sauce

1/2

tsp

dijon mustard

1/4

tsp

cumin

1/4

tsp

smoked paprika

1/4

tsp

salt

14-16

slider buns

warmed
Instructions
In a pan over medium high heat, add the oil and ground beef, cook until browned, stirring and breaking up meat. Using a slotted spoon, remove meat from pan.

In pan with residual oils, cook the onions until soft, about 5 minutes. Add the garlic and stir.

Add the beer, stir to combine.

Remove a small chipotle pepper from the can. Using a sharp knife and fork, chop very well until nearly reduced to a paste like substance. Add chipotle to the pan along with tomato paste, adobo sauce, molasses, cumin, paprika, salt, Worcestershire sauce and mustard. Allow to cook until well combined and slightly thickened.

Add meat to the sauce pan, stir until well combined.

Fill slider buns with meat, serve warm.