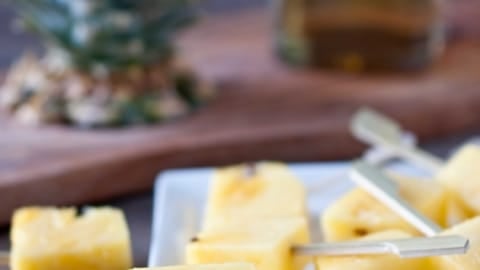 Pineapple season is here! Although it's still a tad colder here in the US than in the tropics, it's still completely acceptable to soak your vacation-related produce in booze. My hard liquor consumption is fairly infrequent, but lately booze has worked it's way into my kitchen. I'm much more of a beer and wine kind of girl, but rum has some beautiful flavors that pair nicely with pineapples.
Although this would make an excellent blended drink, there is something that feels special about eating liquor right off a stick.
Just soak
Skewer
and freeze
Orecchiette Pasta with Pale Ale Parmesan Cream Sauce
Ingredients
2 tbs butter
2 cloves garlic, minced
1 cup pale ale
1 cup cream
1 tbs lemon juice
½ cup parmesan
½ tsp pepper
½ salt
pinch cayenne
½ cup English peas
3 cups Orecchiette Pasta
1 cup water
Directions
In a pot over medium high heat, melt the butter. Add the garlic and cook until fragrant, about 30 seconds.
Add the beer, cream and lemon juice; reduce heat to maintain a simmer. About a tablespoon at a time, add the Parmesan, stirring until melted before adding more.
Add the dry pasta, water and peas, simmer, stirring frequently, until pasta is al dente and the sauce has thickened, about 10 minutes. Serve immediately.
Notes
To make this recipe using fresh, not dried, pasta, omit the water.
https://domesticfits.com/rum-soaked-pineapple-pops/
Copyright �© TheBeeroness.com