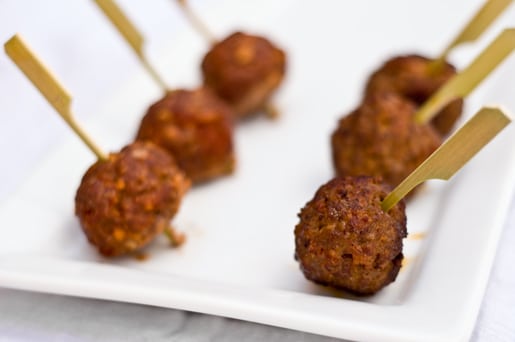 I got a request last week (yay!)  for a How To post about round meatballs. Most pan fried meatballs have the same issue, flat on three sides, in a pyramid shape, as opposed to the pretty round ones.
There are three methods to making meatballs round, but all start the same way.
Mix up your favorite meatball recipe making sure to use a binding agent (such as bread crumbs, oatmeal or even rice). For this post, I used the following:
2 cups lean ground beef
3/4 cup sweet italian sausage, casing removed
1 tsp salt
1/2 cup panko bread crumbs
1 tsp salt
1/2 tsp black pepper
1/2 tsp smoked paprika
1 egg
Mix it up really well (your hands work best for this) and use a small cookie scoop to grab a meatball sized portion.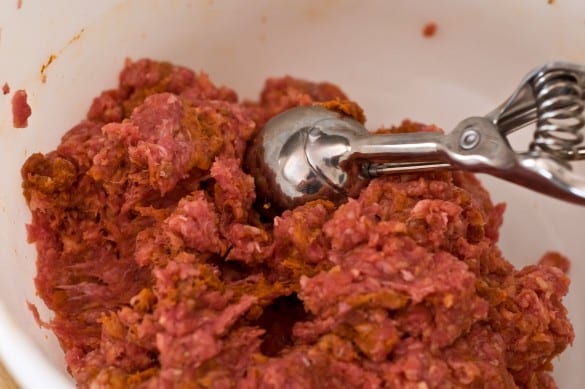 This will allow you to have uniformly sized meatballs.
Roll them in your hands to make them as round as possible.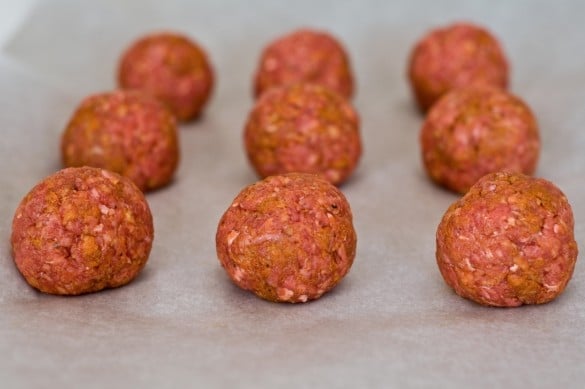 This is where the methods will deviate.
Method 1
The first method is to boil them. This will give you perfectly round meatballs without much fuss. Just drop your meatballs in a pot of boiling liquid. You can use the sauce you intent to serve them with, water or broth and cook until the internal temp reaches 165 or until, well, they are cooked when you break them open (about 6-10 minutes depending on size)
This method works great to give you really pretty and uniform meatballs, as well as infusing liquid to make them juicy. As for me, I like the caramelized char of a pan fried meatball, so I'd take a misshapen one over a boiled one any day, but if looks are what you are going for, boiling is a great options
Method 2
Baking. Some people swear by this method and love the way the meatballs taste after baking. Next to boiling, it is a really healthy method, saving the calories of the oil in pan frying. Heat your oven to 350, place your meatballs on a baking sheet covered with parchment paper and bake for about 15-18 minutes. I baked half of my meatballs, and pan fried the rest. The baked meatballs did still have a slight flat spot where they sat on the pan but the flavor was great. They did lack that browning on the outside that I love.
Method 3
Chill then pan fry. Place the meatballs on a plate and chill in the fridge for at least two hours. You want to be able to brown the outside before the inside knows whats going on and has a chance to sag. Heat 2 tbs of oil in a pan until it is very hot and almost smoking. Get your meatballs out of the fridge and place them in the hot pan. Grab the handle of the pan and pull it back and forth over the burner so that your meatballs never have a chance to settle.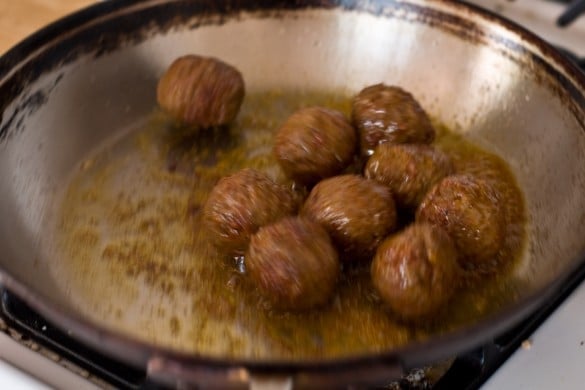 Cook for about 5-8 minutes, make sure that the meatballs are cooked through before serving. I just broke one open but you can also break out the thermometer and make sure the temp is at least 165.
Here are the final product of Method 2 (baking) and Method 3 (chill then pan fry).
Method 2 is on the left and Method 3 is on the right.
Of all the methods, chilling and pan frying was my favorite. They aren't as perfectly formed as boiled ones,but that browning taste that I love came through beautifully. Another factor to keep in mind is that lean meat cooks better, while fattier meat may leave empty pockets where the fat has melted, making your meatballs misshapen.
If you have a request for How To Mondays, you can email it to me at [email protected] or leave it on my Facebook wall at