I'm in the middle of a move. It's hard to leave a place, a home, that has become a part of me. Plaster walls and a stone patio that has served as a backdrop to a phase of my life that I'm not ready to close the chapter on. A small house, my first house, that saw Tater grow in my belly, watch as I nervously brought her home for the hospital, rooms that served as the setting of her first steps that she took so early in the first months of her life. A place that helped my husband and I mend in a difficult time in our marriage. A kitchen that has given light and heat to the food in all of my photos. I leave with a heavy heart, but with a hope for the future and what the next chapter has for me, for my family.
So, forgive me if the posts roll out a little slower over next few weeks. And if I'm not as quick to respond to you, to everyone, who talks to me over the network of social media that has given so much breath to my life in the past few years.
This is a simple potato salad. I roasted the vegetables instead of boiling them, roasting gives such beautiful flavor with so little effort.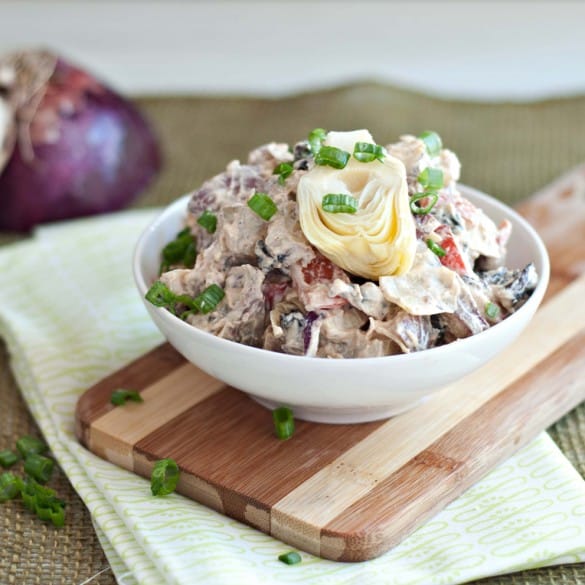 Roasted Potato Salad
1/2 red onion, chopped
4 cups red potatoes, chopped
1 red bell pepper, chopped
2 tbs olive oil
1 tsp sea salt
6 oz artichoke hearts, chopped
1/2 cup sour cream
1/4 cup blue cheese salad dressing
1/2 tsp smoked paprika
1 tsp deli mustard
1/4 cup green onions, chopped
salt and pepper to taste
Preheat oven to 425.
On a baking sheet, place the red onions, potatoes and pell pepper. Drizzle with olive oil and sprinkle with salt, toss to coat. Roast at 425 for 25-35 minutes or until the potatoes are fork tender, tossing every 10-15 minutes while roasting. Allow to cool.
In a bowl, add the remaining ingredients, along with the roasted vegetables and toss to coat. You can serve this either warm or cold, depending on your preference.
Like Domestic Fits on Facebook