When I first got into food blogging I had this idea that I would just take pictures of my dinner and post the recipe online. Somewhere between installing Google Analytics and starting an LLC, I realized that I was cooking in order to develop content rather than just posting what I was eating.
I guess that's inevitable when I started to earn an income and see my website as a small business. I also realized that although I often stray from who I am as a cook in order to cultivate blog hits, I love cooking, I love food and I got in this business because of those things. When the recipes you love get ignored and the ones you don't have strong feelings about go viral, it's hard not to just continue to post those Pandering to the Masses recipes that go viral, but I know that I am the most happy when I cook the food I want to cook and hope that you love it, too.
I loved the way this came out, even though I know it wont go viral. It's how I like to eat, and how I like to spend my time in the kitchen, hope you don't mind too much.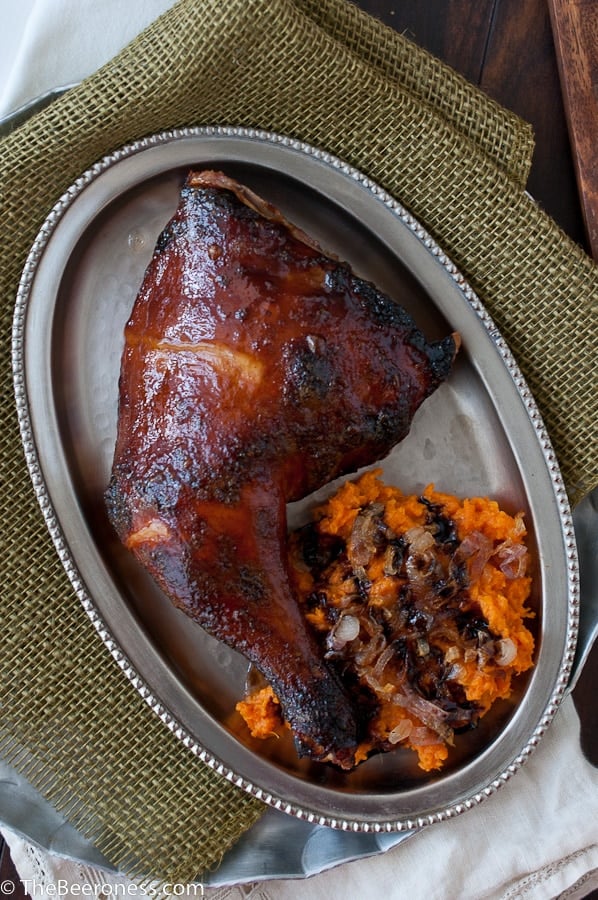 Mirin Stout Glazed Roast Chicken with Maple Sweet Potatoes topped with Caramelized Shallots and Balsamic Glaze
Ingredients
For the Brine:
2

cups

water

3

tbs

kosher salt

12

ounces

brown ale

2

cups

ice

4

chicken leg quarters

or 1 whole roasting chicken, cut into quarters
For the Glaze:
1

cup

stout

2/3

cup

mirin

¼

cup

soy sauce

½

tsp

chili powder

1

tbs

cornstarch

3

tbs

honey
For the Sweet Potatoes:
2

large shallots

sliced (2/3 cup)

2

tbs

butter

plus 4 tbs divided

1

tbs

oil

3

large sweet potatoes

peeled and sliced

2

tbs

real maple syrup

2

tbs

heavy cream

¼

tsp

nutmeg

¼

salt

1/4

cup

chopped pecans

3

tbs

balsamic gaze
Instructions
In a pot over medium high heat, add the water and the salt. Stir until salt has dissolved, remove from heat, add the beer and ice. Stir until ice has dissolved and brine is at room temperature or below.

Add the chicken quarters to a large bowl. Pour the brine over the chicken, cover loosely with plastic wrap, refrigerate for 3 hours and up to 24 hours.

Preheat oven to 425F.

Add the stout, mirin, soy, chili powder, cornstarch and honey, whisk to combine. Add sauce pan to high heat, allow to boil until slightly reduced and thickened, about 5 minutes.

Cover a baking sheet with aluminum foil, place a wire rack over the foil lined baking sheet.

Remove chicken from brine, discard the brine. Rinse the chicken well and pat dry. Place chicken on the wire rack.

Brush liberally with the glaze.

Roast at 425F for 45 to 55 minutes, brush with glaze every 10-15 minutes. Remove from oven when the internal temperature reaches 175F.

While the chicken is cooking make the sweet potatoes. In a saucepan, melt the butter with the oil over medium heat. Add the shallots and cook over medium-low heat until caramelized, about 20 minutes.

Boil the potatoes in a pot of lightly salted water until fork tender, about 12-15 minutes. Drain, return sweet potatoes to the dry pot. Add 4 tbs butter, cream, maple syrup, salt, and nutmeg, mash with a potato masher until well combined and potatoes are well mashed, transfer to a serving dish. Top with caramelized shallots, chopped pecans and drizzle with balsamic glaze.
Notes
Balsamic glaze can be bought at the store, often by the balsamic vinegar, or you can make it by reducing 1 cup balsamic and 1 tbs white sugar or honey in a saucepan until reduced and thickened.