Grilled pizza is my favorite way to make homemade pizza right now. On the rare occasion that I think about it a day ahead of time, I like to make this pizza dough, but if I've only got an hour, I use this one hour pizza dough recipe. The grill gives the dough a nice lightness with just a bit of crunch from the high heat. There are a few things to keep in mind when grillin' up a pizza, but overall, it's really quick and simple.
To start, make sure you have all of your topping ingredients, sauce and shredded cheese ready to go and next to the grill before you throw the dough on. The process can move a bit fast and you don't want to be running back and forth to the kitchen to grab what you forgot.
Preheat the grill to medium high.
Roll out your dough on a floured surface.
You'll have to move the dough to something that you can carry to the grill. The best option is a pizza peel, if you have one, they are a great tool when grilling pizza.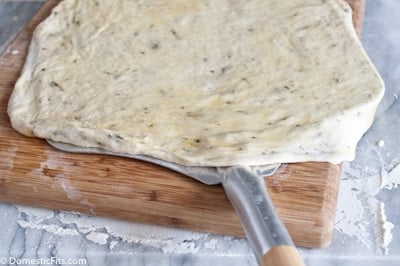 If you don't have one, a large cutting board will work well.
Next, brush the dough on one side with olive oil.
Transfer the dough to a hot grill, oiled side down (you can also try sliding it onto the grill without oiling it, but there is a chance it will stick). If you're using a pizza peel, you can flip it like a pancake onto the grill (it's what I do) or have someone help you transfer it. That's the hardest part, once you get that down, it's pretty simple.
Next, brush the top side with olive oil.
Once the underside of the dough has started to form grill marks (about 3 to 5 minutes), flip the dough. The dough will have stiffened by now, making flipping the dough pretty easy. Use the peel if you have it, or a large grill spatula.
Immediately top with your chosen toppings.
Close the lid and allow to cook until the dough is cooked through and the cheese has melted, about 5-8 minutes. Transfer to a serving tray.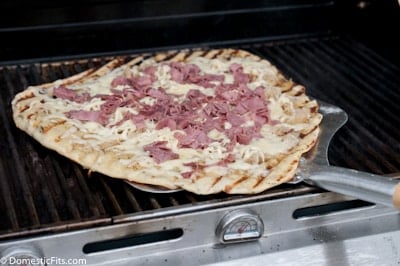 Chipotle Stout Braised Beef Tacos With Fresh Pico De Gallo
Ingredients
1/4 cup olive oil
1 tsp salt
2 tsp black pepper
2 lb Tri Tip Roast
1 Large Bottle (1 pint, 6 oz) Dark Stout such as Bootleggers Black Phoneix
1/2 cup beef broth
6 cloves of garlic, peeled
1 large white onion, peeled and quartered
2 large Chipotle Chilies in Adobo Sauce, chopped, plus 1 tbs Adobo sauce
12 6 inch tortillas

For the Pico De Gallo:

1 large jalapeno, stem and seeds removed, chopped
1/2 cup chopped red onion
2 tbs lemon juice
1/2 tsp salt
1/2 cup tomatoes, chopped
1/4 cup cilantro, chopped
Directions
In a large pot or cast iron enamel dutch oven, heat the olive oil over high heat until hot but not smoking. Sprinkle the roast on all side with salt and pepper. Sear the meat on all sides until browned, about 4 minutes per side.
Add beer and broth, bring to a simmer, reduce heat to maintain a low simmer. Stir in the garlic, onions, chilies and adobo sauce, add the lid at a vent.
Allow to simmer until fork tender and falling apart, about 2 1/2 to 3 hours. During the cooking process, turn the meat over about every 30 minutes. If the liquid in the pot gets low, and too thick, add additional beer or hot water.
Once the meat is done, shred in the pot using two forks, remove any large pieces of fat that have not rendered. Cover and simmer for about 5 minutes.
While the meat is cooking, make the Pico De Gallo by placing all ingredients in a bowl and stir to combine.
Remove meat from pot, serve inside tortillas, covered with Pico De Gallo.
https://domesticfits.com/grilled-reuben-pizza-and-how-to-make-grilled-pizza/
Copyright �© TheBeeroness.com