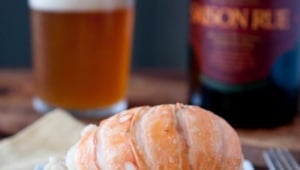 Lets Get romantic, shall we?
Last year, my Valentines day post earned my quite a bit of hate mail. But, I suppose when you label your post "How Blow Jobs and Shoe Shopping Are Alike," That's bound to happen.
But the post wasn't about blow jobs, or shoe shopping, and the hate mail was largely from single women who had never been in a successful long term relationships, and exclusively from people who didn't read the entire thing.
The post is about figuring out what your partner needs to feel important and giving it to them gladly and frequently. Because although the "Golden Rule" is Treat Others How You Would Like To Be Treated, I think that might be what's wrong with most relationships.
Because, really, treating someone how YOU would like to be treated is pretty self-involved and arrogant. How about Treat Others How THEY Would Like To Be Treated and maybe we would have a higher marriage success rate as a nation. Because although you might think you've done everything you can for your partner, maybe the problem is that you're asking, "What else can I do?" rather than, "What do they need?"
Can you tell I have a Masters in Psychology? I would have made a terrible therapist, but I make a killer risotto.
So here it is, with some beer and butter poached lobster.
For this recipe I used Saison Rue from The Bruery.
Beer and Butter Poached Lobster with Saison Risotto
Ingredients
For the Risotto
2 ½

cups

chicken broth

3

tbsp

unsalted butter

1

tbs

chopped shallots

2

cloves

of garlic

minced

¾

cups

arborio rice

1

Tbsp

vegetable oil

½

cup

Saison Beer

plus 2 tbs, divided

¼

cup

grated Parmesan cheese

2

tbs

heavy cream

½

tsp

black pepper

¼

tsp

salt

2

tbs

chopped chives
For The Lobster:
2 ½

cups

unsalted butter

12

ounces

1 1/2 cups Saison beer

2

fresh lobster tails
Instructions
Place the chicken broth in a saucepan and bring to a mild simmer, keeping to warm, but not boiling.

In a separate pot, add the butter and allow to melt over medium heat. Add the shallots and cook until softened, but don't allow to brown. Add the garlic and cook until you can smell them, about 20 seconds

Stir in the rice, (if pan is dry, add the oil) cooking until the rice is completely coated with butter and it smells slightly nutty, don't allow to brown. About 2 minutes.

Add ½ cup of the beer and cook until the pan begins to dry, stirring frequently. About 6 minutes.

Add about ½ cup of broth into the rice. Stir frequently until the rice is almost dry, and then add another ½ cup and repeat. This process should take about 20 minutes. Don't leave the risotto while it's cooking, the rice on the bottom of the pan burns easily. (if you run out of broth, just use hot water the same way you would broth)

Once your risotto is cooked through (taste it to verify that the rice is cooked and not crunchy), turn heat to low and add the cheese, cream, remaining 2 tbs beer and salt and pepper to taste. Risotto should be soft and wet, not dry like typical rice. It should be firm enough to be served as a side on a plate, but soft enough to jiggle when the plate is shaken.

While the risotto is cooking, start working on the lobster. Using a sharp pair of kitchen sheers, cut a straight line down the tail shell, carefully remove the tail meat in one piece.

In a small sauce pan (if the pan is too big, the lobster will not be covered by the butter and beer), melt the butter. Don't allow to brown or simmer.

Add the beer and clip a cooking thermometer on the side of pan, making sure to maintain a temperature between 160 and 180 degrees. Do not boil or even simmer the poaching liquid.

Once the poaching liquid has reached the proper temperature, add the tails. Cook until the tails have turned red and the meat is just opaque, about 6 to 8 minutes. Don't overcook or tails will be rubbery.

Divide the risotto between two plates, sprinkle with chives.

Top with lobster tails, serve immediately.