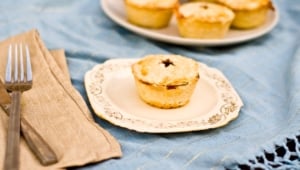 Clearly, I like things in miniature form. Not only are they just plain adorable, it provides some much needed portion control. If I have a pie, just sittin in the fridge, I have a strong temptation to constantly cut off a sliver if I'm in the vicinity. If I just have these small versions, I'm less tempted and I've tricked my brain into thinking I had much more than I actually did. I just ate a WHOLE pie! Well, a pie the size of a cupcake, but still. Plus, how great are these for dinner parties?
Mini Peach Pies
Pie Dough:
(adapted from Fool Proof Pie Dough, Cooks illustrated 2007)
3 cups of all purpose flour
1/2 tsp salt
3 tbs sugar
10 tbs butter (1 stick, plus 2 tbs), cut into cubes
1/2 cup shortening
1/4 cup vodka
1/4 cup cold water
Peach Filling:
4 1/2 cups of diced peaches
1 1/2 cups of powdered sugar
1/2 tsp salt
3 tbs unsalted butter
1 tbs honey
1/4 cup lemon juice
Sour Cream Filling:
2/3 cup Sour Cream
1/3 cup sugar
1 egg
1/2 tsp vanilla
I seems to make a lot of pie dough. I love it, and after years of research and practice, I am loyal to the homemade version and it's vast superiority over the store bought stuff. If you plan ahead, it really doesn't take much time at all.
First, food processors are great at getting the job done as quickly as possible, and as previously mentioned on this blog, the more you mess with dough the tougher it becomes. So break out that food processor and add 2 cups of the flour, salt and sugar and give it a quick pulse until it's combined.
Add the cubes of butter and the shortening and pulse until combined, about 1 1/2 minutes.
Add the remaining flour and process until it's all combined. Move to a bowl, add your water and vodka with a spatula. Your dough will be very moist, but you can add a bit of flour if it is too moist to hold together. Then split into two evenly sized disks and wrap in plastic wrap, and chill for at least 2 hours. If you need to, this can be made up to three days in advance, just store the plastic wrapped disks in a large zip lock bag.
In a pot over medium heat, combine the peaches, butter, powdered sugar, salt,  honey and lemon juice. Stir frequently, allowing to simmer until reduced and thickened. About 15-20 minutes.
In a bowl, combine the sour cream, sugar, egg and vanilla and stir until combined.
Roll out your cold dough on a flowered surface. Cut circles large enough to fit into your muffin tins, with a bit of an over hang. I found that for mine, 4 inch worked the best. My largest biscuit cutter was 3 inches so I used a wine glass as my pie dough cutter.
Spray your muffin tins with butter cooking spray and then place your dough circles inside the wells, making sure there is a tiny bit of overhang.
Poke holes in the bottom of your dough and then fill with about 2 tsp of the sour cream mixture and then two tbs of the peaches mixture.
Cut out top circles for your mini pies using a 3 inch biscuit cutter (or a size appropriate for the muffin tins you are using). I had a cute little tiny cookie cutter in the shape of a star that I used for the top. You can just cut slits in the top if you don't have a tiny cutter. I have also found that the lid of a chapstick tube (cleaned, of course) makes a great tiny circle cutter in a pinch.
Place your top circles in place and pinch the edges together.
In a small bowl, wisk one egg with a fork. Brush on top of your pies and then sprinkle with sugar.
Place your mini pies in the fridge for 20 minutes to all to chill.
Preheat your oven to 350. Bake for 18-22 minutes, or until the tops are a golden brown.
OOOOOOOOOOOOOOOOOOOOOOOOOOOOOOOOOO