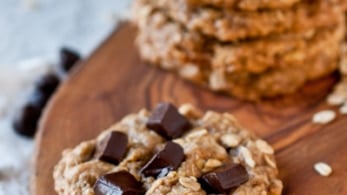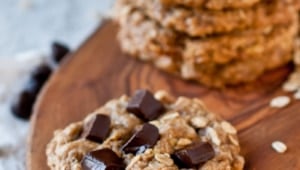 Flourless Peanut Butter Oatmeal Chocolate Chip Cookies are naturally dairy and gluten free, take 5 minutes and one bowl to throw together.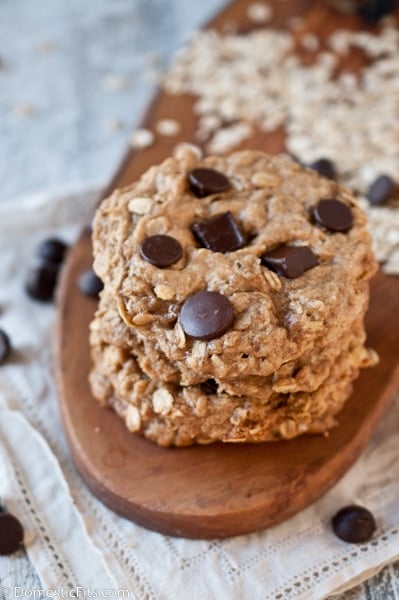 There is really nothing simple about my life these days. Between two blogs, freelance work, a book, a book tour, another super secret project I hope to tell you about soon, and (oh yeah) a family, I've officially crossed over into complex living. As a result, my food has become more simple. Beautifully simple. Fewer (but better) ingredients, less waste, more time with that family who gives me so much support. These cookies are a great example. My favorite cookie recipe ever (on the planet) takes 3 days to make, inspiring the name Thursday Night Cookies because if I want them for the weekend, I need to start making them Thursday night.
But right now, in this crazy phase of my life, I want something that can give me near instant comfort and gratification with just a few ingredients I already have. So that someday I can get back to those lazy days and Thursday Night Cookies.
Flourless Peanut Butter Oatmeal Chocolate Chip Cookies
Prep Time: 5 minutes
Cook Time: 12 minutes
Total Time: 17 minutes
Yield: 12 cookies
Ingredients
3/4 cup peanut butter
1 cup brown sugar
1/2 tsp vanilla extract
1 tsp baking soda
1 cup whole oats
½ cup chocolate chips
1 large egg
Instructions
Preheat oven to 350
In a large bowl gently stir together all ingredients.
Using a cookie scoop, add golf ball size mounds to a cookie sheet that has been covered with parchment paper, evenly spaced. Flatten to one-inch circles using your hand.
Bake at 350 for 10-12 minutes or until the edges turn golden brown. Pull the parchment paper off the cookie sheet and onto a flat surface. Allow to cool.
Notes
A lot of oat companies process their oats with machines that also come in contact with gluten, making the contamination rate high for store bought oats. If you need these to be gluten free, make sure to buy oats labeled "gluten free."