These aren't just muffins. They are two forms of quiet rebellion.
First, it's beer for breakfast. And unless you're having a brunch mimosa or in the general vicinity of Las Vegas, breakfast booze is generally frowned upon.
Second, lets be honest, muffins are basically just cupcakes.
But you and me, we're different. We aren't like those others. We don't do the frowning, we do the drinking; and in the "If your friend jumped off a bridge, would you?" analogy, we are the bridge jumping friend; and we eat whatever the hell we want for breakfast, sometimes that's baked goods made with booze; and sometimes we swear in front of old people and toddlers.
In my opinion, it's really only that last one we need to work on.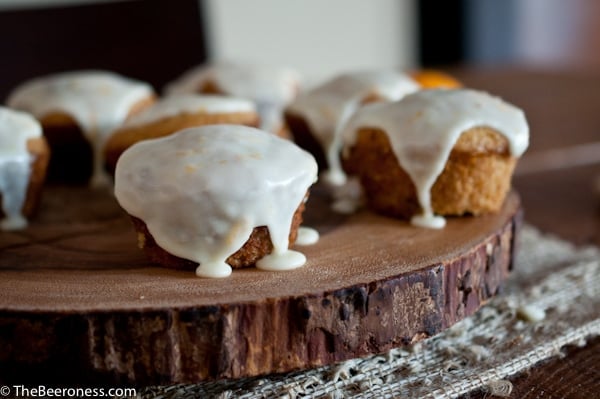 Orange Cranberry Beer Muffins
Ingredients
Muffins
1

large naval orange

2/3

cup

white sugar

½

cup

brown sugar

½

cup

unsalted butter softened

1

egg

1

tsp

vanilla extract

¼

cup

buttermilk

1

tbs

vegetable oil

2/3

cup

wheat beer

2

cups

cake flour

½

tsp

baking powder

½

tsp

baking soda

½

tsp

salt

1

cup

dried cherries
Glaze
1 1/2

cups

powdered sugar

1

tbs

wheat beer

1

tbs

reserved juice from orange

1

tbs

reserved orange zest
Instructions
Preheat oven to 350.

Zest the orange, then juice it. A large orange should yield about ¼ cup juice and 3 tablespoons zest.

Add both kinds of sugar, and 2 tablespoons orange zest to a stand mixer mix on high for two minutes to release the orange oils from the zest. Add the butter and beat on high until the butter and sugar are well creamed.

Add 2 tablespoons orange juice, egg, and vanilla extract, beat on high until well combined.

Add the buttermilk, oil and beer, stir until combined (some curdling is expected).

In a sperate bowl stir together the flour, baking powder, baking soda and salt.

Add flour mixture to the stand mixer and stir until just combined.

Stir in the dried cherries.

Pour in the muffin tins that have either been greased or lined with muffin papers until the wells are about 2/3's full (about ¼ cup per well).

Bake at 350 for 18-20 minutes or until the tops spring back when gently touched.