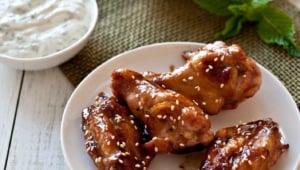 If you are a regular reader of my blog, you might have taken one look at this title and wondered if I had flashbacks to the Moroccan Mint Experience. The answer, of course, is yes.
And I'm going to bet that my sister who accompanied me on the guided tour of Middle Atlas headed by a man who was surely a Moroccan drug dealer, had a similar flashback, and possibly a shudder,  just reading the title of this post.
But I still really want to like mint. It's an amazingly fresh and bright flavor that I want to enjoy. I want to be able to drink a Mojito if I ever make it to Cuba, and when I someday go to The Kentucky Derby, I am most certainly going to order a mint Julip and enjoy it under my huge hat. And if I ever find myself in the "living room" of another hospitable cave dweller on the other side of the world, I want to be able to drink his tea with a smile.
So I'm subjecting myself to some Exposure Therapy. And I am enjoying it immensely. Other than the involuntary gagging when I chopped the mint (I know, that totally makes you want to run right out and make this chicken), I am completely in love with the end result of this dish. Even the Wasabi Mint Cream Sauce. It was a fantastic balance of flavors that I enjoyed much more that I had imagined. And I can now say that I am well on my way to recovery. I see more mint in my future.
Speaking of chicken, I have some great news. As I'm getting all the details for my participation in the 3rd Annual Foster Farms Fresh Cooking Contest all in order, the wonderful people over at Foster Farms have given me 5 pairs of tickets to the event to give away to my readers. I'm so excited about that. This is an invite only event, and tickets are very limited. I would love for some of you to go with me.
Mojito Chicken Wings With Wasabi Mint Cream Sauce
Ingredients
12 Foster Farms Party Wings
1 tsp salt
1 tsp pepper
¼ cup cornstarch
2/3 cup ponzu sauce
2 tbs honey
¼ cup white rum
1 tsp red chili sauce (such as sriracha)
2 tsp garlic powder
2 tbs sesame seeds
6 oz Greek yogurt
1/4 tsp wasabi powder
1 tbs cilantro, minced
2 fresh mint leaves, minced
1 tbs lime juice
Instructions
Preheat the oven to 425.
Rinse the chicken wings in cold water and dry well.
Sprinkle chicken on all sides with salt and pepper. Sprinkle with cornstarch and rub to coat.
In a separate bowl, add the ponzu, honey, rum, chili sauce, garlic powder and sesame seeds, stirring well to combine. Add the chicken, toss to coat. Cover bowl with plastic wrap and place in the fridge for ten minutes.
Line a baking sheet with aluminum foil.
Arrange the chicken wings on the baking sheet and bake at 425 for ten minutes.
While the chicken is baking, add the remaining marinade to a pot over medium high heat,stiring frequently, reduce until thickened and syrupy, about 8-10 minutes.
Once the marinade has reduced, remove the chicken from the oven and brush with the thickened marinade, turn them over, brush with marinade on the other side.
Return to the oven and allow to cook for an additional ten minutes, basting again.
Allow chicken to bake until cooked through, an additional 10-15 minutes. Remove from the oven and sprinkle with sesame seeds.
To make the sauce, add the Greek yogurt, wasabi, cilantro, mint, and lime juice to a bowl and mix to combine. Serve the sauce along side the wings as a dipping sauce.
(Note: the total cooking time for the chicken will be approximately 25-35 minutes, requiring basting every ten minutes)