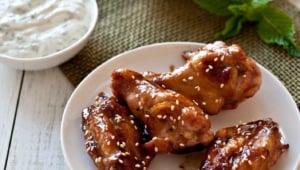 If you are a regular reader of my blog, you might have taken one look at this title and wondered if I had flashbacks to the Moroccan Mint Experience. The answer, of course, is yes.
And I'm going to bet that my sister who accompanied me on the guided tour of Middle Atlas headed by a man who was surely a Moroccan drug dealer, had a similar flashback, and possibly a shudder,  just reading the title of this post.
But I still really want to like mint. It's an amazingly fresh and bright flavor that I want to enjoy. I want to be able to drink a Mojito if I ever make it to Cuba, and when I someday go to The Kentucky Derby, I am most certainly going to order a mint Julip and enjoy it under my huge hat. And if I ever find myself in the "living room" of another hospitable cave dweller on the other side of the world, I want to be able to drink his tea with a smile.
So I'm subjecting myself to some Exposure Therapy. And I am enjoying it immensely. Other than the involuntary gagging when I chopped the mint (I know, that totally makes you want to run right out and make this chicken), I am completely in love with the end result of this dish. Even the Wasabi Mint Cream Sauce. It was a fantastic balance of flavors that I enjoyed much more that I had imagined. And I can now say that I am well on my way to recovery. I see more mint in my future.
Speaking of chicken, I have some great news. As I'm getting all the details for my participation in the 3rd Annual Foster Farms Fresh Cooking Contest all in order, the wonderful people over at Foster Farms have given me 5 pairs of tickets to the event to give away to my readers. I'm so excited about that. This is an invite only event, and tickets are very limited. I would love for some of you to go with me.
Ingredients
2 chicken breasts
about 1/4 cup flour for coating
1 tsp salt
1 tsp pepper
3 tbs butter, Plus an additional 3 tbs, divided
1 1/2 tbs flour
1/3 cup pale ale
1/4 cup fresh squeezed lemon juice
1/3 cup chicken broth
1/4 cup capers
Directions
Filet each chicken breast in half horizontally, making each chicken breast thinner, not smaller. Place a piece of plastic wrap over the chicken and pound with a meat mallet or a rolling pin until about 1/4 to 1/2 inch thick.
Sprinkle on all sides of the chicken with salt and pepper. Dredge chicken in flour until well coated.
In a pan over medium high heat, melt the butter. Once the butter is melted, add the chicken and cook on each side until browned, about 3 minutes per side. Remove from pan.
In a clean pan melt the remaining butter. Sprinkle with 1 1/2 tbs flour and whisk until combined. Add the beer, broth and lemon juice and cook until warmed and thickened, about 3 minutes. Add the capers and stir.
Add the chicken to a plate on top of a bed of rice or pasta. Top with sauce, serve immediately.
https://domesticfits.com/mojito-chicken-wings-with-wasabi-mint-cream-sauce-free-tickets-to-the-cook-off/
Copyright �© TheBeeroness.com