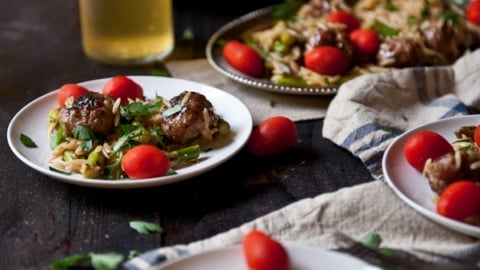 I get a little itchy if I don't get to cook.
The way musicians get when you keep them away from a stage, or an athlete when you take the ball away or how a runner will start to chew on the curtains if he can't get out on the road. Even on the tail end of writing recipes for my second cookbook, like this one, I spend most days cooking in my kitchen surrounded by dirty dishes and half empty bottles of beer. And even though I should be writing recipes for my cookbook, I just wanted to make something that I wanted to make because I wanted to make it. It just happened to turn out photogenic, and so delicious that I wanted to share it with you. It's an amalgamation of stuff in my fridge as well as half started recipes in my brain, and it also helped me use up one of those half empty bottles of beer I had laying around. And in the midst of cooking three other recipes, this one just took twenty minutes, which is good given the amount of cooking I need to do on a daily basis.
After six hours of cooking, and three rounds of dishes, I feel a little less itchy. But I do need a beer, a full one.
Asparagus and Sausage Meatball Orzo with Parmesan Beer Cream Sauce
Ingredients
½

lbs

raw Italian sausage

removed from casings

2

tbs

pale ale

plus ½ cup pale ale, divided

1

tsp

red pepper flakes

2

tbs

olive oil

1

lbs

asparagus

¼

cup

heavy cream

2

wt oz fresh shredded parmesan cheese

about 1 cup

1

tsp

honey

½

tsp

black pepper

2

cups

orzo

¼

cup

chopped fresh parsley

½

cup

grape tomatoes

optional
Instructions
In a small bowl stir together the sausage, 2 tbs pale ale, and 1 tsp red pepper flakes with your hands. Form into small balls, about half the size of golf balls.

Heat olive oil in a pan over medium high heat. Add the meatballs, cook until browned on all sides and cooked through, remove from pan.

Add the asparagus to the hot pan, cook until softened and starting to blister, about 5 minutes, remove from pan.

Add the remaining ½ cup pale ale, scraping to deglaze the pan. Lower heat to medium, stir in the cream. Simmer until reduced and thickened, about 6 minutes. Stir in the parmesan, honey, and black pepper

Cook the orzo in lightly salted boiling water for 6 minutes or until just before al dente. Drain and add the orzo to the sauce, stirring until cooked through, about 3 minutes. Add the meatballs and asparagus back into the pan, simmer until meatballs are warmed through. Transfer to a serving dish, garnish with parsley and tomatoes.