Beer and fruit have a bit of a sordid past. From the ill-advised orange slice served on the side of a hefeweizen, to the cringe inducing Bud Light Lime.  Thankfully, plenty of remarkable unions have a sordid pasts. Beer and fruit just needed a few takes to get it right. The current state of beer and fruit, in the hands of remarkable brewers, is exciting.
Craft brewers have pushed the limits of what these two can do, bringing us remarkable examples like Festina Peche from Dogfish Head, and Orange Wheat from Hangar 24. Those brilliant brewers make beer with watermelon, cherries, marionberries, and pretty much everything else they can get their hands on.
It's evidence of what beer can do, what it's capable of. Think for a second of the first beer you ever tasted, probably a pale lager poured from a keg out of the back of a pick-up truck. The flavors in that beer were small, a ground floor offering, a beer made to vaguely satiate the masses. Craft beer being made now is being made to get people excited, make us think. Love it or hate it, it's beer you remember.
It's why beer and food go so well together. It's the only alcoholic beverage that's made with just about any ingredient in that meal on your plate. It was only a matter of time, and dozens of brilliant brewers, before beer and fruit started to make sense. And that was only the begining. You should see what those brewers do with chai, and chocolate, and carrots, and everything else you can throw at them.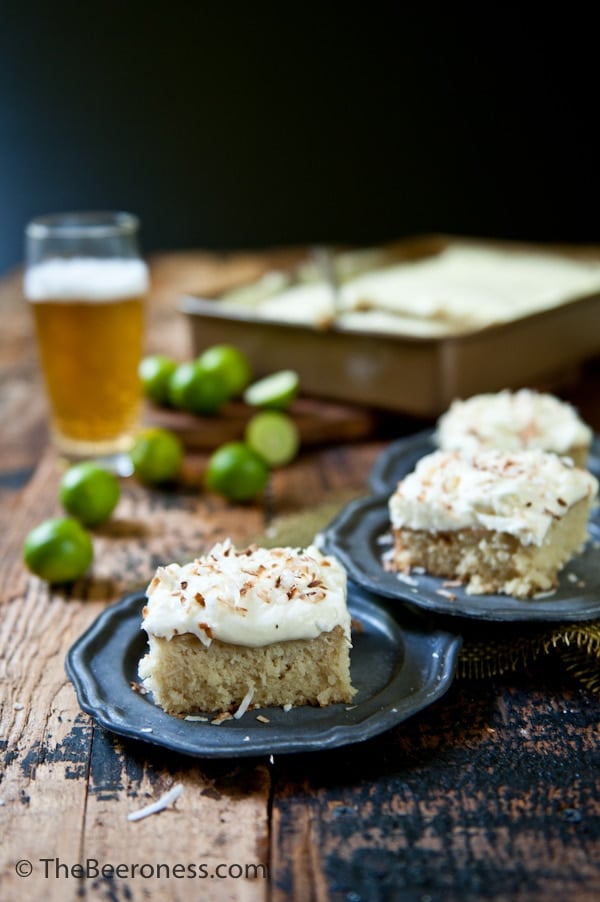 Coconut Cake with Pale Ale Lime Cream Cheese Frosting
Ingredients
For the Cake
4

eggs

divided

1

cup

butter

1 ½

cups

sugar

½

cup

full fat coconut milk

from can, shaken

½

tsp

vanilla extract

½

tsp

coconut extract

1

cup

pale ale beer

2

cups

flour

1

tsp

baking soda

½

tsp

salt

½

cup

dried coconut flakes
For the Frosting:
1 ½

cup

unsalted butter

softened

8

wt oz cream cheese

softened

3

cups

powdered sugar

3

tbs

lime juice

3

tbs

pale ale beer

1/2

cup

toasted coconut

optional
Instructions
Preheat oven to 350 .

In the bowl of a stand mixer add the egg whites, reserve the yolks.

Beat egg whites until stiff peaks form. Remove whites from mixer, add to a medium bowl, chill until ready to use.

In the mixer bowl add the butter and sugar, beat until light and fluffy. Add the egg yolks, beat until well combined.

Add the coconut milk, vanilla extract, coconut extract and beer, beat until well combined.

Lift the mixer heat, sprinkle with flour, baking soda and salt, stir until just combined. Add the egg whites, stir until just combined.

Pour into a greased 9x13 inch pan.

Bake at 350 for 28-32 minutes or until golden brown. Allow to cool completely.

In the bowl of a stand mixer beat the butter until light and fluffy. Add the cream cheese, beat until well combined. Add the powdered sugar and beat until well combined.

While the mixer is running mix in the beer and the lime juice.

Frost the cake with the frosting, chill until ready to serve.

Garnish with toasted coconut just prior to serving, if desired.