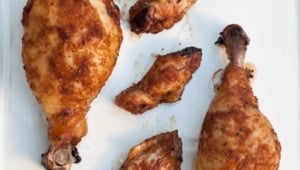 Literary Grief. This is the term I use for the moment you finish a great book and realize that it's gone. This sort of anchor to those free moments in your life is now spent and the characters that ran behind your consciousness during the busy moments of your day, beckoning you back to the pages have run their course. You miss having more left to discover, but all mysteries have been unearthed and the plot has crescendoed. Most recently for me, that has been Blood, Bones and Butter by Gabrielle Hamilton.
Inspired writing and an intriguing story peppered with mentions of thought-provoking recipes that I couldn't help but mark for later reference.
 One of those recipes was a reference to a Jerk marinade that Gabrielle still makes on a regular basis. Her only notes about it were just that it contained Stout, Scotch Bonnet Peppers, and Honey as well as the fact that the recipe's ingredients totaled an upwards of 25.
The Stout Jerk marinade that I have created falls very short of the 25 ingredient threshold, but the inspiration to use stout, scotch bonnet and honey is from the above book. As fascinated as I am with Gabrielle, and grateful that I was able to eat at Prune years ago, I would bet all of my recipes on the hunch that she may have less than favorable opinions about lowly Food Bloggers.
After all, I've never slept on a pile of chefs coats between 12-hour shifts. I've never scraped mold out of a walk in. I've never reached calloused fingers into a deep fryer or worked one handed with a blood-soaked bandage covered with a finger cot slowing my progress. I worked as a waitress in the front of the house, but I always knew my place. I begged to be allowed do deep prep when we were slow, took the fall for wasted produce when the owner would hassle the over-worked line cooks, and made sure the cooks "water" cups were full when we were slammed. But I know my place even now, in the world of food and I am still, in so many ways, "front of the house" hoping one day to be in the kitchen doing more than just deep prep.
Here is a jerk marinade, inspired by Blood Bones & Butter and using Stout Beer for its flavor and its meat tenderizing properties.
Wanna see the updated grilled version? Check it out here
Stout Jerk Chicken
Ingredients
1/2 cup stout beer I used Storm King Stout, by Victory Brewing
4 Scotch Bonnet or Habanero Peppers
6 cloves of garlic peeled
3 tbs ponzu sauce
3 tbs brown sugar
1 tsp dry mustard powder
2 tsp Chinese 5 Spice powder
1 tsp fresh ground black pepper
3 tbs chopped shallots
1 tbs fresh squeezed lemon juice
2 tbs honey
1 tsp Kosher or Sea salt
3 lbs chicken wings legs, thighs
Instructions
Add all of the ingredients (other than the chicken) to a food processor and process until smooth, about 2 minutes.

Add chicken to a large Ziplock style bag, pour marinade over the chicken and seal, removing as much air as possible.

Allow to chill and marinate in the fridge for 8-24 hours, rotating about every 3 hours to redistribute the marinate.

Preheat oven to 375. Line a baking sheet with aluminum foil. Remove the chicken from the marinade and arrange on the sheet, spooning a bit of the remaining marinade over the chicken. Bake at 375 for 18-22 minutes or until chicken is cooked through. Baking time will depend on the size of chicken you use. For very small chicken wings, start to check after 12 minutes.