Hop Shortbread Beer Cookies
I'm still trapped. Under several feet of snow in a city that can't deal, surrounded by iced-over, hilly roads that my little car isn't able to navigate. Still. The Californian in me is screaming and vitamin D deficient. So, obviously, it was time to bake.
I had to use what was on hand —and of course, I DO have dried hop flowers on hand—and decided to make you valentines cookies. Because for beer people, hops are far superior to hearts. I even had the hop cookie cutter on hand from when I made this.
You can get yourself one, too. You just have to look for a "pinecone" cookie cutter because normal people don't just go around making cookies in the shape of beer ingredients, but I promise you, it's a hop.
Even though I can't leave the house and I'm about to start chewing on the curtains, at least I'm well stocked with the necessities, like dried hop cones and cookie cutters. I also have a lot of beer, so if you need any I'm here for you.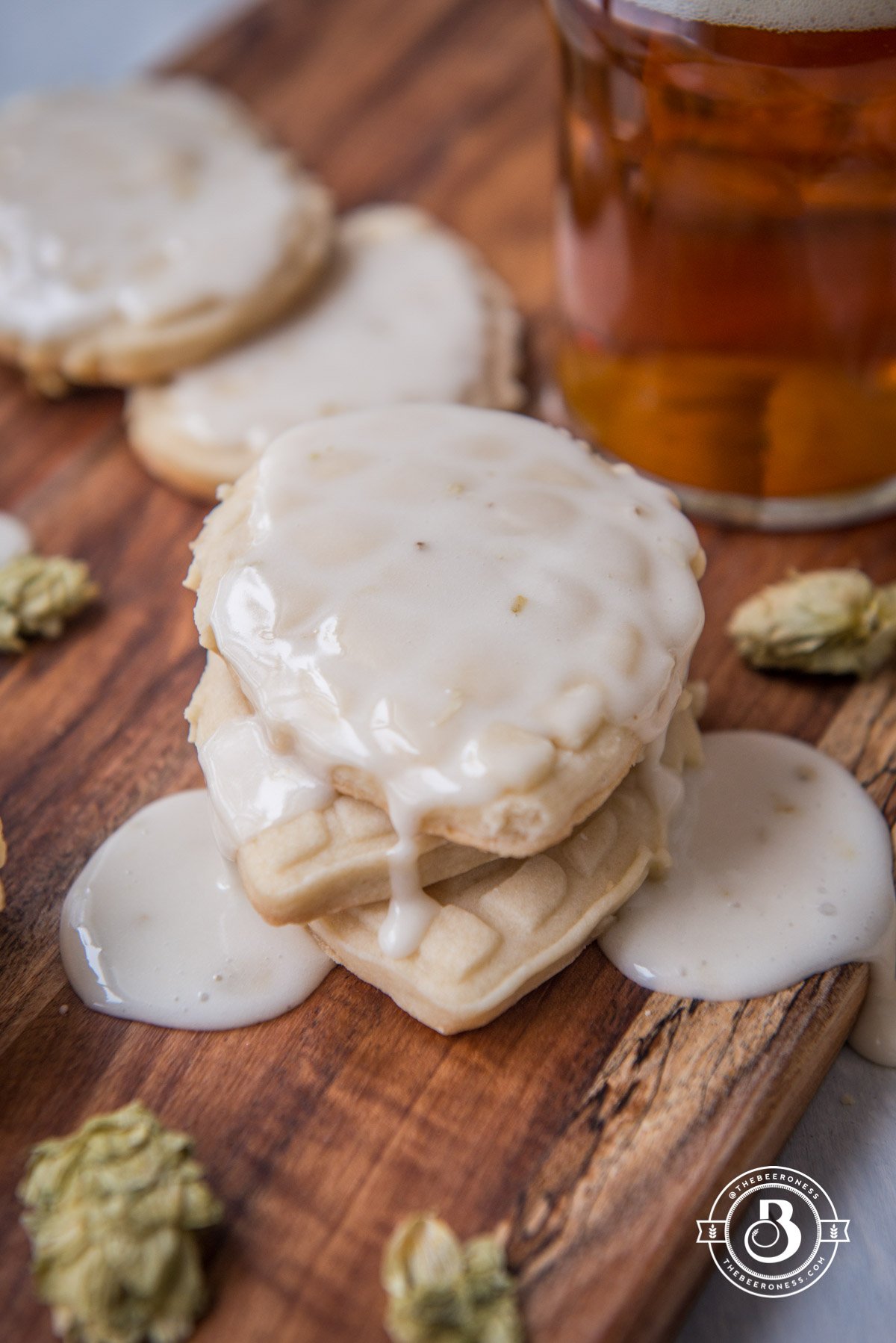 Dried hop cones can be bought at any local homebrew supply store, or online. Do not use pellets. You only need one dried hop flower, so if you have a homebrewer friend that can give you one, that's your best bet. Or, if you're adventurous, you can make Hopsta (hops pasta) with the rest of the dried hops.
Ingredients
For the cookies
½

teaspoon

(3g) salt

8

tablespoons

(114g) unsalted butter

softened

1

teaspoon

(3g) vanilla extract

½

cup

(62g) powdered sugar

1 ½

cups

(180g) all-purpose flour

2

tablespoons

(30g) beer
For the icing
1

cup

(125g) powdered sugar

2

tablespoons

(30g) beer

½

teaspoon

dried hop flowers,

crushed (citra, mosaic, galaxy)
Instructions
1. Add the salt, butter, and vanilla to a stand mixer, beat until well combined.

2. Add the powdered sugar, beat until light and fluffy.

3. Stir in the flour until just combined, then add the beer, stirring just to combine.

4. Form into a log on a sheet of plastic wrap then wrap tightly. Refrigerate for one hour and up to 3 days.

5. Roll out on a lightly floured surface until about ½ inch thick, cut into desired shape with cookie cutters.

6. Evenly space on a baking sheet covered with parchment. Add to the freezer, freeze for 15 minutes (this will help prevent the cookies from spreading during baking).

7. Preheat the oven to 325° F.

8. Bake until the edges start to turn lightly golden brown. Remove from oven, pull the parchment on to the counter to cool.

9. In a small bowl stir together the frosting ingredients.

10. Spread the icing onto the cookies in a thin layer.
Notes
Dried hop cones can be bought at any local homebrew supply store, or online. Do not use pellets. It's best to use aroma (or dual purpose) hops like citra, mosaic, or galaxy rather than a strictly bittering hop.