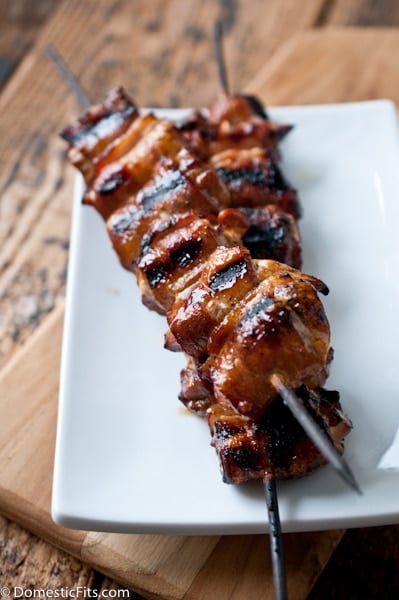 My grill could replace my oven at this point. I love the smokey char, the quick cooking time, and the way that food just tastes transformed. This is a really quick and easy recipe that's perfect for weeknights, but fit for weekend parties.
I would absolutely recommend chicken thighs for this. The flavor is so much bigger and the high heat of the grill is really drying on chicken breasts. If you've never cooked with chicken thighs, give them a try, I really think it'll be your new go-to cut of chicken. Most stores sell boneless, skinless, chicken thigh filets, making it a really easy cut to use.  I switched over about two years ago and haven't even thought about going back, the flavor is just so much better, plus they are often much cheaper than chicken breasts. More flavor, less money, that's just a big win all the way around.
Bacon Wrapped Chicken Skewers
Prep Time: 8 minutes
Cook Time: 8 minutes
Ingredients
1/2 cup honey
1/4 cup apple cider vinegar
1 tsp smoked paprika
4 boneless skinless chicken thighs
8 slices bacon
Instructions
Whisk together the honey, vinegar and smoked paprika in a pot over medium high heat. Allow to simmer until thickened, about 8 minutes.
Preheat the grill to medium high.
Cut each slice of bacon into thirds.
Cut chicken thighs into cubes.
One at a time place a chicken cube onto a small slice of bacon. Wrap the bacon around the chicken cube and skewer onto a grill skewer.
Brush all sides of the chicken with honey glaze.
Place on a hot grill. Turn every two minutes, re-brushing with glaze, until cooked through about 8 minutes.
Notes
If using wooden skewers, place them on a rimmed baking sheet, cover with water, place a heavy plate on top to submerge for 30 minutes.