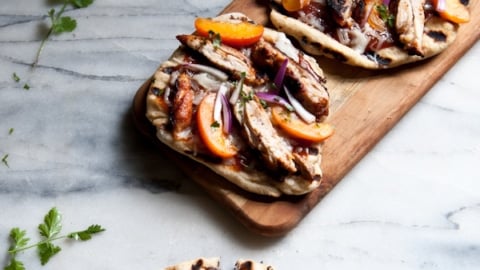 Let's say you and I get into it over pizza. We hash it out over the best pizza we've ever had. We talk about Naples, and LA, and both agree that New York beats Chicago, unless you want a casserole, then Chicago pizza will do.
And then I tell you that the best Ray's pizza in New York is the one at 4th and Houston, to which (if you're a New Yorker) you recoiler in horror that I've chosen said Ray's instead of one of the 147 other Ray's in Manhattan.
We finally just agree to get a beer and pizza and call it a day. Nowhere in our spirited conversation do we mention Seattle. Because the thing about Seattle is that beer is world class, so is the coffee and the produce can't be beat, but the pizza…
We'll just talk about the beer and the coffee and the produce and leave talk of the pizza out of it shall we? Similar to a discussion of the best people in the world named Joe wouldn't include talk of either Buttafuoco or Francis. Let's just stick to the good stuff.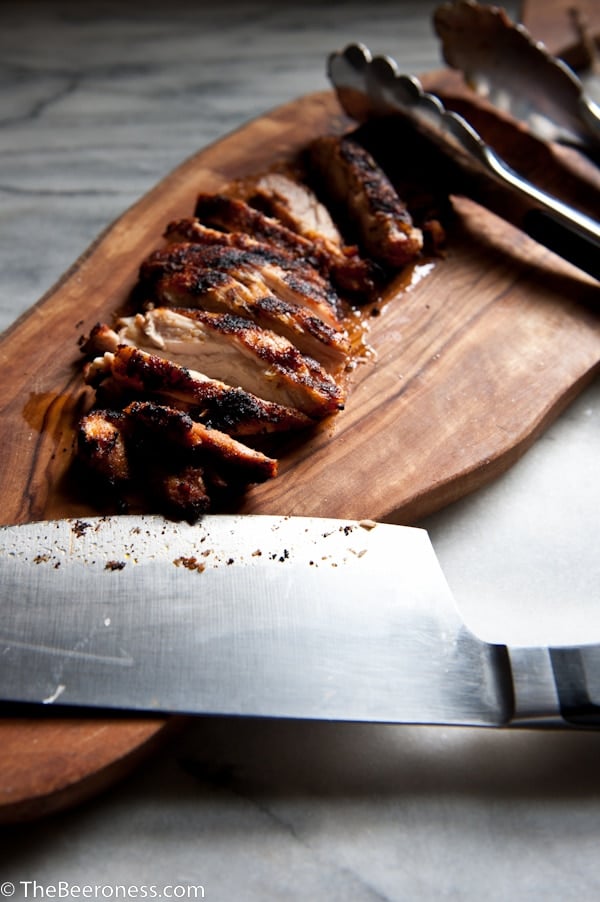 Of course I have a theory about this. The same water that makes the beer fantastic and coffee legendary isn't so kind with the pizza dough. But here is the thing about baking your pizza dough with beer, wherever you go in the world, your dough will be the same.
Water is for the weak, switch to beer and your pizza dough will become the stuff of folklore.
It might even be brought up in the New York vs Chicago debate.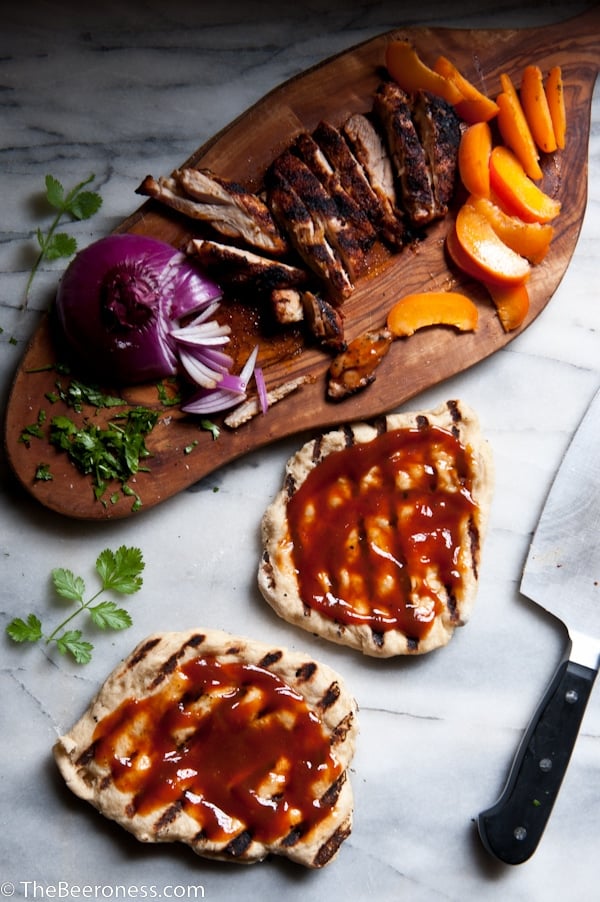 Grilled BBQ Beer Chicken and Apricot Flatbreads
Ingredients
Crust:
1 ½

cups

flour

1 1/8

tsp

rapid rise yeast

1

tsp

sugar

½

cup

wheat beer or pale ale

2

tbs

oil

½

tsp

salt
Chicken:
2

boneless skinless chicken thighs

1

cup

wheat beer or pale ale

½

tsp

onion powder

½

tsp

garlic powder

¼

tsp

smoked paprika

¼

tsp

chili powder

¼

tsp

cumin

¼

tsp

salt

oil for the grill
Topping:
Stout and Sriracha BBQ Sauce

1

cup

shredded mozzarella cheese

¼

tsp

cilantro

chopped

2

apricots

thinly sliced

¼

cup

red onion

chopped
Instructions
In the bowl of a stand mixer fitted with a dough hook attachment, add the flour, yeast and sugar. Mix until combined.

In a microwave safe bowl add the beer. Microwave on high for 20 seconds, test temperature with a cooking thermometer and repeat until temperature reaches between 120 and 125 degrees Fahrenheit.

Add the beer to the stand mixer and mix on medium speed. Once most of the dough has been moistened, add the oil and salt while the mixer is still running.

Turn speed to high and beat until dough is smooth and elastic, about 8 minutes.

Transfer dough to a lightly oiled bowl, tightly wrap with plastic wrap. Allow to sit in a warm room until doubled in size, about 45 to 60 minutes.

Remove from bowl and add to a lightly floured surface. Knead several times, cut into 4 equal sized pieces. Form each piece into 6 inch circles.

While the dough is rising, make the chicken. Place the chicken in a bowl, cover with 1 cup beer. Chill for 30 to 60 minutes. Remove from beer, rinse and pat dry.

Preheat the grill.

In a small bowl combine the onion powder, garlic powder, smoked paprika, chili powder, cumin and salt.

Sprinkle chicken on all sides with spice mixture.

Grill chicken until cooked through, about 5 minutes per side.

Remove from grill, slice.

Oil the grill (alternately, you can oil the flatbreads). Grill one side of the flatbread until grill marks appear, about 2 minutes, flip and very lightly grill the other side, about 30 seconds, remove from grill. Place the flatbreads on a flat surface with the well grilled side facing up. Top with barbeque sauce, cheese, chicken, sliced apricots, cilantro, and onions. Place back on the grill, close over, cook until cheese has melted.
My recipe for Stout & Sriracha BBQ Sauce, you have to make it.