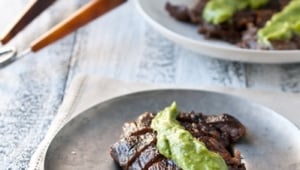 I like to throw parties, invite people over and make them feel at home. I like to make more than enough food, and for everyone to leave very full and with a take away bag of goodies. But the last time I had a little gathering at Casa De Dodd, I had overlooked my Gluten Free friends. I had remembered the vegetarians, and the vegans, the people who don't drink beer, but for the ones who are allergic to gluten there wasn't much. I felt terrible.
Gluten Free isn't a fad diet. It isn't Paleo or Raw or Weight Watchers. It isn't a choice. It's a medical condition and a food allergy  that is one of the fasted growing diagnosed food allergies in the United States.
Gluten Free (Celiac's Disease) people don't want to give up bread. And regular pizza, or hamburger buns and flour tortillas, they don't have much of a choice. Eat gluten free or become debilitatingly ill. Have you ever had food poisoning? In away, it's like that.
And with over 3 million American's allergic to gluten, chances are your next party may have one. It might even be you, Celiacs is most often diagnosed in adulthood. Because we want everyone who walks into our parties to feel at home, we all need to have a stock pile of appetizers to accommodate. Because unlike other diets, this isn't a choice.
Because gluten is used as a thickener in tons of processed foods, it can easily hid in obscure places like canned soup, pre-made salad dressing, imitation crab, cheese spread and some brands of soy sauce.
At each party I need to have a few Celiac Friendly dishes that I made from scratch so that I can be sure there isn't any rogue gluten waiting like a digestive ninja to attach my friends insides. Potatoes are a great place to start. Because who doesn't love potatoes? It's like not liking puppies or The Beatles.
So when you come across Gluten Free appetizers and dishes that you love, bookmark for them for gatherings. Because your friends would do it for you.
Ingredients
For The Crust:

1 stick plus 2 tbs (10 tbs) unsalted butter
2 cups flour
1/4 cup brown sugar
1/2 tsp salt
2 tbs water

For the Filling

1 cup stout
1 stick butter
2 cups chopped pecan
2 cups brown sugar
1/2 cup light corn syrup
1/4 cup heavy cream
2 eggs
5 strips of bacon, cooked and chopped
Directions
Preheat oven to 350
In a food processor add the flour, 1/4 cup brown sugar, and salt, pulse to combine. Cut the butter into cubes and add to the food processor. Process until butter is incorporated into the flour mixture. Add the water and process to combine. Add additional water, 1 tsp at a time if there is flour that still hasn't been dampened.
line a 9 x 13 inch baking pan with parchment paper (this will make it easier to remove from the pan) and dump the shortbread into the pan. Press into the bottom of the baking pan in one even layer.
Bake at 350 for 12 minutes of until a light golden brown. Allow to cool before adding the filling or the crust and filling will mesh together.
In a pot over medium high heat, add the stout, cook until reduced by half. Add the butter and stir until melted, remove from heat. Add the sugar, pecans, cream, corn syrup and stir until melted. Once the mixture has cooled to room temperature, add the eggs and stir until combined.
Pour the filling over the crust, sprinkle with cooked bacon and bake at 350 until the filling no longer jiggles when you gently shake the pan, about 25-30 minutes.
https://domesticfits.com/cheesy-potato-pancakes-with-jalapeno-sour-cream/
Copyright �© TheBeeroness.com