I eat a lot of food.
A lot of high calorie food and beer that can leave me feeling like I want to take a nap in some kale. I tend to pendulum swing between wanting really bad for me food and really good for me food but I want it all to taste good.
So I've developed a fixation with produce. And how to manipulate it into tasting like that other side of the coin that leads me down a path far away from my skinny jeans.
So here you have my version of a pasta dish, made up mostly of vegetables, and a hefty serving weighs in at only 125 calories.
In fact, if you ate the entire batch it would only be 500 calories.
And you would be very full.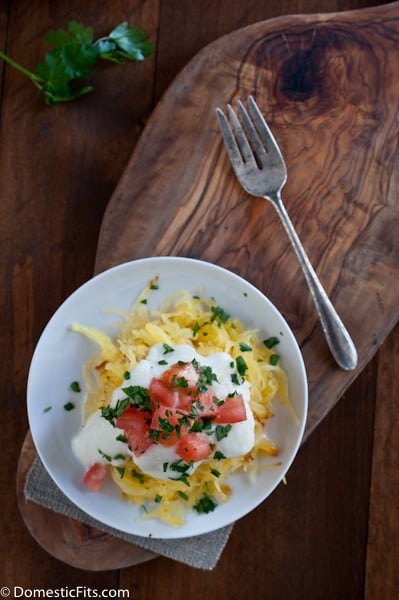 Spaghetti Squash Alfredo: 125 Calories
Ingredients
1 large spaghetti squash
1 head cauliflower (1.5 lbs), chopped
½ cup skim milk (2% and whole milk work too)
½ cup chicken broth
½ tsp garlic powder
½ tsp onion power
pinch cayenne
1 tbs lemon juice
2 tbs Greek yogurt
¼ cup parmesan
1 large tomato, chopped
¼ cup parsley, chopped

Instructions
Cut the spaghetti squash in half, scoop out and discard the seeds and strings in the middle of the squash.
Place, cut side down, on a baking sheet that has been lined with aluminum foil.
Roast at 375 for 30-40 minutes or until a fork easily slides into the skin.
Remove from oven, allow to cool enough to handle. Using a fork, gently scrape and lift the spaghetti like strands of the squash, transfer to four serving plates.
While the squash is cooking, make the sauce.
Cook the cauliflower in lightly salted boiling water until fork tender, about 10 minutes. Drain and transfer to a blender. Add the milk, broth, garlic powder, onion powder, cayenne, lemon juice and Greek yogurt. blend until smooth. Return the mixture to the pot over medium heat. Stir in the cheese, cook until warmed. Thin with additional broth if desired. Salt and pepper to taste.
Pour sauce over squash, top with chopped tomatoes and parsley.