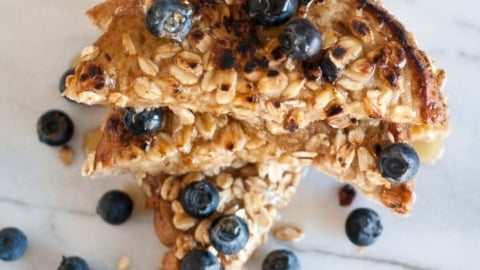 I told you all about my plan to try and limit my dairy intake. There are, however, some things that I will never part with, like goat cheese. I might crawl across broken glass for goat cheese. And homemade whipped cream, especially Candy Cane Whipped Cream, is a joy I will indulge in for the rest of my life.
But milk, I could take it or leave it. In fact, most of the time I would rather leave it. Not just because the idea of drinking a tall glass of un-manipulated milk makes me want to gag, but because I have found so many alternatives that I enjoy so much more.
Coconut milk is an amazing substitute for milk, and the flavor is beautiful. Almond milk adds a new dimension to dishes that I adore.
For now, I will be making my french toast with coconut milk, I loved the way it tasted.
Coconut Oat French Toast
1 can light coconut milk
1/4 cup brown sugar, plus additional 1/4 cup divided
1 tsp vanilla
2 eggs
12 slices of bread
1 cup quick oats
Add the coconut milk, 1/4 cup brown sugar, vanilla and eggs to a bowl, whisk until well combined.
Place the oats and remaining brown sugar on a plate or in a shallow dish, stir until well combined.
Heat a skillet (with a lid), sprayed with butter flavored cooking spry,  over medium high heat until hot but not smoking.
Two at a time, soak the bread in the coconut milk mixture for about a minute. Remove from the milk and allow excess to drain off, place on the oat plate, turn to coat.
Add the french toast to the hot pan, replace the lid and cook for two minutes. Turn the french toast, replace the lid and cook for an additional two minutes, or until cooked through. Turn the heat down on the pan if the oats start to brown too quickly.
Top with fresh fruit, if desired.
Like Domestic Fits on Facebook