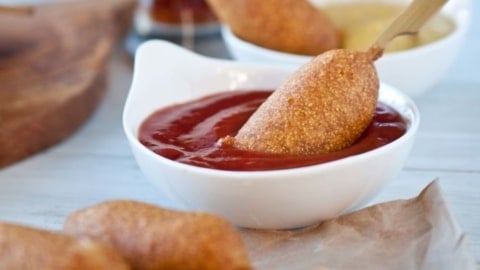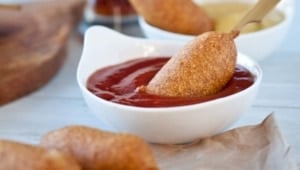 This my friends, is how you do Football Food.
It meets all of the requirements to earn a spot on the Football Food Table.
These vague and unenforceable requirements include qualities like: fun, as high calorie as possible, no utensils or plates needed, ability to sit at room temperature for hours, AND there are always bonus points for including beer.
 I also want to tell you a little bit about Chipotle Ketchup. Corn dogs need to be dipped, and if we are all willing to adhere to the good 'ole American tradition of dunking fried stuff in ketchup, I want to doctor it up a bit. Although you can make ketchup from scratch, and don't think I haven't filed that idea away in my mental recipe stockpile, I just used store bought. Chipotle is a lovely flavor, one of my favorites.
The smokiness is beautiful. If you just want smoke and no heat, just add 1 tsp of smoked paprika to 1 cup of ketchup and stir to make yourself a little smokey ketchup to go along with your fancied up deep-fried treats.
Beer Battered Mini Corn Dogs with Chipotle Ketchup
Ingredients
canola or peanut oil for frying

1

cup

flour

plus 1/4 cup, divided

2/3

cup

corn meal

1

tbs

brown sugar

1

tsp

baking powder

1

tsp

baking soda

1

egg

3/4

cup

plus 2 tbs beer

I used an IPA

24

mini hot dogs

24, 4

inch

wooden skewers or toothpicks
For the Ketchup
1

cup

ketchup

1

chipotle peper in adobo sauce

1

tsp

adobo sauce
Instructions
Pour oil into a pot, about 3-4 inches deep. Clip a cooking thermometer onto the side. Heat over medium high heat until the oil reaches between 350 and 375, adjust heat to stay in this temperature range.

In a bowl, combine 1 cup flour, corn meal, sugar, baking powder, baking soda, stir to combine. Add the egg and the beer, stir until combined.

Pour the batter into a tall coffee mug, this will make dipping the corn dogs easier.

Skewer all of the mini corn dogs with wooden skewers. Put remaining 1/4 cup flour in a bowl. Roll the hot dogs in the flour, then brush off any excess flour.

Holding the skewer, dip the hot dog into the batter until submerged and coated. Slowly place the battered hot dog into the oil. Allow to fry in the oil until a dark brown, about 4 minutes. Remove with a slotted spoon and place on a stack of paper towels to drain.

To make the ketchup, place all ketchup ingredients in a small food processor or blender and process until smooth.
I used these bamboo skewers.