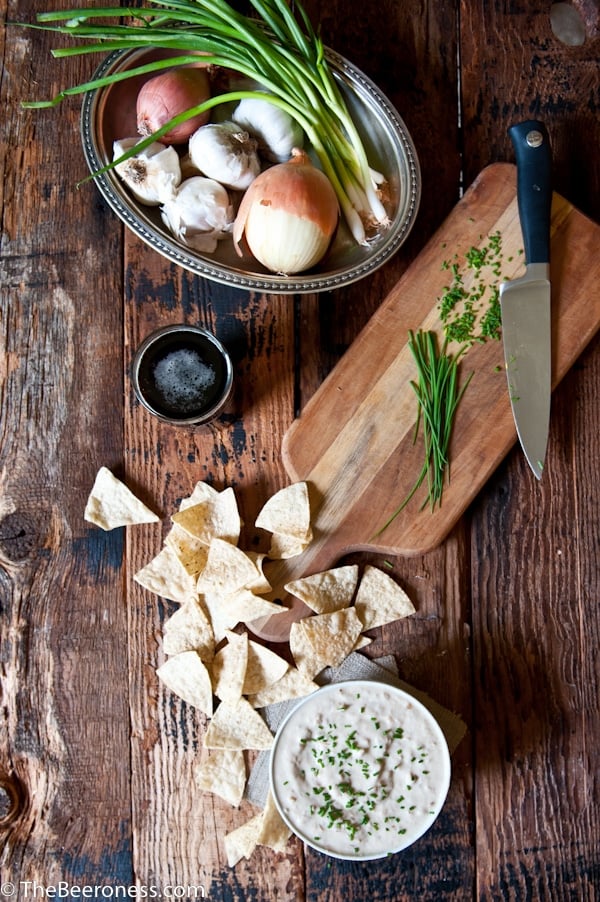 It's seems a cruel twist of fate that beer-drinking-burgers-dogs-dips-eating season and bikini season line up perfectly. The same time that we load our paper plates with baked beans, slow roasted ribs, chips and creamy dips, is the same part of the year that we shed our clothes and romp in the sunshine in our bikini clad bodies.
I'm a strong advocate for both summer time gluttony and semi-nude public frolicking, I refuse to chose between the two. Although I'm also an advocate for flaunting your post-lunch glow in all it's splendor,  not everyone is quite so brave.
So here we are, bikini/beer/barbecue season in full swing and here I am as the least diet friendly blogger in all of Blogland. Yet, I'm still a girl. A girl who loves beer, has a large collection black bikinis, and not a lot of modesty. I'm trying to find some balance.
Here is my entry for Healthy Appetizer For A Back Yard Party. Although there isn't a way to strongly argue that beer is healthy, as a replacement for the butter I would normally use to caramelize onions, it's much lower calories and gives you a great flavor.
Plus you get to say that the healthy dips has beer in it, which is a win.
And it gives you more room for beer in your pint glass.
Porter Caramelized Onion Greek Yogurt Dip: 42 Calories a Serving
Ingredients
1 head garlic
1 tbs olive oil
1 sweet white onion
½ cup porter beer
2 cups Greek yogurt
1 tsp Worcestershire sauce
½ tsp salt
½ tsp pepper
¼ cup chopped chives
Directions
Preheat oven to 425.
Place garlic on a sheet of tin foil, drizzle with 1 tsp olive oil. Fold foil tightly around garlic.
Bake at 425 until garlic head is soft, about 30 minutes. Remove from oven, allow to cool.
In a saucepan over medium heat, add the remaining oil and the onions. Cook until onions have started to soften. Add ¼ cup porter beer, cook over medium/low heat until beer has reduced and pan looks dry, about 20 minutes. Repeat with the remaining ¼ cup porter beer.
Once the onions are a dark amber color and pan looks dry, remove from heat.
Add the Greek yogurt, Worcestershire sauce, salt, pepper and onions to a food processor. Gently squeeze the garlic until the soft cloves protrude. Add the cloves to the food processor, discard the rest of the head. Process until smooth.
Chill until ready to serve (dip has the best flavor the day after it's made).
Top with chives prior to serving
Notes
For added flavor (and added calories) and 4 oz cream cheese to the food processor in step 6.
https://domesticfits.com/porter-caramelized-onion-greek-yogurt-dip-40-calories-serving/
Copyright �© TheBeeroness.com