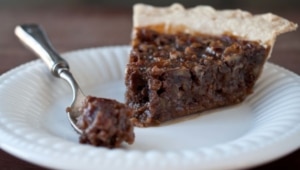 The best thing happened on Thanksgiving.
Just about 18 hours prior to Turkey Tip-Off, my small gathering of 4 people more than tripled into a 14 person party that ended in cocktails, poker, and eating pie right out of the pan. How great is that?
I was happy with the idea of a small gathering, sometimes those can be the best nights. But the fact that I have such an over abundance of food in my kitchen right now and dozens of recipes to be cooked and tested, I could not have been happier about the influx of last minute hungry visitors.
And a Thanksgiving that morphed into a Poker Night, complete with impromptu costuming and teaching my friends 8-year-old how to bluff, was one of the best Thanksgivings I have ever had. Although I was seriously caffeine deficient the next day, and zero percent productive.
I may, or may not, have consume an entire bottle of wine by myself.
 I used a chocolate porter for this recipe, and of course, a stout would work well also. BUT now that I sit here staring at these photos, I wish I'd have used something that had been aged in bourbon barrels. How great would that be?
Deep Dish Porter Pecan Pie
Ingredients
For the Crust:
1 ½

cups

flour

½

tsp

salt

1

tbs

sugar

6

tbs

of butter

cold, cut into cubes

2

tbs

shortening

2

tbs

ice cold beer

high ABV works best
For the filling:
1

cup

porter beer

can sub stout

2

cups

brown sugar

2/3

cup

light corn syrup

2

tbs

flour

3

cups

chopped pecans

½

cup

heavy cream

1

stick butter

cold, cut into cubes

4

eggs
Instructions
In a food processor, add 1 cup of flour (reserving the other ½ cup) salt, sugar and pulse to combine. Add the butter cubes and the shortening, process until combined. Add the remaining ½ cup of flour, process until well incorporated.

Transfer to a bowl, add the beer and mix until combined. Dough will be very soft. Form into a wide flat disk, wrap in plastic wrap and chill for at least 2 hours.

Roll out dough on a lightly floured surface, transfer to a 9-inch deep-dish pie pan, press into shape. Remove the excess. Freeze crust for 20 minutes.

Preheat oven to 350.

In a pot over medium high heat, add the beer, brown sugar and corn syrup. Allow to simmer until combined and the sugar has melted. Sprinkle with flour, whisk until well combined. Remove from heat, add pecans, heavy cream and butter. Stir until well combined and the butter has melted. Allow to cool to room temperature before adding the eggs. In a separate bowl, whisk together the eggs. Slowly add the pecan mixture to the eggs, whisking the eggs the entire time.

Pour filling into crust, bake at 350 for 50 minute to an hour or until the filling no longer jiggles when you shake the rack it sits on. Chill until the filling has set, about 2 hours.

*Note: This recipe is for a deep-dish pie pan. The filling is too much for a regular pie pan.