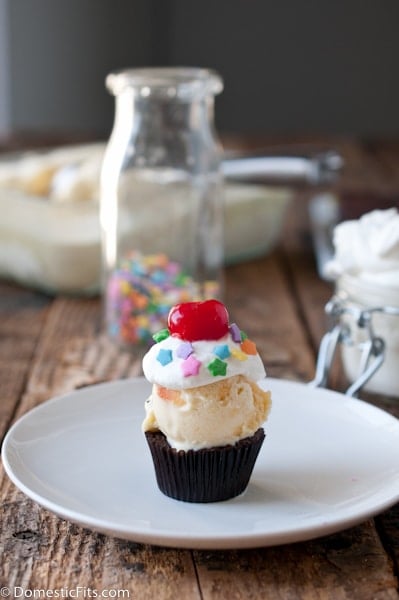 This is another one of my "it's not a recipe" recipes. Because it's not, it's assembly instructions on how to assemble these cute little party desserts.
I made these for the Forth, a huge hit with with the under 5 set, and small enough to be the perfect size for little fingers.
The only thing I would do differently next time is nix the cupcake wrapper. It was too difficult to try and disrobe the mini brownies when they are piled high with ice cream and toppings.
I used my favorite brownie batter, and next time will just liberally spray the mini muffin tins instead of using the cupcake papers. If you want to buy them, most "brownie bites" come sans cupcake wrappers, so you'll be all set. If you want to make them from scratch, skip the wrappers, use a brownie batter not a cupcake batter (you want to avoid the domed top and hope for a concave one), and let them cool completely before topping with ice cream.
If you have the freezer space, you can make up trays of these in advance and just pull them out when the moment strikes. I used an amazing grilled peach ice cream that I'll be posting later in the week, but for a classic flavor combo, good ol' vanilla works just fine.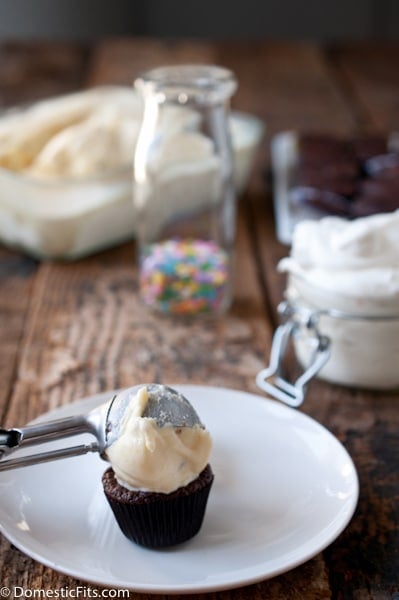 Mini Ice Cream Sundaes
Yield: 24
Ingredients
24 chocolate mini muffins, cupcakes or brownie bites
1 pint ice cream
2 cups whipped cream
sprinkles
24 cherries
Instructions
Place the mini brownies on a serving tray.
Using a cookie scoop, scoop out a ball of ice cream and firmly place it on top of each brownie.
Top with whipped cream, then sprinkles then a cherry.
Serve immediately.
Notes
If making from scratch, use brownie batter rather than cake batter to avoid a domed top. Skip cupcake papers and spray mini muffin tins liberally. Use a cookie scoop for the perfect sized ice cream ball.