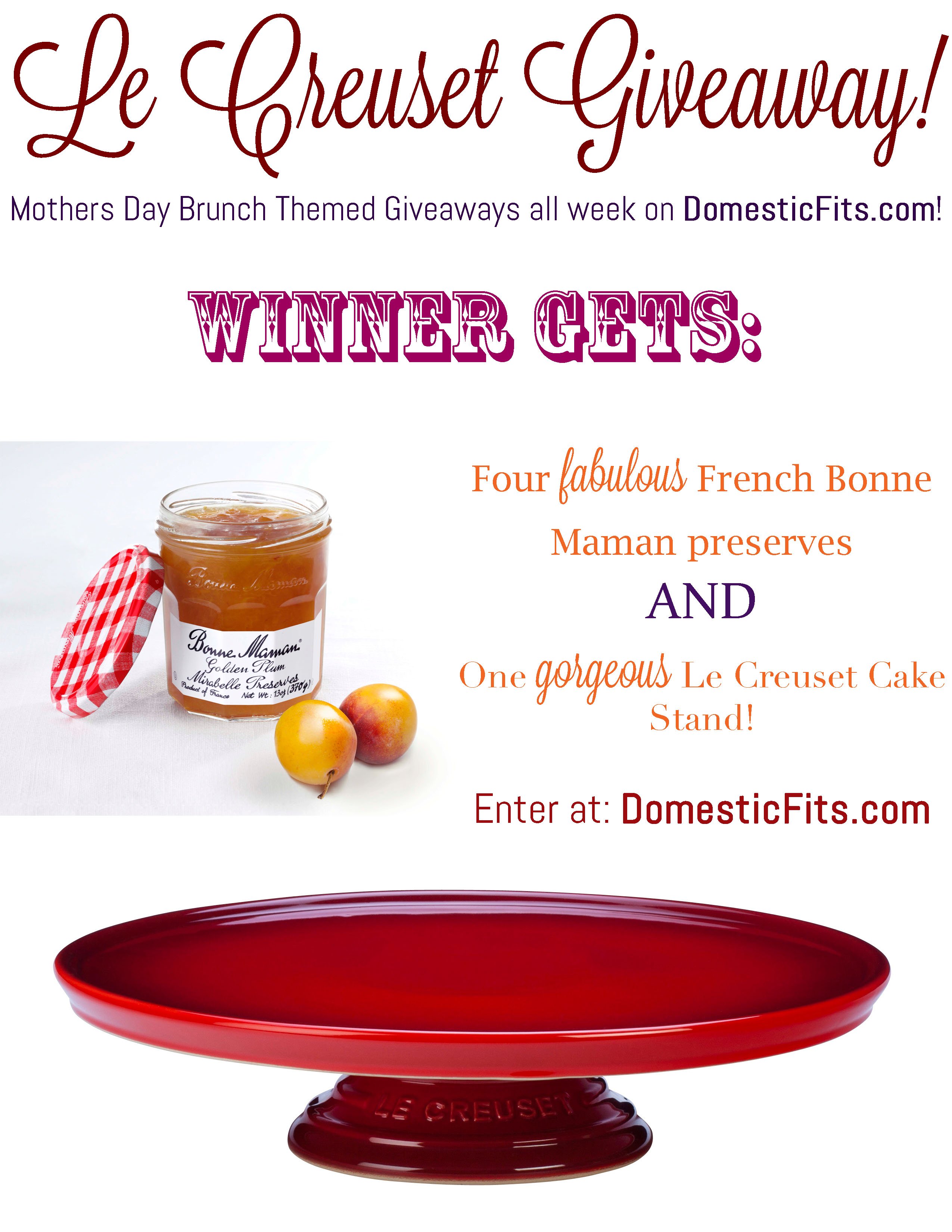 In honor of moms everywhere, and the upcoming Mothers Day holiday, I'm hosting some giveaways this week with a Mothers Day brunch theme!
To kick us off is Le Creuset with a gorgeous cake stand (I love cake stands) that is perfect for a cake, pie, cookies, lets be honest, I'd serve roast chicken off this thing, it's gorgeous! But not just that, we are also throwing in some beautiful French preserves by Bonne Maman. The winner also gets four jars in fabulous flavors like Fig, Strawberry and Golden Mirabelle. I love that these are jams that have simple, honest ingredients, jam like your Grandmother would have made in her own kitchen, with the fruit from her trees.
To celebrate these gorgeous jams, I wanted to give you a recipe that works well with all the great flavors. Of course, I looked to Martha, a woman who is no stranger to French jams. I adapted her amazing crumb cake recipe for the use of these jams, making it three times to get it just right. I love this so much, and I love that it works with all of these fabulous jams.
The winner will receive: One cherry red Le Creuset cake stand, four jars of French Bonne Maman preserves, shipped anywhere in the continental USA, you can even have it shipped directly to your mom! Or keep it for yourself, I won't judge.
Congrats to Whitney! Our winner!
Chocolate Stout Cheesecake Fudgesicle
Ingredients
8 ounces cream cheese, softened
¼ cup sour cream
1 cup powdered sugar
2 tbs whole milk
1/3 cup stout
½ cup dark chocolate chips
6 standard sized graham crackers
2 tbs melted butter
Directions
In a bowl (or a food processor) mix together the cream cheese, sour cream and powdered sugar until well combined.
Add the milk and stout, stir to combine.
Add the chocolate chips to a microwave safe bowl, microwave on high for 30 seconds, stir and repeat until melted. Pour the chocolate into the cream cheese mixture, stir until combined.
Pour mixture into popsicle molds, leaving about 1 inch of the top empty for the crust (if you don't have popsicle molds, use small paper cups and popsicle sticks) tap the molds gently on the counter to remove air bubbles.
In a food processor add the graham crackers, process until only crumbs remain.
While food processor is running, add the melted butter in a slow stream until the mixture resembles wet sand.
Divide the crust evenly between the popsicles, press down gently to compact. Insert popsicle sticks, freeze for at least 6 hours and up to 3 days.
https://domesticfits.com/cream-cheese-and-jam-crumb-cake-and-a-le-creuset-giveaway/
Copyright �© TheBeeroness.com
Adapted from Martha Stewart New York Crumb Cake