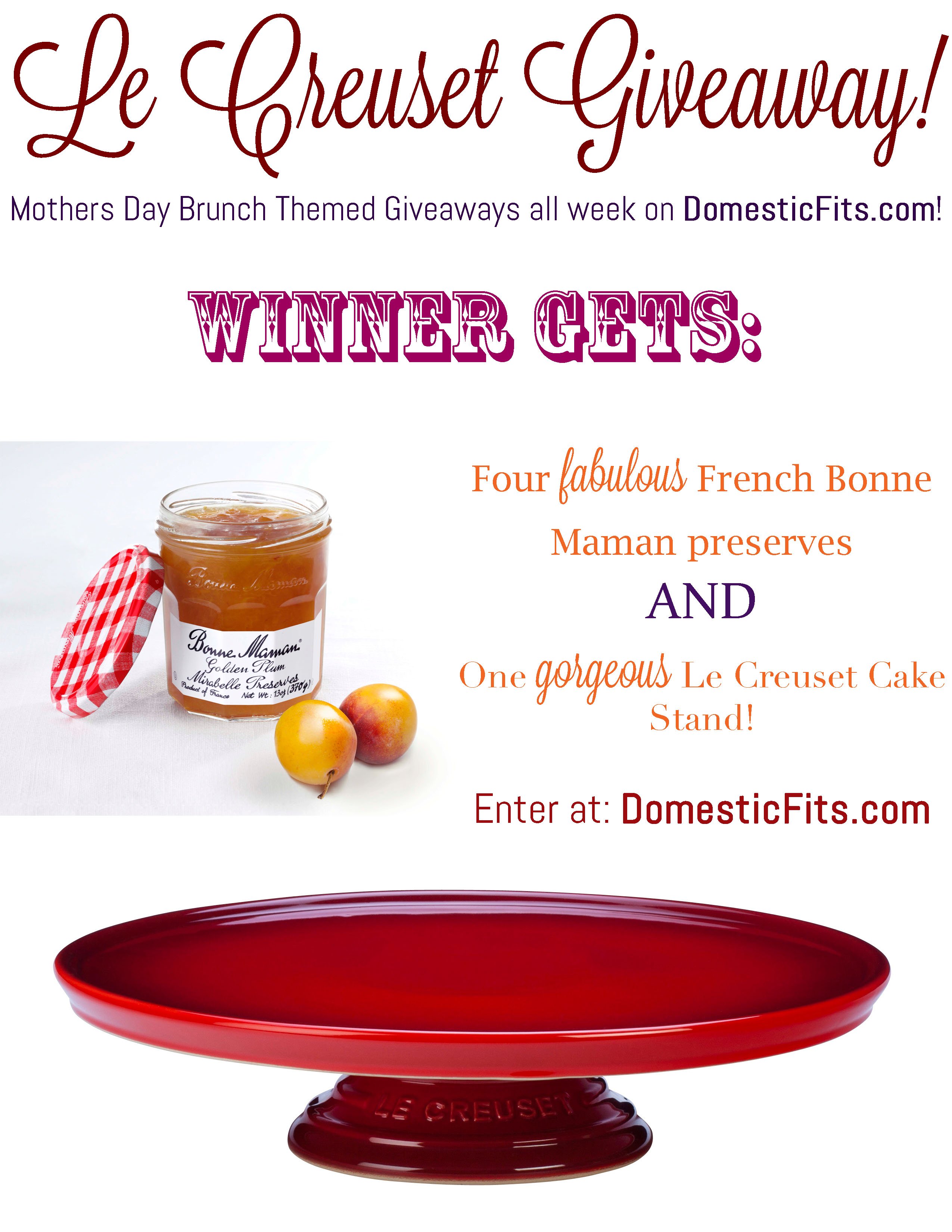 In honor of moms everywhere, and the upcoming Mothers Day holiday, I'm hosting some giveaways this week with a Mothers Day brunch theme!
To kick us off is Le Creuset with a gorgeous cake stand (I love cake stands) that is perfect for a cake, pie, cookies, lets be honest, I'd serve roast chicken off this thing, it's gorgeous! But not just that, we are also throwing in some beautiful French preserves by Bonne Maman. The winner also gets four jars in fabulous flavors like Fig, Strawberry and Golden Mirabelle. I love that these are jams that have simple, honest ingredients, jam like your Grandmother would have made in her own kitchen, with the fruit from her trees.
To celebrate these gorgeous jams, I wanted to give you a recipe that works well with all the great flavors. Of course, I looked to Martha, a woman who is no stranger to French jams. I adapted her amazing crumb cake recipe for the use of these jams, making it three times to get it just right. I love this so much, and I love that it works with all of these fabulous jams.
The winner will receive: One cherry red Le Creuset cake stand, four jars of French Bonne Maman preserves, shipped anywhere in the continental USA, you can even have it shipped directly to your mom! Or keep it for yourself, I won't judge.
Cream Cheese and Jam Crumb Cake
Ingredients
For the Cake:
1 ¼ cups all-purpose flour
1/3 cup granulated sugar
1 teaspoons baking powder
1/4 teaspoon salt
1 large egg
½ cup milk
1 teaspoons pure vanilla extract
1 tablespoons vegetable oil
For the topping:
8 ounces cream cheese, softened
1 egg
¼ cup granulated sugar
½ cup Jam
1 ¾ cups flour
½ cup packed light-brown sugar
½ teaspoons ground cinnamon
½ cup unsalted butter, melted
Confectioners sugar for dusting
Instructions
Preheat oven to 325
line 8X8 pan with aluminum foil, spray with butter cooking spray, set aside.
Stir together 1 ¼ cups flour, granulated sugar, baking powder and salt in a large bowl. In a separate bowl, whisk together the egg, milk, vanilla and vegetable oil. Stir the wet ingredients into the dry ingredients, batter will be thick.
Spread the batter in an even layer in the prepared f baking pan.
In a small bowl, whisk together the cream cheese, egg and granulated sugar. Spread evenly on top of the batter.
Drizzle with the jam (marble in with a knife, if desired).
Combine the remaining 1 ¾ cup flour, brown sugar, and cinnamon in a bowl. Drizzle with melted butter, stir together until crumbs form.
Bake at 325 for 32-36 minutes or until the top crumbs have just started to turn golden brown. Allow to cool to room temperature, chill until ready to use. Cut into squares and dust with confectioners sugar prior to serving.