I want you to start thinking of beer as an extract. A complex amalgamation of flavors that functions in a recipe as an extract. If you were baking a fabulous caramel cake recipe, and the recipe calls for vanilla extract and all you had was mint would you just go ahead and use that? I wouldn't, but then again a traumatic trip to Morocco has implanted a serious mint aversion in me. Think of beer the same way. If a recipe calls for a stout, an IPA isn't going to work, you're implanting an entirely different database of flavors. Stick with a stout or something similar, a porter maybe? If the recipe calls for a pilsner don't use a porter, but you can always use a similarly flavored blonde ale.
This recipe is the best "first timers" recipe when cooking with beer. It takes about 15 minutes, it can be thrown together at the last minute and its simple. This is what you can go to if you have a beer themed party, easy, elegant and beautiful beer flavors that are subtle enough to be loved even by those "non beer people" in your life. You might even convert a few.
I use Flying Dog Road Dog Porter. With rock and roll good looks, a unbreakable tie to the incomprehensibly talented Hunter Thompson, and profanity right on the label, this is a beer that needs to be acknowledged. Its both full of flavor and easy to drink, this is a beer to seek out.
Chocolate Beer Cream Puffs
1 sheet puff pastry, thawed
1 cup heavy cream
3 tbs unsweetened cocoa powder
1/4 to 1/2 cup powdered sugar
2 tbs porter
1 cup dark chocolate chunks
1/2 cup porter beer
2 tbs heavy cream
preheat oven to 400.
Place the puff pastry on a floured surface and roll in each direction, making it wider and longer. Using a 2.5 inch circle biscuit cutter, cut out 20-25 circles and place on a baking sheet covered with parchment paper.
Bake at 400 until golden brown, about 15 minutes.
In the bowl of a stand mixer, add 1 cup of heavy cream, 3 tbs cocoa powder, 1/4 cup powdered sugar, and 2 tbs porter. Beat on high until soft peaks form. Taste, add addition sugar if desired, beating to combine, put in a piping bag.
Split the puff pastry circles in half to resemble buns and pipe the whipped cream into the center, replacing the top.
In a microwave safe bowl, add 2 tbs heavy cream and 1/2 cup porter. In a separate bowl, add the chocolate chips. Microwave the cream/porter mixture until hot and steamy. Pour over the chocolate and stir until melted. You'll reach a point where the ganache looks like chunky hot chocolate, it's fine, just keep stirring until well combined.
Spoon the ganache over the cream puffs.
Drink the rest of the porter and enjoy your handy work.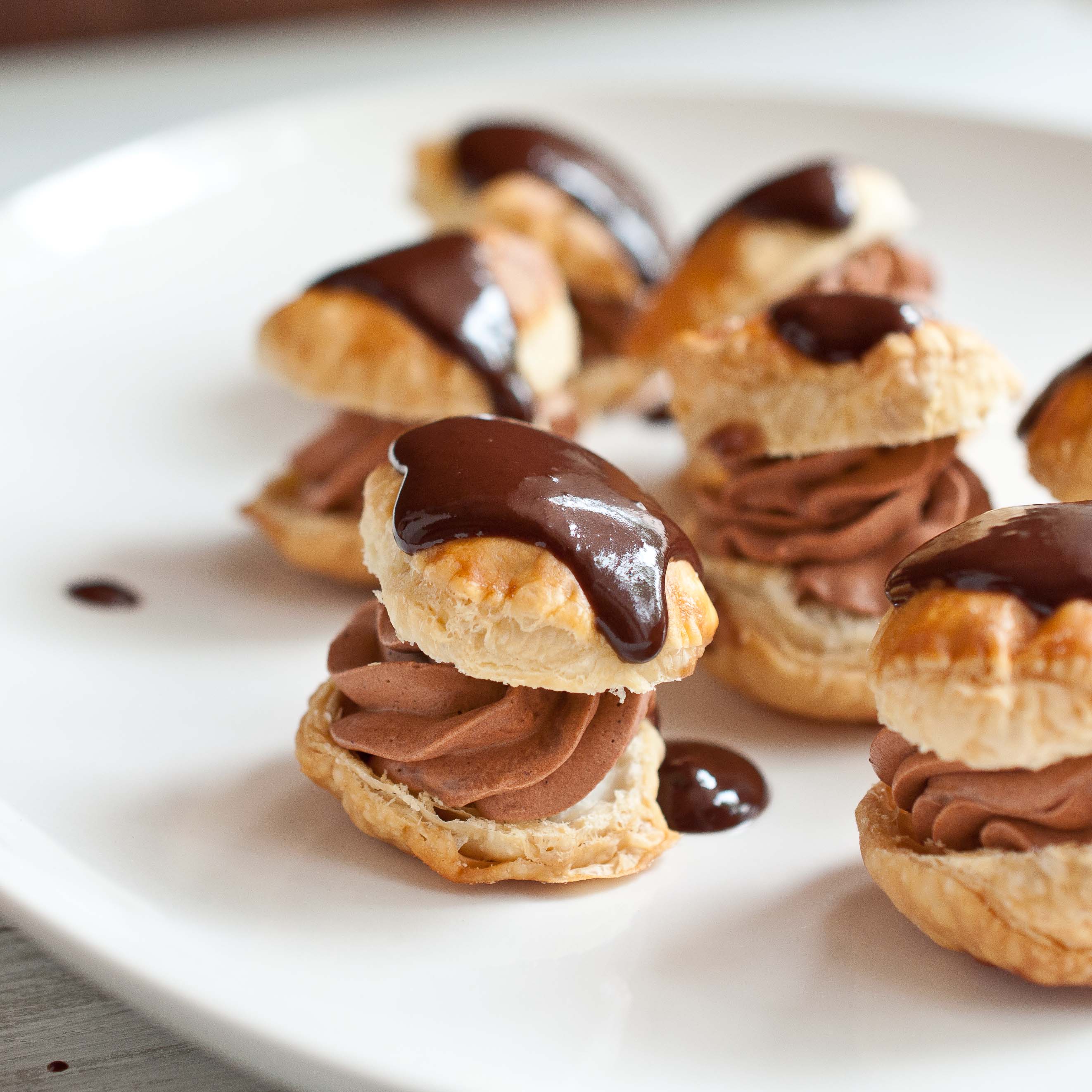 Disclaimer: These are not traditional cream puffs, or profiterole as they are called in Greece and Italy, but the name "cream puff" seemed to describe them to the closest approximation of what they actually are. Feel free to re-name them Puff Pastry Whipped Cream Bites if this bastardized version of a traditional dessert bothers you. I don't mind at all.