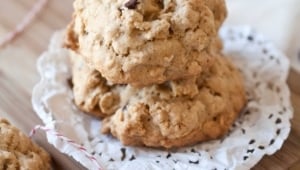 I spent the morning interviewing ex-cons.
For them, the employees of Homeboy Industries, it's a second chance and fresh start. A non-profit that works with gang members, fresh out of jail, provides culinary training, GED prep, job placement, parenting skills and so much more. "It's like a big family, but everyone believes in you." Said one guy, back for a second chance at his second chance.
But sitting at the front of the Homegirl Cafe, interviewing and photographing the employees, it felt like a second chance and fresh start for me too. I was hired to write an article about food. Paid to go there, talk to people and take photos. A rare opportunity it seems for me to bulldog my way into this food writing world that I've been fighting so hard to be  a part of. An article I hope to do justice to, undoubtably spending the better part of the next week working on.
So here we are. Me and them. My transformation so much less dramatic, so much less important to my survival. They inspire me. When I asked the man I met, the one who is back for his second time and only 3 days out of jail, how he is going to do things different this time around, he shrugs, "I'm just going to keep showing up. That's all."
I think he's on to something there.
Pumpkin Ale Cheesecake with Beer Pecan Caramel Sauce
Ingredients
For The Cheesecake

9 standard sized graham crackers
2 tbs brown sugar
4 tbs melted butter
1/2 cup brown sugar
1 cup white sugar
16 oz cream cheese (softened)
4 eggs
2 tsp vanilla extract
2 cups pumpkin puree
1 tsp cinnamon
1/2 tsp nutmeg
1/2 tsp salt
1 1/4 cup pumpkin ale
1/4 cup plus 2 tbs flour

For The Caramel Sauce

1 cup sugar
1/2 cup pumpkin beer
1/4 cup corn syrup
1 tbs butter
1/4 cup cream
1/3 cup pecans
Directions
In a food processor add the graham crackers and brown sugar, process until only crumbs are left. While the food processor is still running, add the melted butter and process until it resembles wet sand. Dump into the bottom of a 9 inch spring form pan. Press into the bottom until well compacted.
In the bowl of a stand mixer, add the brown sugar, white sugar and cream cheese. Mix until well combined. One at a time, add the eggs and vanilla, mixing until well combined, scraping the bottom, before adding more.
Add the pumpkin puree, cinnamon nutmeg and salt, mix until very well combined.
Add the beer and stir until combined.
Sprinkle the flour over the bowl, stir on medium speed until just combined.
Pour over the crust.
Bake at 350 for about one hour or until the center no longer jiggles when you shake the rack the cheesecake sits on, it will still look wet in the center. The secret to a great cheesecake is not to over bake it, it's better to slightly under bake it for a smooth mousse like texture.
Chill until set, about 3 hours.
To make the caramel sauce, add the sugar, beer and corn syrup to a pot and stir over medium high heat for about 1 minute. Stop stirring and allow to boil, untouched, until it turns an amber color, about 10 minutes (230 on a candy thermometer). Add the butter and cream, stir until combined. Add the pecans and stir. Allow to cool to approximately room temperature before serving over chilled cheesecake.
https://domesticfits.com/brown-butter-oatmeal-chocolate-chip-cookies/
Copyright �© TheBeeroness.com