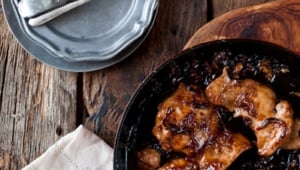 I see how you get here. The keyword searches that bring you to this little blog of mine. Most of these keyword searches make sense, like "Beer recipes," "Cooking with beer," and even "The Beeroness." This past year nearly 8,000 people came to my blog with the keyword "The Beeroness," or it could have been just one guy searching for me eight thousand times. If that was you, thank you and you're creepy.
Sometimes those keywords don't make sense, like the person that found my blog while searching, "fun recipes for toddlers" or all those people looking for "healthy quick meals." I am not the top pick for either of those catagories. But it's post holidays, and we are in that ill fitting week between Christmas and New Years that feels like the calendar equivalent of the end of a loaf of bread and you all seem to want something at least semi healthy.
Me too, I did eat three cinnamon rolls yesterday in about 5 minutes. I could use a little not-as-bad-for-me one pot meal.
So here it is. One pot. Not completely unhealthy. Quick and easy. But for the "fun for toddlers" part you're on your own.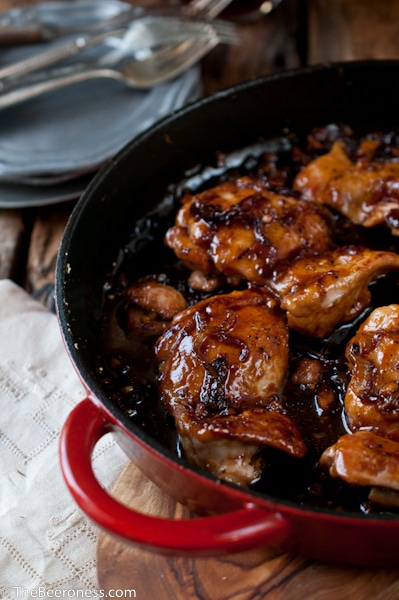 Honey Chili Beer Chicken
Ingredients
3

tbs

olive oil

6

boneless skinless chicken thigh filets

1/2

tsp

salt

1

tsp

pepper

1-2

tbs

flour

½

cup

sliced sweet white onions

2

cloves

garlic

minced

1

cup

brown ale

divided in half

1

tbs

balsamic vinegar

2

tbs

honey

½

tsp

red chili sauce

such as Sriracha plus additional if desired
Instructions
In a cast iron skillet over medium-high heat add the olive oil.

Sprinkle the chicken thighs on all sides with salt, pepper and flour.

Cook the chicken thighs until browned on all sides, about 3 minutes per side. Remove, and set aside.

Reduce heat to medium-low, add the onions and caramelize over medium heat until golden brown, about 10 to 15 minutes.

Stir in the garlic then add ½ cup brown ale, balsamic vinegar, honey and chili sauce. Simmer until reduced and thickened. Add the chicken back to the pan along with the remaining ½ cup brown ale.

Cover loosely with a lid, lower heat to maintain a simmer and allow to cook until chicken is cooked through, about an additional 10 minutes. Turning once during cooking.
I highly recommend this cast iron skillet. I use my almost every day (affiliate link).