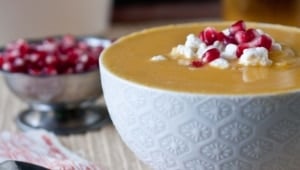 I'm so excited to share this with you. It is my favorite soup right now, and one of my favorite recipes so far this year.
It's interesting to see which posts get tons and tons of traffic and which ones get ignored, because really, you never know. My highest trafficked post isn't even in my top twenty favorites.
My most popular post, Inside Out Caramel Apples, makes me cringe a bit. Although it has been pinned about 200,000 times and shared on Facebook and Twitter thousands more, I don't really love it. It was posted about a year ago, and there seems to be mixed results with success. As a blogger, that's hard. I want everyone to have a home run every time they make the recipe, and that one seems to be hit or miss. I hate that. And I hate that I have no idea why it fails for some people, and works for others.
And sometimes, the recipes that I love and can't wait to share, get ignored. You just never know what is going to be a runaway pinterest hit, and what is going to get nothing more than a passing glance.
But this soup, I LOVE this soup, and I hope you do too.
Seriously, I'm going to make it again this week.
Creamy Butternut Soup With Pomegranate and Goat Cheese
Ingredients
1 head garlic
1 tbs olive oil
1 large (or two small) butternut squash
2 shallot, minced
3 tbs olive oil
2 cup chicken broth
2 cup water
1 tsp salt
1 tsp pepper
pinch cayenne
1/2 cup cream
1 cup pomegranate seeds
3 oz crumbled goat cheese
Instructions
Preheat oven to 425.
Cut the tip of the head of garlic, exposing the tops of the cloves. Place on a small sheet of aluminum foil, drizzle with 1 tbs olive oil. Fold foil around garlic to form a tight package.
Cut the butternut squash in half. Scoop out the seeds. Place on a baking sheet. Place garlic package on the baking sheet as well.
Roast at 425 for 25 minutes, remove the garlic and allow to cool. Continue to roast the butternut squash for an additional 20 to 30 minutes (45 to 55 minutes total) or until flesh is soft and easy to scoop out.
Scoop out flesh (should be about 5 cups) and puree in a food processor until smooth.
In a large pot or dutch oven, add the shallots and olive oil over medium heat. Caramelize the shallots over medium heat, stirring occasional, for about 10 minutes, or until a dark golden brown. Don't cook over high heat or the shallots will burn.
Add the chicken broth, water, butternut puree, salt, pepper and cayenne. Squeeze the soft garlic head until the cloves push out (should be soft and mushy) add cloves to the soup. Bring soup to a boil, then reduce heat and to maintain a simmer until slightly thickened, about 10 minutes.
Remove from heat, add cream and stir.
Scoop into bowls, garnish with pomegranate and goat cheese.
Makes 6 servings.