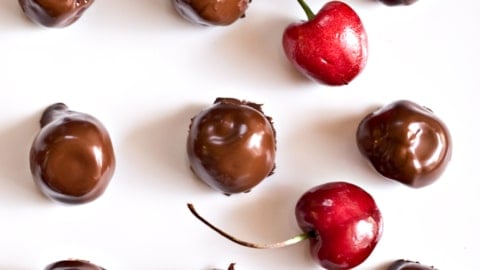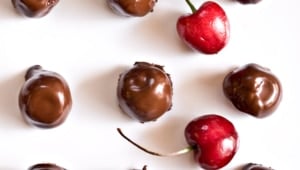 I'm SO excited about this post! Mr. Fit's first recipe. It's a bourbon cocktail recipe, he's so good at cocktail makin'. I'll share that with you all at the end.
First, these super fun chocolates that make a perfect last minute hostess gift. Or a fun addition to your holiday dessert tray.
Nothing like soaking fruit in liquor to help you get through the holidays!
While my cherries where soaking in bourbon, the three of us headed over to Travel Town to take a few shots of Tater.
I'm trying to challenge myself to get better at photography by taking pictures of non-edible things like humans. Even though she's so cute I wanna bite her little cheeks!
Even though I am way too hard on myself, I think it is really important for me to take steps towards bettering myself in a lot of different ways. If I want to be a better photographer, it isn't just going to all of the sudden happen one day. I have to work on it, read, study, shoot, and re-shoot. And I get to take pictures of Tater, and she is pretty stinkin' cute.
When we got back, and I had finished the cordials, I had a 1/2 cup of perfectly good bourbon and nothing to do with it. I hate to waste perfectly delicious booze, so I gave it to Mr. Fits and he wrote up a recipe for us all.
Use good bourbon for this recipe. You taste it, and you want it to taste good. My recommendation is Buffalo Trace. It's a beautiful, artisan bourbon and it's affordable. Shocking, I know. It is one of those magical products that is loved by bourbons snobs and inexpensive enough to go out and buy. Don't tell those Buffalo Trace people that they could probably double the price and I would still buy it. It's the only bourbon I actually like to drink.
Bourbon Soaked Cherry Cordials
30 fresh, sweet cherries (like Bing, don't use sour or pie cherries)
1/2 cup Buffalo Trace Bourbon
2 cups dark chocolate (60%-70%)
Pit all thirty cherries and place then in one tight layer on the bottom of a loaf pan. Pour the bourbon on top of the cherries and toss to coat.
You want the cherries to be sitting in the bourbon, about half way covered.
Allow to soak for 1 1/2 hours at room temperature, tossing to redistribute the bourbon every 20-30 minutes.
Remove from the liquid with a slotted spoon and place cherries on a plate covered with 3-4 paper towels. Allow to drain and dry for about 10 minutes. Reserve the bourbon for the below cocktail recipe.
Place chocolate in the top or a double boiler. If you don't have one (and to be honest, I don't even have one) add water to the bottom of a pot, then place a metal bowl over the pot (this is what I do). Make sure the bottom of the bowl is not touching the water, very important. I have also heard that you can place the metal bowl on an electric heating pad, but I have never tried it.
Place the chocolate in the bowl, set heat to medium-low. Stir constantly. Use a food thermometer to measure the temperature. You want it to be between 90 and 93 degrees. This is so your chocolate gets that beautiful shine to it and has that crisp snap when you bite into it. If you heat it too much or too little, it won't have that. 
Once the right temperature is reached, remove the bowl from the heat. Add the cherries in batches (about 8-10 at a time) roll them around in the bowl and remove with a spoon.
Place on wax paper to dry. Chill in the fridge until ready to serve. 
NOW that cocktail recipe I promised you. He even wrote it down for me, I love his handwriting:
Sunday Bourbon Fits
2 oz Cherry Infused Bourbon (from the above recipe)
1 tsp Grenadine
1 tsp Powdered Sugar
1 oz Lemon Juice 
1 Orange Slices (plus 1 additional for garnish)
1 Cherry (for garnish)
(makes one cocktail)
In a shaker half full of ice, add bourbon, grenadine, sugar and lemon juice, stir to combine. Add one orange slice, replace shaker cap, and shake well. Pour into an Old Fashion glass. Garnish with one orange slice and a cherry.