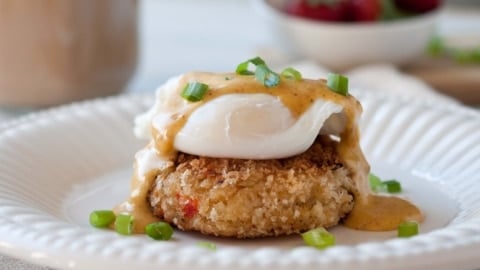 I think we know each other well enough by now that I don't have to try and pretend. If a dish is easy, I'll tell you. If it's quick, I'll tell you. If it's healthy, I'll tell you.
This is none of those things. It is, however, worth the effort. It's a special occasion breakfast to keep in your back pocket, for, you know, if Bradley Cooper stops by for breakfast. It could happen.
It's actually not that difficult. Although, I do hesitate to say that since my "not that difficult" is someone else's "Oh my GOD, is she nuts??"
But really, you can do this. I even gave you a food processor version of a hollandaise, which is SUPER easy, you don't even have to worry about turning your sauce into scrabbled eggs, which is what I did the first time I tried to make it the traditional way.
If you want to make this in stages, you can assemble the crab cakes ahead of time, put them on a plate, wrap tightly in plastic wrap and then cook the following day. You can also make the sauce ahead of time, and then reheat slowly in a double boiler. You can EVEN replace the poached eggs with fried eggs to make it even easier. But really, it's not that difficult.
And I believe in you.
I think all food people have a small stash of items that we buy at Gourmet Food Stores that we save for special recipes. Spices, the good salt in those fancy containers, crab meat, things like that. This is a recipe I found worthy of breaking into my Gourmet Food Store stash. Rare for a breakfast recipe, but this one made the cut.
Crab Cake Eggs Benedict with Bacon Hollandaise
Ingredients
For The Crab Cakes:
1 egg
2 tbs green onions, chopped
1/4 cup roasted red pepper, chopped
1 tbs melted butter
8 oz lump crab meat
1 cup Panko bread crumbs, plus one cup divided
1/4 tsp salt
1/2 tsp pepper
pinch cayenne
1/4 tsp Old Bay seasoning
For the Hollandaise:
4 strips bacon
4 tbs butter
4 egg yolks
2 tbs lemon
pinch cayenne
4 eggs (for poaching)
Makes 4 servings
Instructions
Combine all the crab cake ingredients in a bowl (reserving one cup of Panko for the coating). Form into 4 patties, about 1 inch thick. Place remaining Panko in a bowl. One at a time, place the patties in the Panko and press until well coated on all sides with bread crumbs. Place on a plate and refrigerate until ready to use.
In a pan over medium high heat, cook the bacon, turing frequently, until crispy and cooked trough. Remove the bacon and set aside. Once the bacon is removed, add the crab cakes to the pan, cooking in the bacon grease until golden brown on the underside, flip carefully and cook on the other side until cooked through, about 3 minutes per side. Remove from heat.
In a food processor, add the bacon, process until only crumbs are left. Add the egg yolks and process for about 3 minutes. Melt the butter in a pot on the stove (or in the microwave) until hot and steaming. While the food processor is running, slowly, slowly add the butter until well combined with the yolks. Add the lemon and the cayenne, process until combined. If your sauce is too thick, add water to thin, about a teaspoon at a time.
Poach the eggs in simmering water.
Place one crab cake on each plate, top with poached egg, then sauce.