Beer people are so often missunderstood and stereotyped.
Don't mistake our inherent low maintenance for a lack of opinion. Don't think that our love of indulgence translates to a lack of self-control. Just because we have a adoration for a high calorie beverage, doesn't mean that we aren't concerned with healthy living. And our love for a good ole fashion dive bar doesn't tarnish out Mensa standings.
And as much as we would love for you to understand exactly why we drive 20 minutes out of our way on Friday afternoon to make sure that we have an exciting stash of Craft Beer for the weekend, we also want you to drink what you want. If you love wine, or whiskey, or even a famous Macro brew, that's ok. More of the good stuff for us.
And if everyone else in the world stopped drinking Lost Abbey Carnevale Ale, or if it became so fervently distributed to every home in America that it was dubbed the new King of Beers and the Beer Snobs decided it was no longer desirable, it wouldn't matter one bit. I would still drive to Northridge on Fridays to make sure I could find a bottle or two for the weekend, if need be.
I'm pretty sure that it was just a coincidence that the first time I was able to get my hands on this Special Release from Lost Abbey, was also the same day that I saw fresh pineapple at my local market for the first time this year, but it could also be fate. The flavors mixed so beautifully that I'll have a hard time ever baking with pineapple again and not having the urge to reaching for this beer.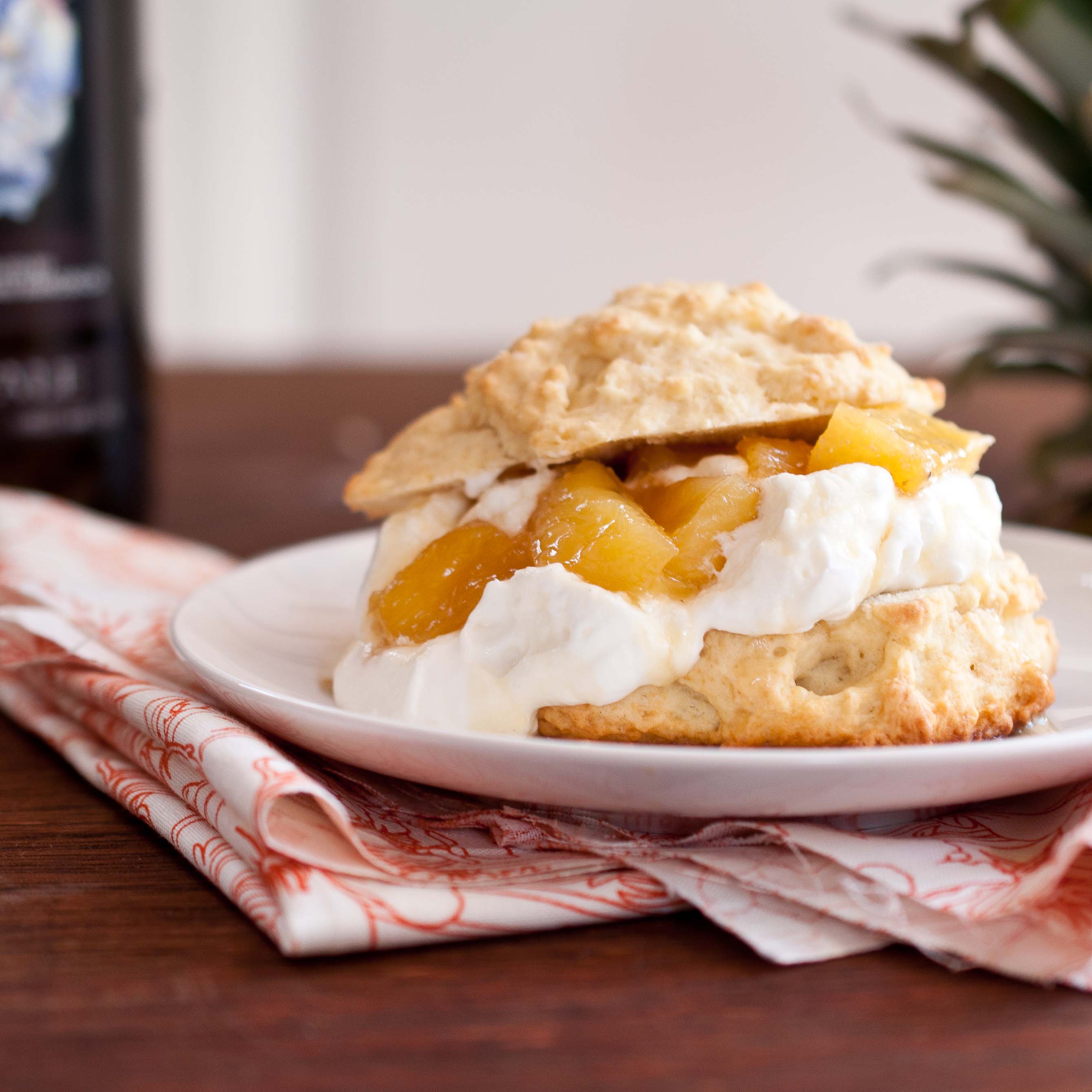 Saison Caramelized Pineapple Beer Shortcakes
For the Beer Shortcakes:
2 cups all purpose flour
2 tsp baking powder
1/4 tsp salt
1/2 cup sugar
1/2 cup butter
1 egg, beaten
1/2 cup Saison Beer(Los Abbey Carnevale recommended)
For the Saison Caramelized Pineapples:
4 cups fresh pineapple, chopped
1/2 cup brown sugar
1/2 cup white sugar
1 stick butter
1 cup Saison beer (Los Abbey Carnevale recommended)
For the Ale Chantilly Cream:
1 1/3 cup heavy cream
2/3 cup powdered sugar
2 tbs Saison Beer (Los Abbey Carnevale recommended)
(6-8 servings)
Preheat oven to 425
In a food processor, add the flour, baking powder, salt and 1/2 cup sugar, pulse to combine. Add the butter and process until it resembles coarse meal. Add the beaten egg and the beer and process until just barely combined, abut 30 seconds. Don't over process or your shortcakes will be tough.
The shortcakes will be very moist, and have more of a "drop biscuit" style than those that you roll out.
Place a sheet of parchment paper over a baking sheet. Using your hands, or two spoons, place about 1/4 cup of the dough onto the parchment paper and form into a loose ball. Dough should make between 6 and 8 shortcakes, depending on the size you want.
Bake for 12-15 minutes of until the shortcakes have turned a light golden brown and a tooth pick in the center comes out clean. Slide the parchment paper off the baking sheet and onto a flat surface and allow to cool.
Add all of the Caramelized Pineapple ingredients to a pan over high heat. Stir frequently (or continuously) until the liquid has reduced so much that the pan seems to only contain pineapples and frothy bubbles, about 10-12 minutes. Allow to cool to room temperature.
Just prior to serving, make the whiped cream.
Add all of the ingredients to a stand mixer and beat on high until soft peaks form, about 3 minutes.
To assemble, just split the shortcakes in half down the center, add the whipped cream, then the pineapples. Serve with a cold glass of Lost Abbey Carnevale.