I am now the mother of a two year old. 
Of course I've been warned about the Terrible Two's and the nightmare that I am now  a party to. 
And no offense to those who have gone before me, but I rather enjoy this age. Every age, every situation and every person is not without drawbacks. There is no such thing as a perfect situation. Quality of life is built on figuring out what is great about the situation that you are in and enjoying the crap out of it. 
So, what is great about 2 year old?
You get to have all the answers. You are able to solve all of their problems. These tiny little humans see you, their moms, as the Fair Princess Goddess of The Universe. You have control over everywhere they go and who they play with. And all of that will end way too soon. As much as I long to have more freedom and independence, sleep past 6:30am, set my schedule on a whim, travel to exotic places and be able to pee in private again, I know without a single tiny doubt that I will miss the hell out of my 2 year old once she is all grown up. 
For Tater's second birthday, my little tomboy wanted to run around the back yard and play with balls, her favorite thing in the entire world. So that's what we did. 
I had huge gigantic balloons from Sweet Lulu. 
I made Yarn Ball Party Favors, You can see the DIY here:
Dozens of red and white beach balls covering the lawn, that I bought from Oriental Trading
Tater was in love with this. 
I filled a red baby pool up with a bag of ball pit balls. 
And as I shared with you a few weeks ago, I'm tring to rid my life of food dye. Quite a challenge for someone who is used to spending hours concocting the perfect frosting color for cakes. I let go and accepted the fact that the frosting I made with beet powder was just going to be purple and that was OK. More on that in a later post.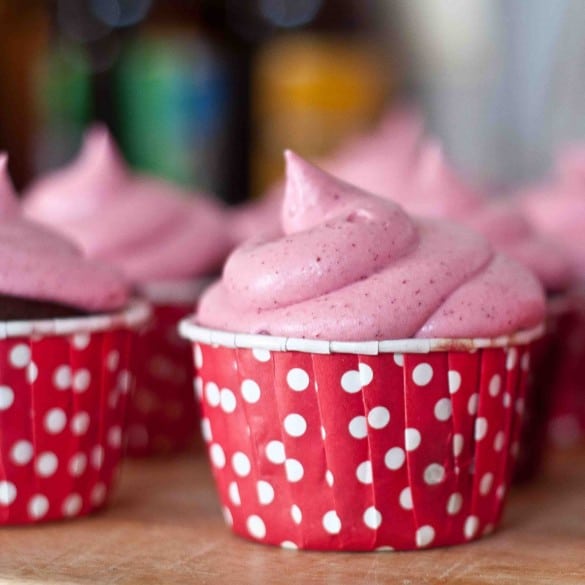 A least I was able to sneak some antioxidants and vegetables into her cupcakes, at fine compromise in my opinion. 
And the food went largely unphotographed. A pretty shocking thing in my world, given the frequency with which I snap food pictures. 
We did, however, reserect the Tater Tot Bar from last year.
I used white cone cups and made the cone holder out of a cardboard box and wrapping paper. 
I also made the Hanging Paper Lanterns, one of my very first post was how to make them.
And I remade the paper Happy Birthday banner. 
I did get a few shots of my Apple Balls, cored and sliced apples held together with rubber band and bakers twine. I replaced the core with string cheese. This will keep them fresh, un-browned and party ready for hours. 
First, core and slice the apples using an apple slicer. 
Remove the core and replace it with string cheese. Reassemble the apple and secure with a rubber band, then tie a ribbon or bakers twine around the rubberband. This will help your apple slices to stay fresh longer, without turning brown. 
If you can, try to find string cheese that is the same size, or just a bit larger than your apple corer.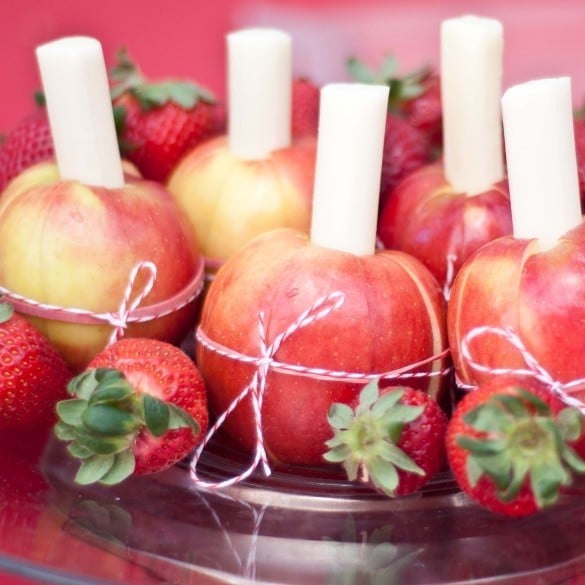 Pin This Post! 
Like Domestic Fits on Facebook