Sweet Potato Stout Shepard's Pie (Meatless)
Sweet Potato Stout Shepard's Pie (Meatless). Vegan, full of warm deliciousness, and freezer friendly. 
Some days just making it to dinner feels like an accomplishment. After rage-cleaning your house because you spent too much time reading the news. After seriously considering faking an illness to stay in bed. After realizing that the hint of gray that's peeking through the windows at noon is all the sun you're gonna get today, and maybe for quite a while longer.
Baking helps, I promise. You get to feel like you did something, made something, provided something. You get to lose yourself in the task of it and force those other rage-inducing thoughts to the back of the shelf for a bit.
You also get to eat, and that's always a win.
Today I decided to beer-ify a childhood favorite, that just seemed to be appropriate. I decided to make it vegan, because if I have beer, sweet potatoes, and caramelized leeks I don't need much else. Also, it makes me feel healthy and that makes me less likely to want to stay in bed all day tomorrow.
This also freezes well, so that you can make a double batch and maybe bring it to someone who may need a little warm, beerified comfort. Because we're all in this together.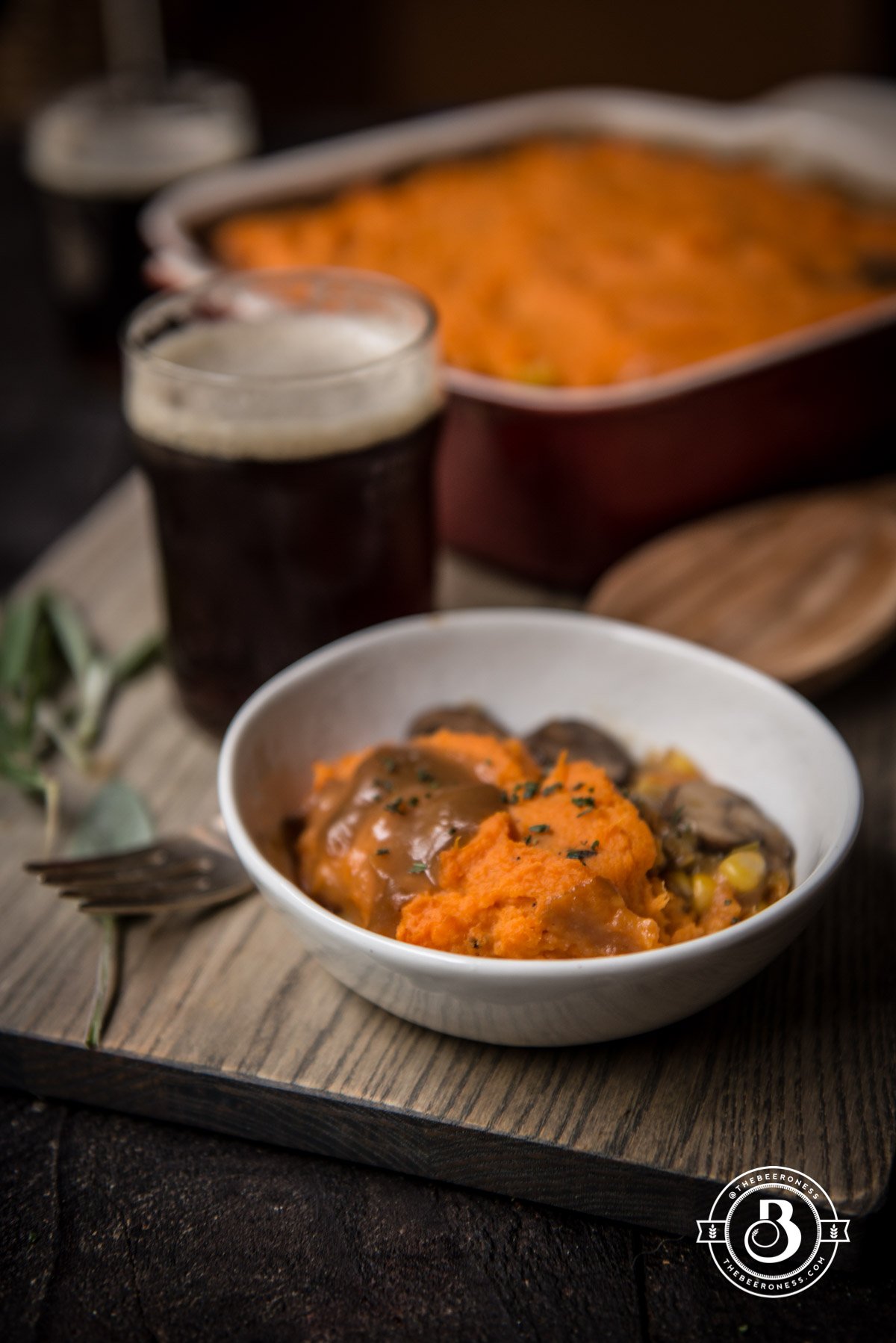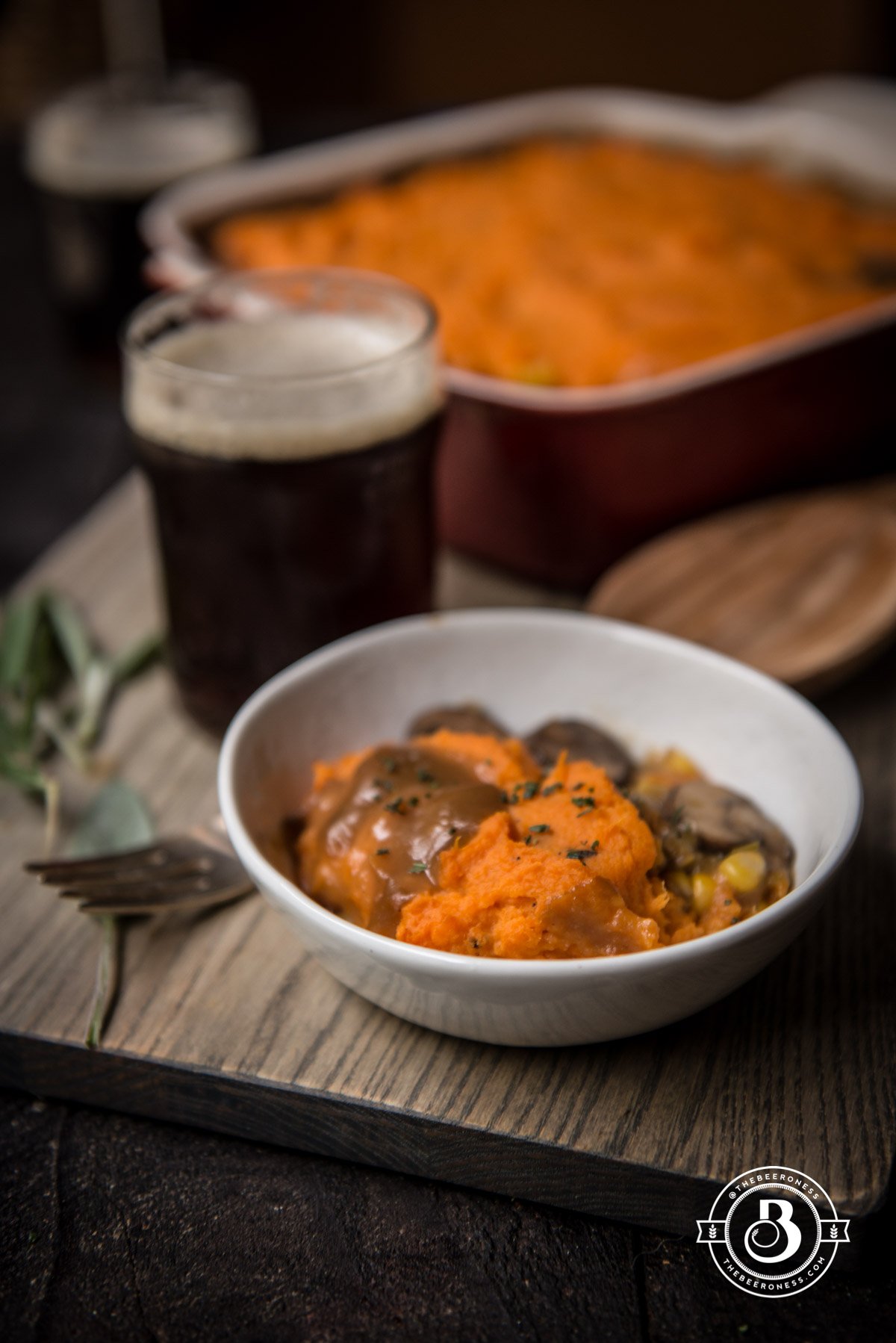 Sweet Potato Stout Shepard's Pie (Meatless)
Ingredients
For the topping:

3 lbs sweet potatoes
¼ cup almond milk (or sour cream of choice)
1 teaspoon salt
½ teaspoon garlic powder

For the filling:

2 tablespoon olive oil
2 large leeks, sliced (white and light green parts only
1 large carrot, diced
1 rib celery, diced
1 lbs (16 oz) sliced mushrooms
2 teaspoons sage leaf, minced
1 teaspoon rosemary, minced
1 teaspoon salt
1 teaspoon pepper
1 teaspoon garlic powder
1 teaspoon onion powder
2 tablespoons flour
½ cup stout beer
1 cup corn kernels
1 cup vegetable broth
Instructions
Preheat oven to 425°F.
Peel and cut the sweet potatoes into chunks, add to a large pot of salted boiling water. Cook until fork tender, drain and return to pot.
Add the almond milk, salt, and garlic powder. Mash until well combined.
Heat the olive oil over medium high heat in a large skillet. Add the leeks, carrots and celery, cooking until softened.
Add the mushrooms, cook until darkened and softened.
Stir in the sage, rosemary, salt, pepper, garlic and onion powder. Sprinkle with flour, stir until the flour has been moistened. Pour in the beer, scraping to deglaze the pan.
Stir in the corn and vegetable broth. Simmer until thickened.
Pour into am 8x8 pan. Spread the sweet potatoes over the top of the pan.
Bake until filling is bubbly, about 15 minutes.
Serve warm.
https://domesticfits.com/sweet-potato-stout-shepards-pie-meatless/