Sweet Potato and Brown Ale Soup with Crispy Sage and Pomegranates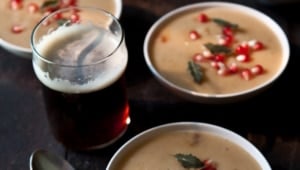 Sweet Potato and Brown Ale Soup with Crispy Sage and Pomegranates #soup #recipe #beer #sweetpotato #pomegranate #fall  
Do you ever get wrong number phone calls?
I'm a bit of a magnet for them, even though I've had my current cell phone number since I was a teenager.
I get the same woman calling me about once a month, and she never remembers that she has the wrong number. Although I don't know for sure what she looks like, in my head she is an older African-American woman, in a floral bathrobe sitting at a vintage oak dinning table sipping Taster Choice out of an old mug.
This was our most recent conversation:
My phone rings, I know it's her.
Me: "Hi!"
Her: "Oh…Um…do I have the right number?"
Me: "Honey, you've called me every month for the past two years and this still isn't the right number."
Her, laughing: "Girl! Haha! Do I really? Aren't you a sweetheart! Why you keep takin' my calls?!"
Me: "Because if I don't answer you just keep calling! Plus, I've gotten used to this."
Her: "You are so sweet! You're my girl. I won't call you again, I promise! So nice to talk to you again."
Me: " Ok, hon. Talk to you next month."
And I hope I do.
I have her number saved in my phone as Mrs. Tasters Choice and when her number pops up, I get a big smile on my face. She's told me stories about a friend of hers in the hospital, about how she used to sell pies at Penn Station, about her husband that passed away a few years ago from a heart attack right in the middle of a Sizzler. She's seen hard times, that's obvious, but she's the kind of woman who chooses to be happy, to brighten people's day. At least that's what she always does for me.
Sweet Potato and Brown Ale Soup with Crispy Sage and Pomegranates
Ingredients
4 tbs unsalted butter
¼ cup chopped shallots
3 tbs flour
2 tbs brown sugar (if using orange sweet potatoes, reduce to 1 tbs)
12 oz brown ale
1 ½ cups chicken broth
3 lbs (6 cups) white sweet potatoes, peeled and sliced
½ tsp salt
½ tsp pepper
¼ tsp cayenne pepper
¼ cup heavy cream
2 tbs olive oil
¼ cup fresh sage leaves
½ cup pomegranate seeds
Directions
Melt butter in a large pot or Dutch oven. Add the shallots, cooking until softened. Sprinkle with flour, stir until well combined, thickened and flour has browned.
Add the brown sugar, brown ale, and chicken broth, stir to combine.
Add the sweet potatoes, cook until potatoes are fork tender. Remove from heat.
Using an immersion blender, blend until smooth.
Stir in the salt, pepper, cayenne and heavy cream.
Heat the olive oil in a small sauce pan over medium high heat until hot but not smoking.
Add the sage leaves, fry on both sides until crispy, about 10 seconds per side. Remove from oil, allow to drain on paper towels.
Spoon soup into the bowl, top with sage leaves and pomegranate seeds.
https://domesticfits.com/sweet-potato-brown-ale-soup-crispy-sage-pomegranates/
Copyright �© TheBeeroness.com