Superbowl Snack: Chocolate Covered Strawberry Footballs
There are so many great things about living in Los Angeles. In my 20's I got to partake in a lot of them. My husband is a musician and we ran around with a very Music Industry crowd. Late nights, parties, back stage passes, Rock Stars, watching our friends become famous, blah, blah.
The best thing about California? The produce.
Seriously. If you ever visit LA, skip Hollywood Blvd (don't worry, it sucks) and head for a farmers market. We have them nearly every single day of the year, with the exception of a few major holidays.
Tuesday in October? Head to Culver City or Silverlake. Thursday in February? There is a great one in Hollywood called Yamashiro.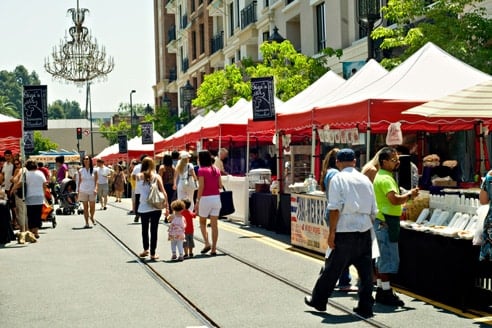 And Strawberries are in season nearly all year. Did you know that California grows 50% of the produce for the entire United States? It also grows 75% of the produce for the Western side of Canada.
And, California has the best strawberries in the world. If you ever make it to California, put: "Eat a real California Strawberry" on your to do list. California grows 85% of the strawberries in the US. 
I do realize that there is a chance that when that little ball game rolls around in a few weeks, (what's it called again? The Super Bowl?) you might not live in a place as lucky as Strawberry-afornia or have access to these beauties year round. That's OK, just tuck this idea away in your head and make them for a sports themed birthday party sometime over the summer.
Chocolate Strawberry Footballs
1 1/2 cups dark chocolate chips
1/4 cup white chocolate chips
In a microwave safe coffee mug add the dark chocolate chips. I've found this to be the best vessel for strawberry dipping. If the bowl you use is too wide then the melted chocolate is too shallow, and it's hard to get the strawberries dipped. 
Microwave on high for 30 seconds. Stir and repeat until melted. Don't over heat or your chocolate will seize and there is really no coming back from that. 
Grab the strawberry by the leaves (make sure strawberries are completely dry or the chocolate won't stick).
Dip in the chocolate and swirl around carefully until coated. 
Hold above the coffee mug for a few seconds to allow the excess to drip off.
Place on a sheet of parchment paper to dry. 
Push forward slightly to avoid a pool of dried chocolate forming in the front of your berry. 
Allow to dry for about 15 minutes. 
In a separate coffee mug (or really, any microwave safe bowl will work for this), add the white chocolate. Microwave on high for 20 seconds and stir, repeat until melted. You have to be even more careful with white chocolate, it tends to seize quicker. It isn't actually chocolate, its cocoa butter solids so it behaves differently. If it does seize, you can try and add a few drops of canola oil, but you might just need to toss it out and start over. 
Pour the white chocolate into your piping bag. Pipe on a stripe at the top and one at the bottom of your strawberries. 
Then pipe a line down the middle of the berry. 
Then pipe 5 or 6 lines across the middle line. 
-Let the white chocolate cool a bit, but not harden, before piping. If it's too hot, it'll be really runny. 
-When piping the lines, double back a bit to avoid the "strings" of white chocolate from dripping down the sides. 
-Don't make more that 24 hours in advance, strawberries tend to shrink a bit as they age.