Summer IPA Panzanella Salad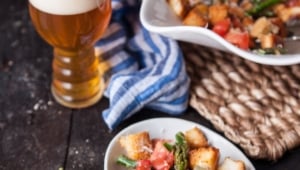 Summer IPA Panzanella Salad. It's a salad with bread! It's the best. SO good!
This is my way of forcing the situation.
Seattle hasn't been kind to me this winter, the rain has been abundant, as has the power outages and the snow fall. Luckily, I've been able to escape to Panama and Kona, but nothing replaces summer in your own city. They tell me that Spring is here, that the days of cold weather are limited, but I have my doubts as my weather app laughs at me every time I open it.
Farmers markets are starting to taunt me and I can't take it anymore. It's time to start cooking up the summer food, even if I throw in bread that makes it seem a little bit like a Thanksgiving Stuffing trying to squeeze into a bikini.
I don't care. I'm going to crank up the heater, break out the shorts, and eat produce. And you can't stop me.
Summer IPA Panzanella Salad
Ingredients
1 baguette, stale
½ lbs asparagus, chopped
5 tablespoons unsalted butter
3 tablespoons IPA beer
½ teaspoon salt
½ teaspoon pepper
¼ teaspoon garlic powder
2 large heirloom tomatoes, chopped
3 tablespoons chopped green onions (or chives, or the green parts of Spring onions)
3 leaves basil, chopped
½ cup (.5 ounces) parmesan, grated with a microplane
salt and pepper to taste
Instructions
Preheat the oven to 400F.
Cut the baguette into small cubes, add in an even layer to a baking sheet. Add the asparagus to the pan.
Melt the butter, stir in the IPA beer, drizzle over the bread and asparagus, sprinkle with salt, pepper, and garlic powder.
Bake for 15 minutes or until the bread has toasted.
Add the chopped tomatoes to a large serving bowl. Add the asparagus, bread cubes, green onions and basil. Toss to combine, sprinkle with parmesan cheese. Salt and pepper to taste.
https://domesticfits.com/summer-ipa-panzanella-salad/