Strawberry Lemonade Beer Cookie Bars
Strawberry Lemonade Beer Bars
Let's talk unpopular opinions, shall we? We haven't fought about anything in a while so let's jump in. Starting with food-related topics that will most likely piss you off, but it's your turn next, so just hang on.
Milk chocolate is not worth the calories, but dark chocolate deserves its own holiday.
Red velvet cake is an abomination because 1/4 cup of food dye is not a flavor.
Anything you make with mayonnaise is better if you make it with sour cream because mayo is the most disgusting man-made substance on the planet.
Bananas should not be eaten after childhood. It's basically portable baby food and it makes me gag. Eat an apple like a grown-up who has teeth.
Boba tea. Didn't we get over this in the early 2000's? Is it a beverage? Is it food? Why is my drink chewy but it tastes like sadness?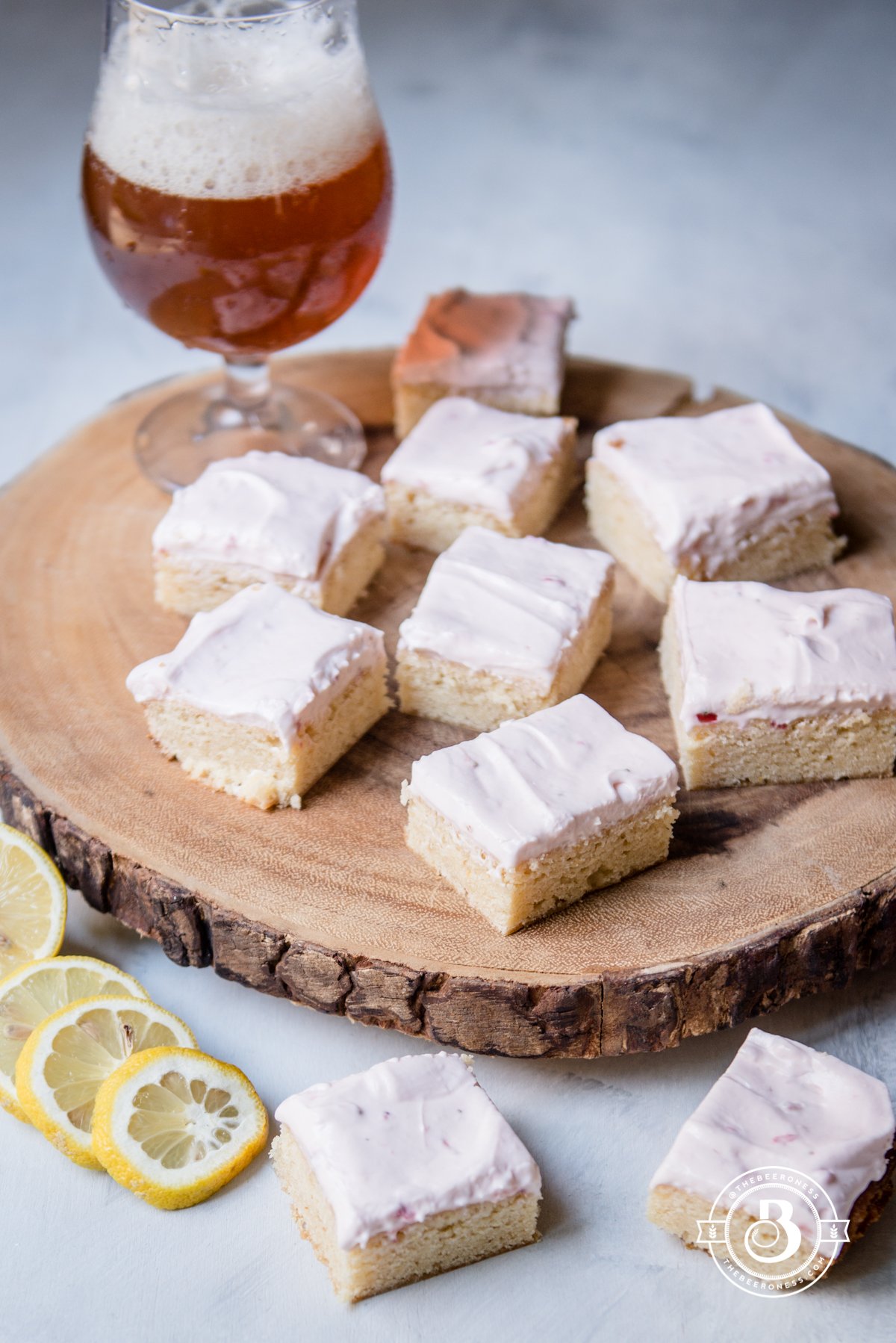 Cookie bars are always better with frosting.
Buttercream frosting is gross. Ok, ALMOST all buttercream is gross and tastes like slightly sweetened butter and coats your mouth in the most unappealing way. When it's made with JUST butter, vanilla, and sugar it is a big pile of loser paste.
And cream cheese frosting is superior to all other types of frosting because it's foolproof, quick and delicious.
Ok, there it is. My real, true feelings about the food you probably love and I just told you how much I hate it. But we can still be friends, right? Just don't make me eat a banana to prove it.
What about you? It's your turn!! Tell me your unpopular food opinions.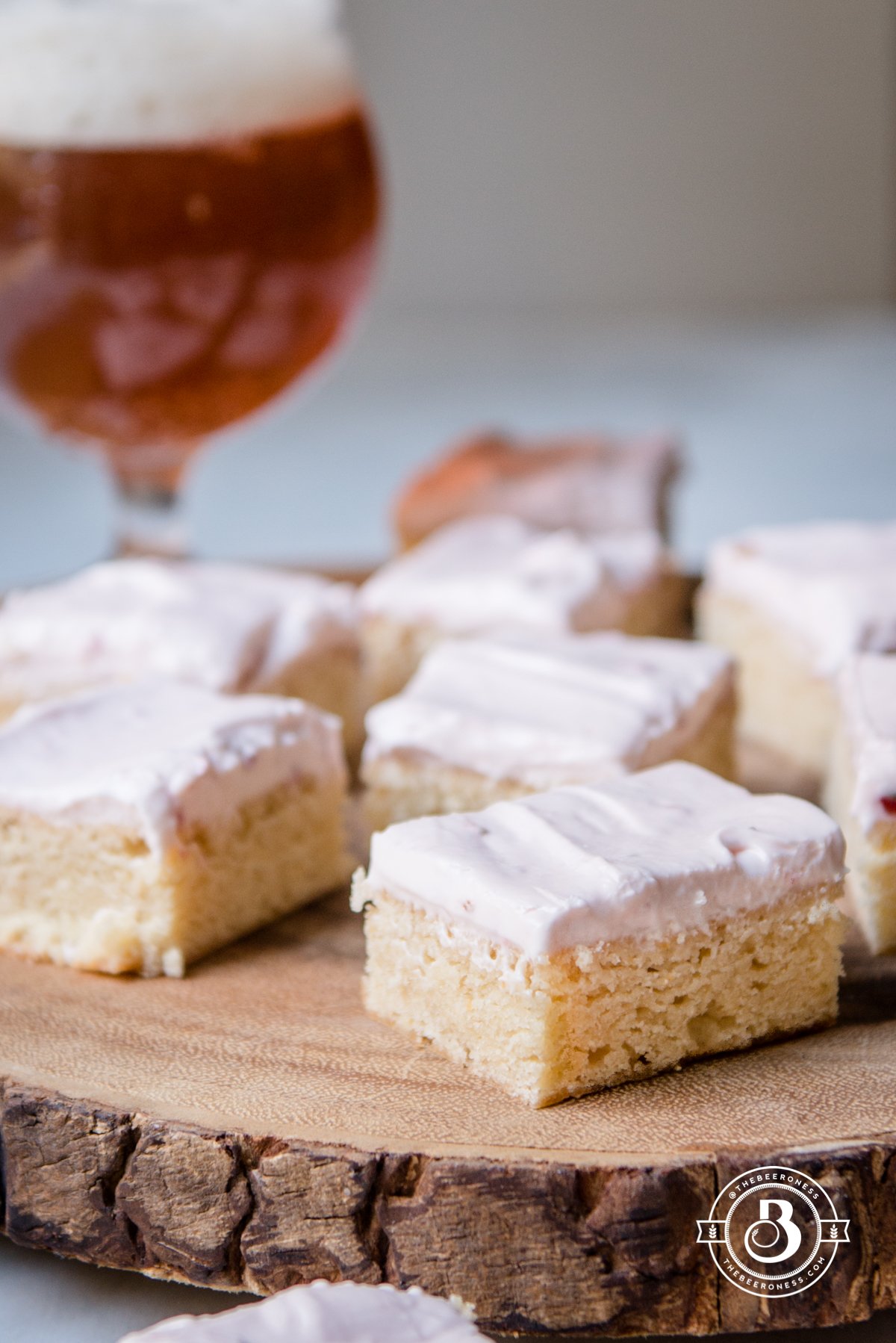 Strawberry Lemonade Beer Cookie Bars
Ingredients
For the bars:
1

tablespoon

lemon zest

(grated with a microplane)

¾

cups (150g)

white sugar

½

cup (100g)

brown sugar

½

cup (114g)

butter

softened

1

large

eggs,

at room temperature

2

tablespoon (28g)

lemon juice

3

tablespoon

beer

pale ale, pilsner, wheat beer

¼

teaspoon

pure lemon extract

optional

1 ¼

cups (150g)

all-purpose flour

½

teaspoons

baking powder

½

teaspoons

salt
For the frosting:
8

oz

cream cheese

softened

1/3

cup (55g)

chopped strawberries

1/2

cup (63g)

powdered sugar

2

tablespoons (30g)

heavy cream
Instructions
Preheat the oven to 350°F.

Add the lemon zest, white and brown sugar, and butter to a stand mixer. Beat on medium-high until well combined and creamy.

Add the egg, beating until well combined and resembles frosting, about 3 minutes.

Stir in the lemon juice, beer and lemon extract (if using). The mixture may look a little curdled, this is fine.

Stir in the flour, baking powder, and salt until just combined.

Line an 8x8 baking pan with parchment so that it comes up and over the sides (this makes for easy removal).

Spread the batter into the prepared pan in an even layer. Bake for 40-45 minutes or until the edges just start to turn golden brown (do not overbake, the bars will set as they cool). Allow to cool before removing from the pan.

Add the cream cheese and strawberries to the bowl of a stand mixer. Beat on high until the strawberries are well combined with the cream cheese and mixture is light and fluffy. Stopping to scrape the sides of the bowl occasionally.

Add the cream, beating well to combine. Add the powdered sugar, stir until combined.

Frost the bars, cut into squares. Chill until ready to serve.