Strawberry, Chicken and Goat Cheese Lettuce Wraps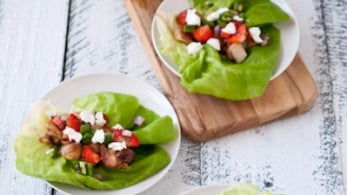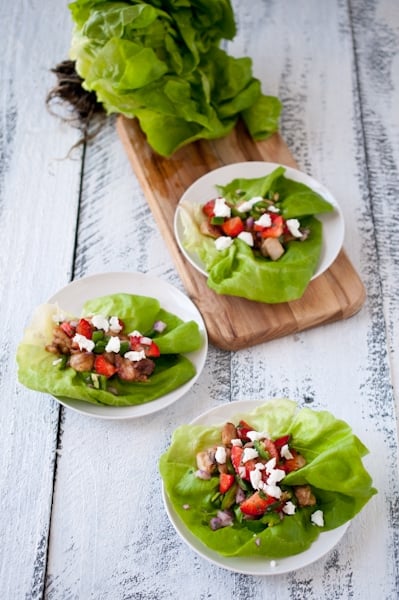 Lettuce wraps are Asian, right? Those PF Change guys make one that people seem to like. I love Asian flavors, but giving you a new take on an Asian dish isn't at the top of my current skill set. So I went a new route, and put in some of my favorite flavors that also happen to be (mostly) healthy.
Let's talk about that PF Chang wrap. It's listed as an appetizer that has 4 "servings," but if you eat it as an entrée, it'll feed one. As a entrée it has close to 600 calories, 2600 milligrams sodium (!!!), and 47 grams of carbs (I don't even get bread!). Just as a comparison, an In-N-Out cheeseburger with ketchup has 400 calories, 1080 milligrams sodium and 41 grams carbs.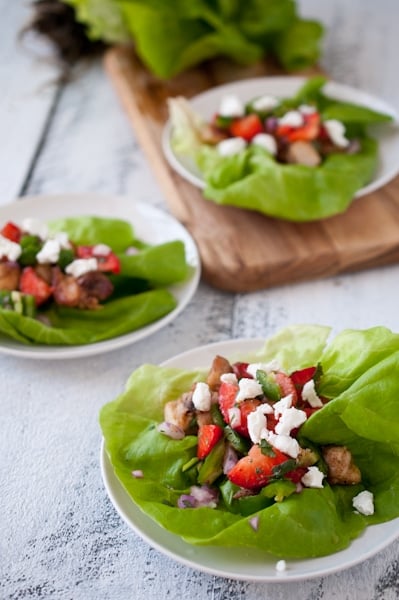 I'm not trying to dissuade you from eating them, they look delicious, and if you want to order it, you should do that. More or less, I'm trying to get you excited about these lettuce wrap because it's just as delicious and the numbers are amazing. It actually qualifies as diet food, even with the goat cheese and chicken thighs. It has only 255 calories for a generous serving, 650 milligrams sodium, and only 6 grams of carbs! Plus 24 grams protein and some fabulous vitamin C from those strawberries.  And it only takes 20 minutes!
If you want to make them ahead for lunch (you should!) just store the chicken, strawberry salsa, cheese and lettuce all separate and assemble at lunch time. Because interactive lunch is more fun.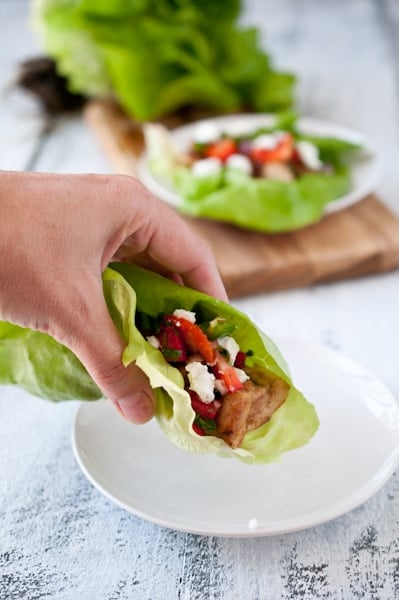 Stout & Sriracha Beer Barbecue Sauce
Ingredients
1 tbs olive oil
4 cloves of garlic, minced
1/3 cup low sodium soy sauce
3/4 cup ketchup
2 tbs worcestershire sauce
2 tsp sriracha
2 tsp smoked paprika
1 cup Stout
1/3 cup brown sugar
1 tsp onion powder
Directions
In a pot over medium heat, add the oil and allow to get hot but not smoking. Add the garlic and stir until you can smell it, about 30 seconds. Add the remaining ingredients and stir until combined. Allow to cook until thickened, stirring occasionally, about 15 minutes.
Store in an air tight container in the fridge.
https://domesticfits.com/strawberry-chicken-and-goat-cheese-lettuce-wraps/
Copyright �© TheBeeroness.com