Strawberry Cheesecake Popsicles and I Heart California Strawberries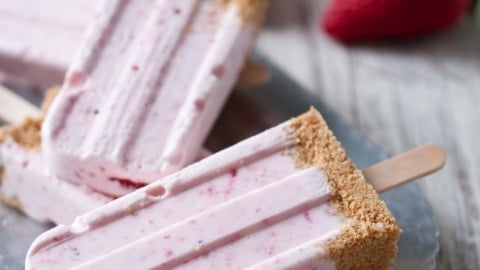 This is a sponsored post, all opinions, thoughts and ideas are my own.
While standing in the middle of a strawberry field, having a true Farm to Table lunch (table in a farm?) I tried to think of one person I've ever met that doesn't like strawberries. I couldn't. I love strawberries, so when I got the invite from California Strawberry Commission to run around the beautiful strawberry fields in Oxnard I couldn't say no.
Look at those things, just  hanging out, looking so perfect. I love the California strawberries I can pick up at the grocery store and farmers markets, but right off the vine, slightly warm from the sun, those babies are incredible. By the way, if anyone ever invites you and your family to run around a strawberry farm, stuffing your face with berries right off the vine: say YES (enthusiastically).
I joined a handful of other bloggers for a day in the beautiful California sun, eating amazing food (and I'm not kidding about stuffing my face with berries right off the vine), a tour of the facility, and head farmer, Bill Reiman, joined the party to answered all of the Strawberry Question we could ever ask.
Here are a few of the Strawberry Facts I learned over the day (And by the way, I am just nerdy enough to think these are super interesting):
None of the California Strawberries are GMO, all the CA strawberries that you can buy are GMO free (awesome).
Strawberries will not continue to ripen once they are picked  (like tomatoes do) if you pick a green strawberry, it will never turn red.
They freeze some of the best berries. They pick the berries that are so juicy and full of natural sweetness to freeze because although they are delicious, they are too fragile to pack and ship.
Eating strawberries regularly has been proven to improve memory and delay the onset of Alzheimer's Disease.
I love that I don't have to feel guilt about buying frozen California strawberries (I'm a fresh produce girl, and I actually do feel guilty about buying frozen), this also reminded me that once my strawberries start to show their age, freezing them is a great idea. They freeze so well!
After the tour of the fields, a tour of the packing facility and a fun hay ride, the day ended with a gorgeous dinner cooked up by Tim Kilcoyne, Executive Chef and owner of The SideCar Restaurant in Ventura. The menu included:
Bruschetta with fava bean ricotta, house made strawberry mustard and arugula.
Braised Chicken Enchiladas with Swiss chard, roasted strawberry mole and queso fresco. Served with a black bean and quinoa salad
Chocolate Genoise with strawberry mousse, ganache and white chocolate dipped strawberry
Strawberry Basil Meyer Lemonade
I love the use of strawberries in a savory dish, that strawberry mole was incredible.
Apparently I was too distracted by the incredible food and the company of Farmer Bill, whom I sat next to, to photograph the dinner. My camera ended with shots of the menu.
I came home with a car load of strawberries that I couldn't wait to use. I made popsicles that are perfect for those fresh berries that I love, but are also great for the frozen ones I now feel completly content buying.
Strawberry Cheesecake Popsicles
Yield: 8 popsicles
Ingredients
8 ounces cream cheese
¼ cup sour cream
3/4 cup powdered sugar
1/3 cup whole milk
6 large fresh strawberries, chopped or ¾ cup frozen strawberries
6 standard sized graham crackers
1 tbs melted butter
Instructions
In a food processor add the cream cheese, sour cream, powdered sugar and milk, process until well combined. Add the strawberries, pulse to combine.
Pour mixture into popsicle molds, leaving about 1 inch of the top empty for the crust (if you don't have popsicle molds, use small paper cups and popsicle sticks) tap the molds gently on the counter to remove air bubbles.
In a food processor add the graham crackers, process until only crumbs remain.
While food processor is running, add the melted butter in a slow stream until the mixture resembles wet sand.
Divide the crust evenly between the popsicles, press down gently to compact. Insert popsicle sticks, freeze for at least 6 hours and up to 3 days.
This is a sponsored post, all opinions, thoughts and ideas are my own.