Stout Soaked Mushrooms and Herbed Goat Cheese Crostinis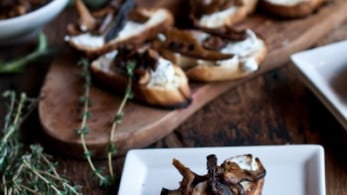 Photos from my Instagram account 
I made it.
From LA to Seattle, up Highway 1. Past fat lazy seals, miles of winding coastlines, epic Redwoods, and into an unusually sunny Seattle. Although the sun has now given way to the typical rain, it's somehow comforting.
Although figuring out how to wield a camera in low light has been a bit challenging.
But the food isn't. This part of the word has gorgeous produce, fantastic seafood, incredible beer. I'm starting to get familiar with the Northwest breweries and the beautiful beer that I'm now so close to. If you know of a local brewery I should go to, please, I'm all ears.
As I unpack the boxes, rely heavily on my navigation to get around, figure out what local stations to set my car radio to,  and try to amend my ill-equipped wardrobe (warm socks?? I need new socks?), I'm excited to be here. My Gypsy Soul gets to wander a new city.
Stout Soaked Mushrooms and Herbed Goat Cheese Crostinis
Ingredients
1

wt oz

1 ½ cups assorted dried mushrooms (I used Porcini, Shiitake & Chanterelle)

12

ounces

stout beer

1

tbs

olive oil

2

tbs

unsalted butter

¼

cup

chopped shallots

½

tsp

kosher or sea salt

½

tsp

black pepper

1

baguette

sourdough or French

4

ounces

chevre goat cheese

softened

1

tsp

chopped fresh thyme

1

tsp

chopped fresh sage

1

tsp

chopped fresh rosemary
Instructions
Put the mushrooms in a small bowl or jar. Cover with the stout beer. Leave at room temperature for at least 30 minutes and up to 2 hours or until the mushrooms are soft and have reconstituted.

Drain the mushrooms and rinse well to remove any residual grit.

Slice the mushrooms into thin slices (unless mushrooms were pre sliced).

In a pan over medium high heat melt the butter with the olive oil.

Add the shallots and cook until softened and starting to brown, about 5 minutes.

Add the mushrooms to the pan, sprinkle with salt and pepper, cook until most of the oil and butter has been absorbed, about 5 minutes.

Preheat the boiler on the oven.

Slice the baguette into 18-24 slices.

Place the slices on a baking sheet. Place until the broiler until golden brown, about 2 minutes, flip over and place under the broiler until golden brown the opposite side.

In a small bowl stir together the goat cheese, thyme, sage and rosemary.

Spread each slice with goat cheese, top with mushrooms.

Serve immediately.