Stout Osso Buco Sliders with Gremolata Sour Cream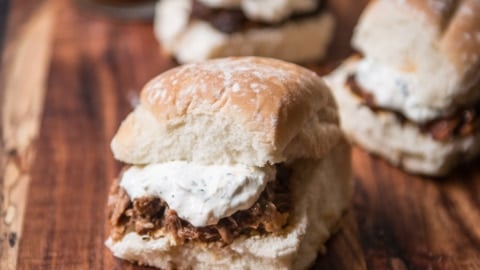 Stout Osso Buco Sliders with Gremolata Sour Cream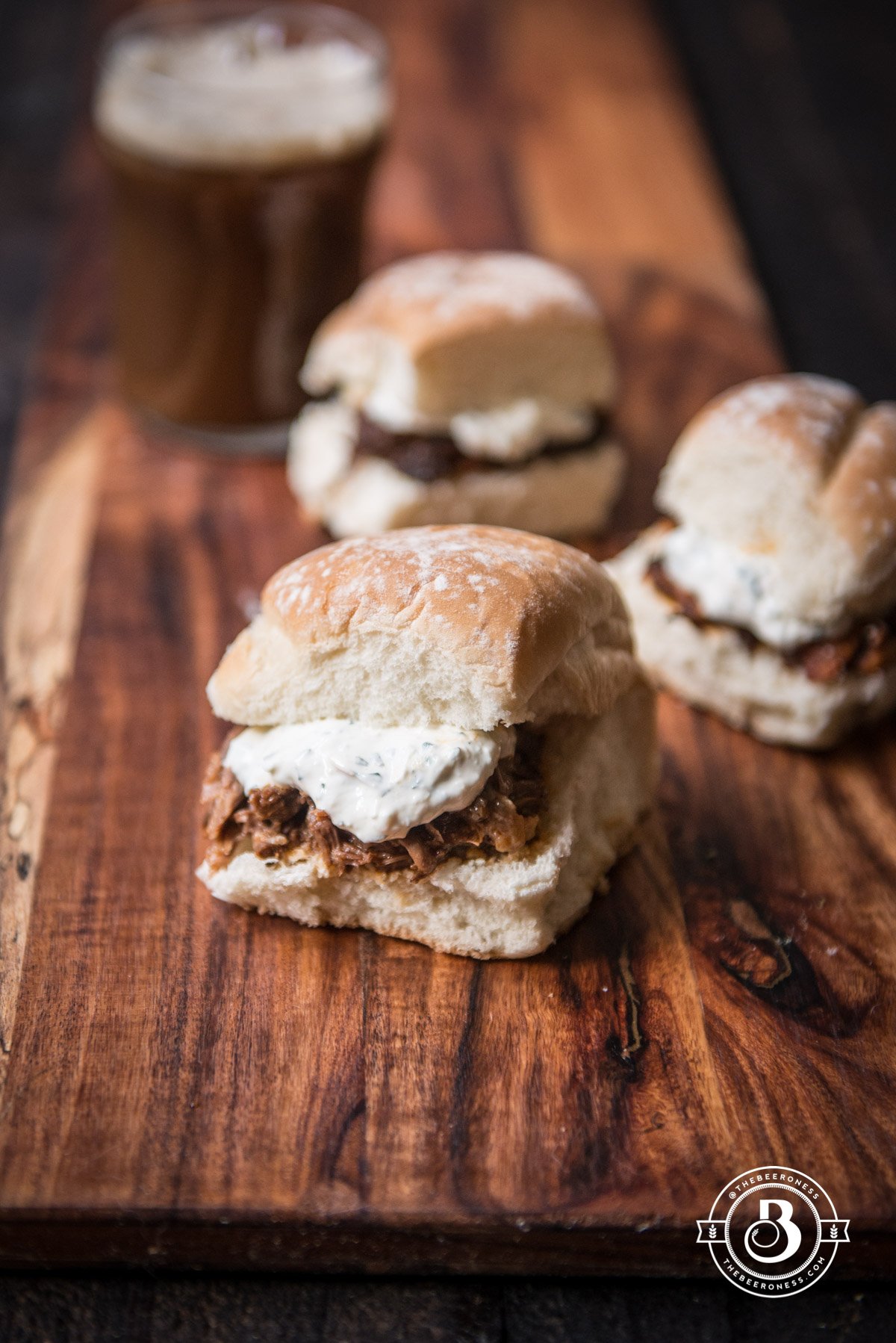 We've made it. Made the turn into the New Year and survived to tell the tale. January is about breathing, stepping back, reflecting and fireplaces. Stouts are also a January thing, even when you've resolved to be healthy so you can run faster and jump higher.
One won't hurt. Maybe just buy one for the fridge to look at and remind yourself of the reward you have coming once your goal has been met. Don't forget about Football, it's another January thing. An even-if-you-don't-like-sports thing, because it's a how we get out of the house and see other humans in the depths of winter thing.
Maybe, if you're not ready to jump into football appetizer like food yet, just pin it for later. A mental prep for February (just as dark as January but graciously shorter) when we will break our diets to eat all the things and watch the Big Game with other people who will mostly be rooting against one team or another. This is important, we need things to look forward to right now as we've rounded the corner out of all the look-forward-to things portion of the year and we're not sure what to do with ourselves.
Just make some Osso Buco Sliders, they're tiny. How much damage can one really do?
Stout Osso Buco Sliders with Gremolata Sour Cream
Ingredients
4

slices

thick cut bacon

2

teaspoons

salt

1

teaspoon

black pepper

¼

cup

flour

3

lbs

beef shanks

4 to 5

2

tablespoon

olive oil

1 ½

cups

carrots

peeled and sliced (about 2 large)

2

ribs celery

chopped

1

cup

white onions

chopped

1

cup

porter or stout beer

3

tablespoon

tomato paste

3

cups

broth

¼

cup

fresh flat leaf parsley

chopped

½

teaspoon

lemon zest

½

teaspoon

orange zest

2

large cloves garlic

grated with a zester or microplane

1 ½

cups

sour cream

12

slider buns
Instructions
In a large pot or Dutch oven, cook the bacon over medium heat until most of the fat has rendered and the bacon starts to crisp. Remove bacon with a slotted spoon, set aside. Leave about 2 tablespoons of bacon fat in the pan, discard the rest.

Salt and pepper the beef shanks liberally.

Add flour to a bowl. One at a time dredge shanks in the flour until well coated.

Return the Dutch oven to heat, allow the bacon fat to get hot but not smoking.

Sear the shanks in bacon fat until browned on both sides. Remove shanks from pot.

Add olive oil to pot along with carrots, celery and onion. Cook until softened, about 8 minutes.

Add the beer, scraping to deglaze the bottom. Stir in the tomato paste.

Return shanks and bacon to the pot. Pour in broth until shanks are ¾ of the way covered.

Allow liquid to simmer but not boil for 3 ½ hours or until meat is tender and falling off the bone. While shanks are cooking, turn over every 30 to 45 minutes. Add additional broth to maintain a liquid level that is about ¾ of the way up the side of the shanks.

Once tender, remove the meat and bones. Discard the bones and any large pieces of fat. Pull the meat into small pieces using two forks, return to the pot, stir to combine with the sauce.

Spoon the meat mixture into slider buns.

Combine the parsley, lemon zest, orange zest, garlic and sour cream in a small bowl.

Top the meat with a spoonful of sour cream mixture before putting the top of the bun on the slider. Serve immediately.