Stout Harissa Chicken Thighs
Stout Harissa Chicken Thighs. Crazy good one pot chicken.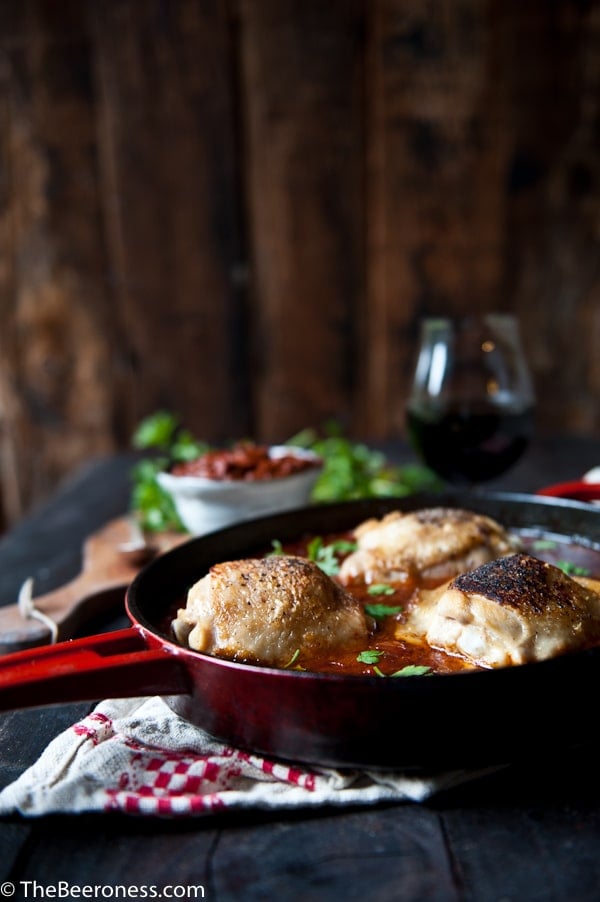 Let's talk about an interesting question. A specifically head-tilt inducing question I've been asked a few dozen times over the past few months, "How do I get people to try craft beer?"
My furrowed-brow-blank-stared response is usually as simple as, "Why wouldn't they?" The logic for trying something new is simple: To see if you like it. The request to sample anything isn't a contractual obligation to fall in love, we don't want you to propose to beer, to have babies with beer, we are asking for a first date. A quick meet over coffee at a strip mall Starbucks to see if there are sparks. A few sips of a flight of diverse beers to see if something strikes your fancy. Hate hoppy beers? Lots of people do, try a Belgian or a white ale. Can't get past that stale Miller Light from college? Neither can we, it's not what we serve here. Saying you don't like beer based on a few run-ins with off balanced brews a few years ago is like saying you hate California and won't visit Napa Valley because you didn't like the traffic in Anaheim when you went to Disneyland when you were 7.
Beer is broader that most people realize with a flavor database that is arguably larger than any other alcoholic beverage on the market. A few tactics to try? Sure, let's talk strategy. Peer pressure? We all know from 8th grade health class and high school parties that it works like magic, use it to your advantage. Shame and guilt! I grew up with Catholic grandparents and can attest to the effectiveness of this approach. Tease them and call them afraid? If Marty McFly taught us anything it's that being called a chicken will get people to take on any dare regardless of personal consequences.
We do need to delve a little deeper in this discussion. Why do you want this specific human to fall in love with your adult beverage of choice? Because you want a brewery buddy for on location beer mecca visitation? Do you want someone to talk to about beer? Or are you just being bossy and controlling? Once you isolate your reasons for wanting to push beer on others, you're at a better jumping off point for negotiations (unless you're being bossy, then you just have to let it go). Regardless of the outcome, we still have to respect the fact that some people just don't like any beer. Which isn't always a bad thing. More for us, right?
Stout Harissa Chicken Thighs
Ingredients
For the Harissa Paste:
8

dried guajillo chiles

stem and seeds removed, broken into pieces

2

dried ancho chilies

stem and seeds removed, broken into pieces

1

cup

room temperature stout or porter

1

cup

warm water

3

cloves

garlic

grated with a microplane

2

tablespoons

olive oil

1

tablespoon

lemon juice

1

teaspoon

ground coriander

½

teaspoon

caraway seeds

½

teaspoon

cumin
For the Chicken:
6

chicken thighs

bone in, skin on

salt and pepper

1

tbs

olive oil

½

white onion

chopped (about 1 cup)

1

can

14.5 wt oz diced tomatoes

½

cup

stout beer

2

tbs

chopped flat leaf parsley
Instructions
Make the Harissa:
In a small bowl add the guajillo chilies and ancho chilies. Pour the beer and the water over the chilies. Use a heavy object such as a coffee mug to make sure the chilies are submerged. Allow to sit at room temperature for one hour. Drain the chilies reserving 2 tablespoon soaking liquid.

Add the chilies, 2 tablespoons soaking liquid, garlic, olive oil, lemon juice, coriander, caraway and cumin to a food processor. Process until the mixture is a paste. Harissa can be made up to a week ahead of time and the flavors develop over time. Make at least one day ahead if possible, store in the refrigerator in an airtight container until ready to use.
Make the chicken:
Salt and pepper the chicken on all sides.

Heat olive oil in a cast iron skillet until very hot, add the chicken, skin side down. Cook until skin has browned, turn over and brown on the other side. Remove from pan (chicken will not be cooked through).

Add the onions, cook until lightly browned, about 5 minutes.

Add the beer, scraping to deglaze the pan. Stir in 1/3 cup harissa and tomatoes. Add the chicken back in the pan, skin side up.

Roast at 400 for 15-20 minutes or until the chicken is cooked through.

Remove from oven, preheat the broiler.

Place pan under the broiler until skin has crisped, about 2 minutes.

Remove from oven, sprinkle with parsley prior to serving.